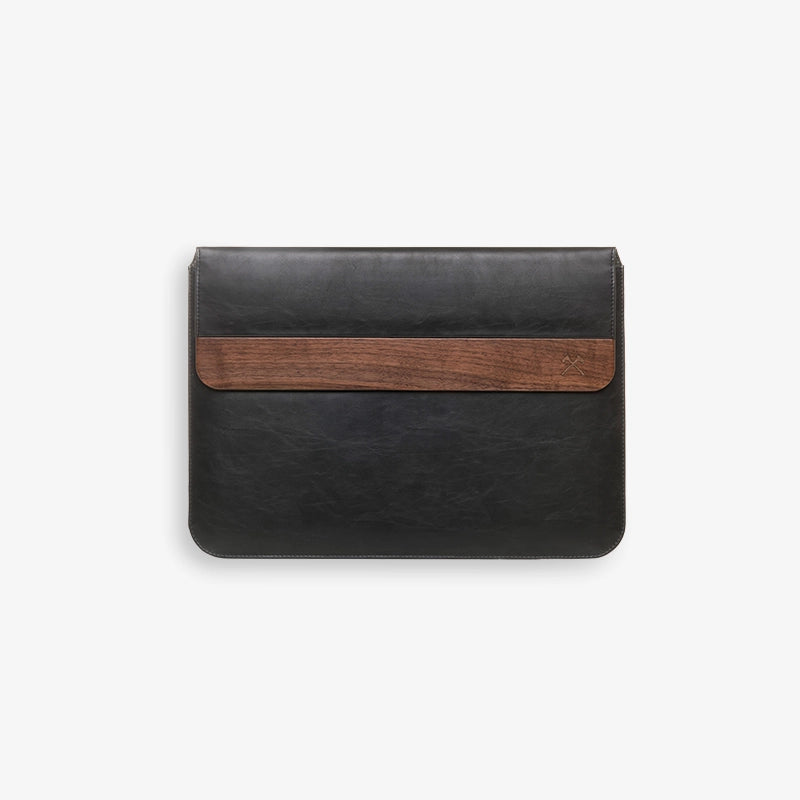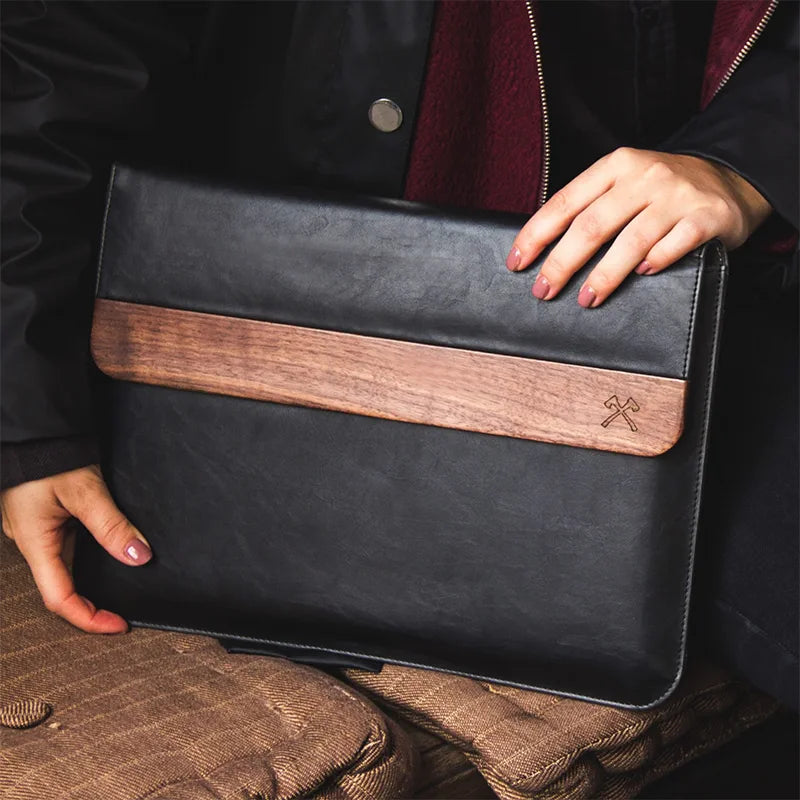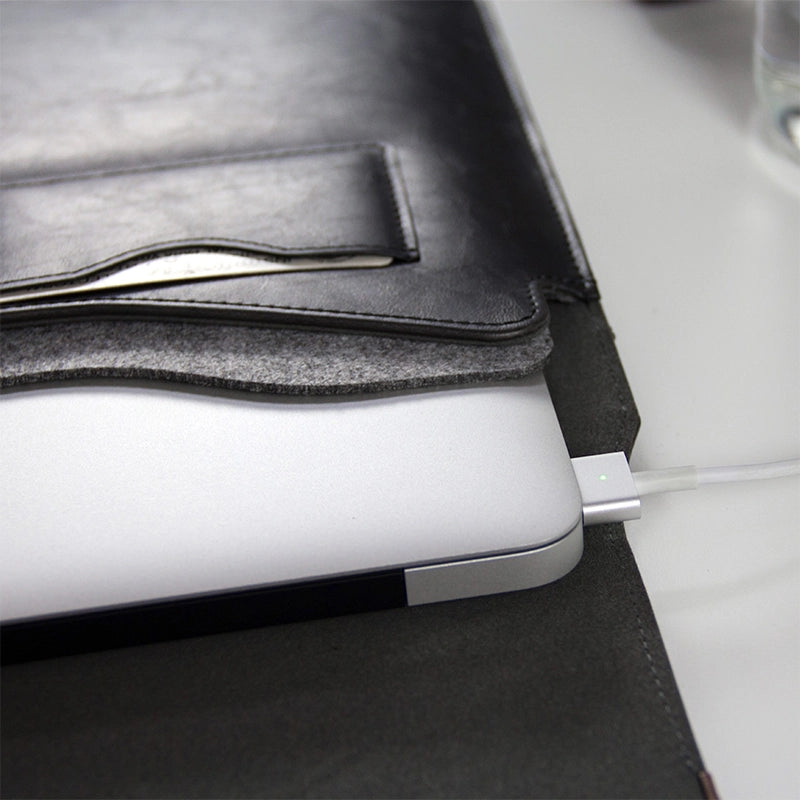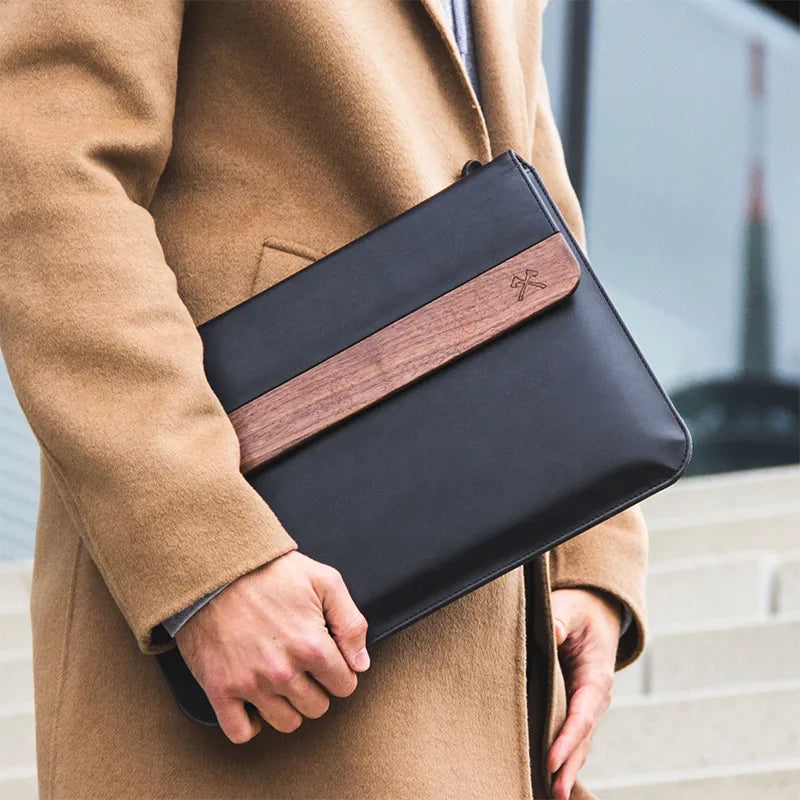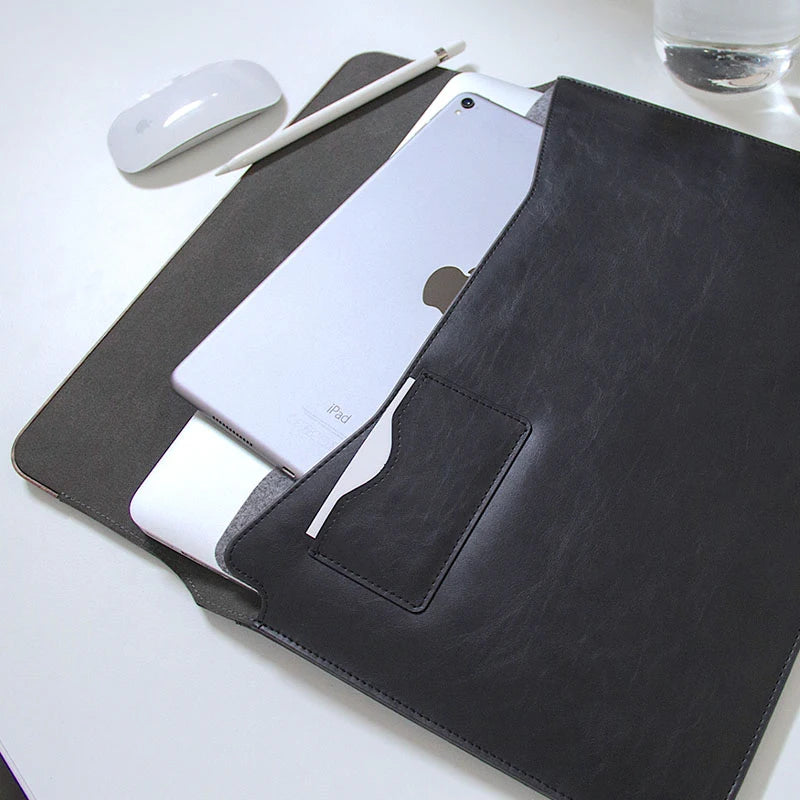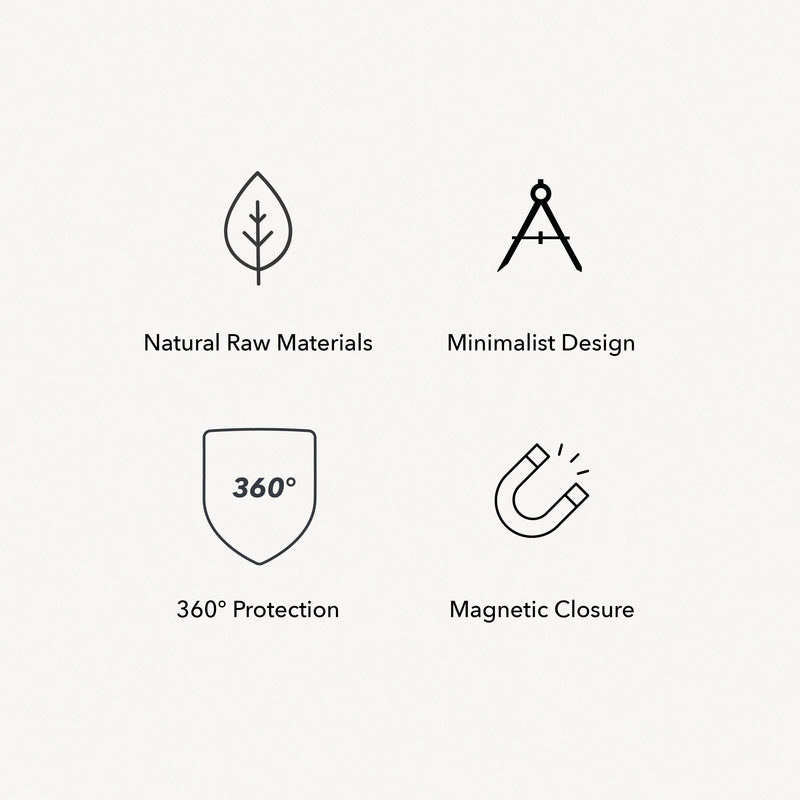 Laptop bag
Only 50 left
The Eco Pouch made of noble natural materials protects your MacBook from bumps and scratches and also offers storage space for letters, business cards and Co! The magnetic closure provides a 360 degree all-round protection and offers a clean look at the same time!
Noble walnut wood
Magnetic closure for secure stowage 
Inner compartment & outer compartments create efficient storage space
Cable cutout for charging with closed bag
Handmade from sustainable materials
Weight: approx. 440 g light
Dimensions: 26 cm x 36 cm x 2 cm
High quality wood from America
Elegant wool fabric / premium leather
Shipping costs and delivery time depend on the shipping method and country of the recipient. Shipping is climate neutral with DHL Green!
For more info see shipping info.
Stylish protection for your MacBook
It's not easy to keep your MacBook stylish & safe in everyday life. The EcoPouch protects like a second skin and is thanks to magnetic closure ideal for travel!
Defies wind & weather
Our EcoPouch is water resistant & protects your netbook in any weather & adventure. The magnetic walnut clasp gives extra security & gives your MacBook case an original look.
Environmentally Friendly & Practical.
Noble natural materials
Smart storage space
Stylish protection
Magnetic shutter
Universal fit
360° protection
Slim shape & Extra storage space
With several compartments inside & one outside compartment, the bag offers space for all important documents and yet remains handy & thin. Under the closure even hides a credit card pocket.
Matching accessories
Decorate your accessories with protective covers made of matching walnut wood! Find your AirPods or iPhone protective case made of precious real wood now!
Ultimate compatibility
Our EcoPouch is available in two sizes. Whether 11'', 12'', 13'', or 15'' inch, your MacBook is always safely stored in the EcoPouch. Other common notebooks also fit into the pouch. For notebooks with a screen size of 13" or more, it is best to choose the 15" EcoPouch variant.
Woodcessories stands for minimalist design and so the EcoPouch with 4mm is as slim as possible. It fits like a second skin around your MacBook and takes no unnecessary space. So don't worry, you don't have to buy a new backpack ;)
In addition to a compartment for the MacBook, the EcoPouch offers another inner compartment for documents, a spacious outer compartment and a card pocket. So you have everything important together with a handle and perfectly organized.
Our EcoPouch protects your MacBook from all sides. Thanks to magnetic clasp and precise fit nothing can happen to your laptop. In addition, our materials are waterproof and protect in wind and weather.
Yes! Thanks to the intelligent cable recess, you don't have to take your MacBook out of the bag to charge it.
All products from our Wood Collection come from nature! We use real wood, most of which comes from Germany and the USA. All woods are certified and come from sustainable forestry.