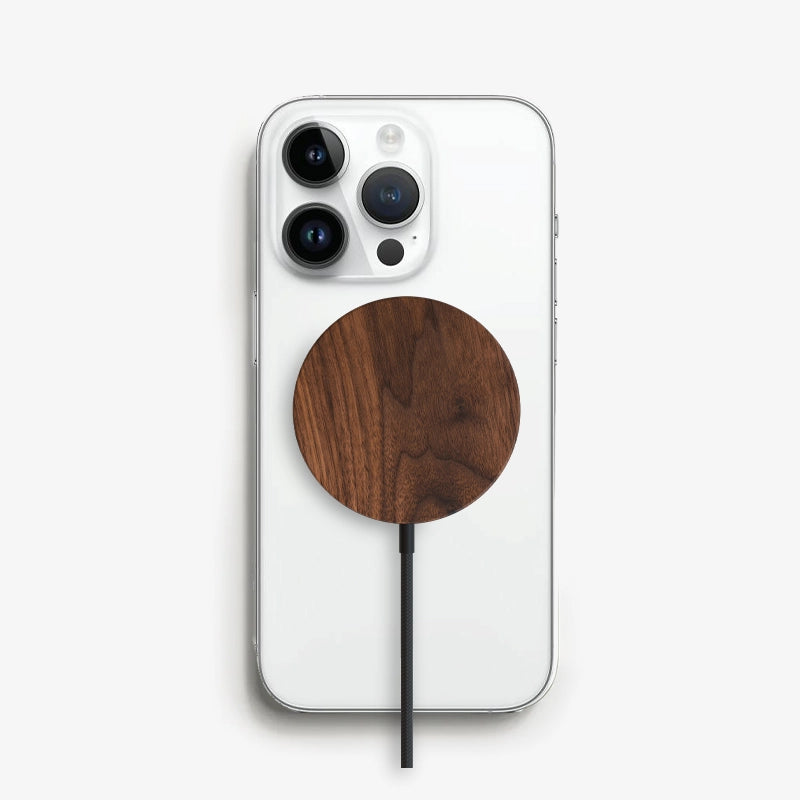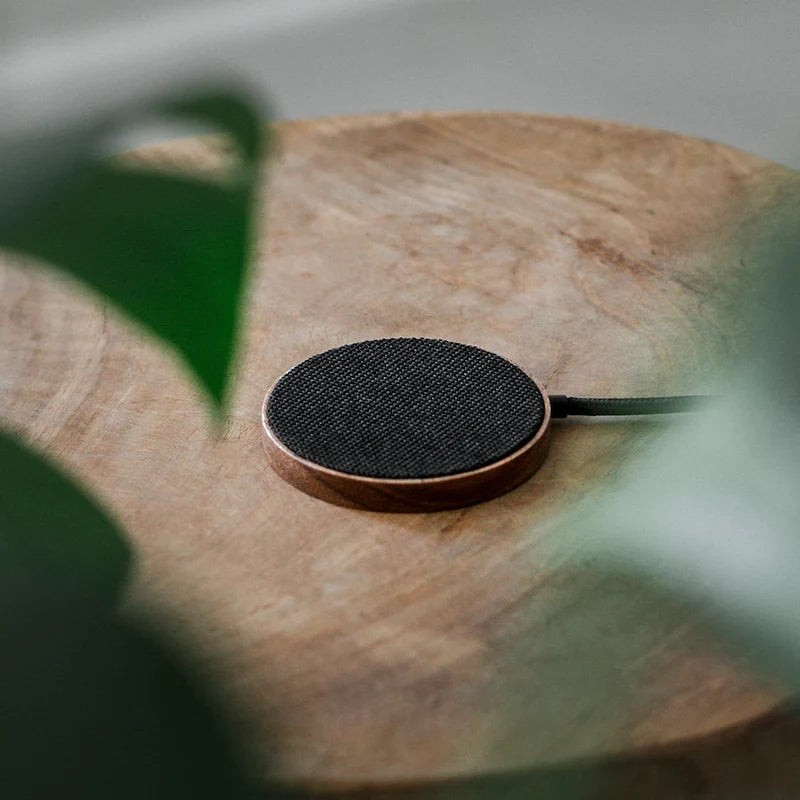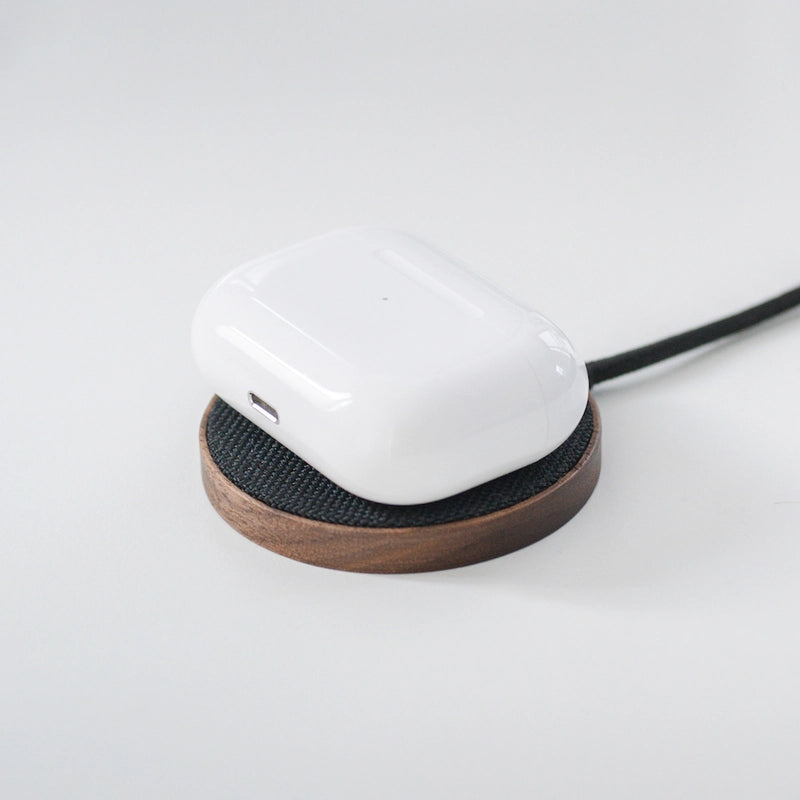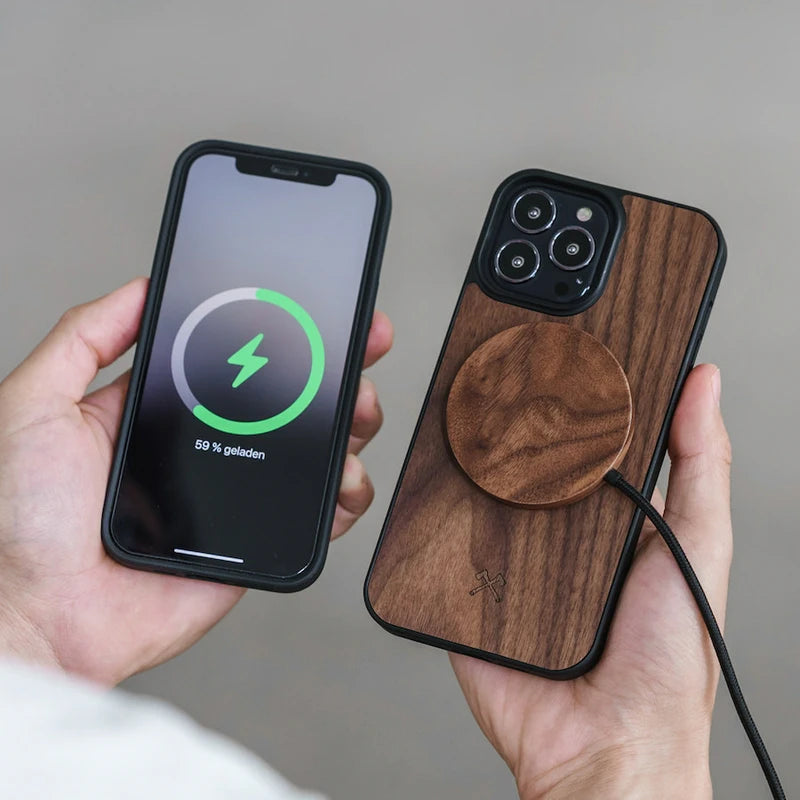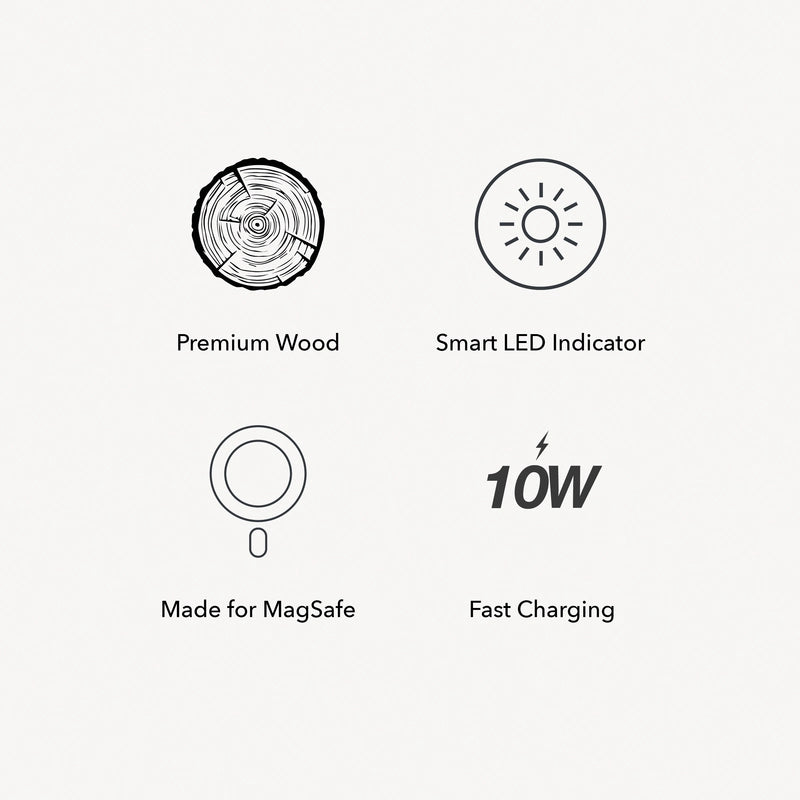 MagSafe Wireless Charger
Only 50 left
The wireless charger made of wood charges your iPhone quickly and wirelessly thanks to 10 W charging power and is compatible with MagSafe! The non-slip, vegan fabric on the back protects against scratches and the extra-long cable made of tear-resistant fabric ensures flexible use! Wherever you need the power, the Wireless Charger is always ready to go!
Fast charging thanks to 10W charging power
Integrated protection against overheating & overcharging
Anti-slip, Vegan fabric against scratches
Extra long charging cable (1.20m) made of tear-resistant fabric
USB-C & USB-A adapter made from recycled aluminum
Compatible with MagSafe®
Weight: 60 g
Dimensions: 62 x 7.5 mm
Cable length: 1.2 m
High quality American real wood
Vegetable linen fabric from hemp
Recycled aluminum
MagSafe compatible at Cases up to 1 mm thickness
Wireless Charging at Cases up to 3 mm thickness
Learn more.
Shipping costs and delivery time depend on the shipping method and country of the recipient. Shipping is climate neutral with DHL Green!
For more info see shipping info.
More Power, Less Size.
Ideal for any desk, whether home office or office. Minimalist Apple design makes the MagPad a real eye-catcher without taking up much space.
Made forApple MagSafe®
Fastest charging power for your iPhone - dock & charge in seconds. Compatible with all official MagSafe cases.
More power. More advantages!
Noble real wood
Made for Magsafe
10W Fast Charging
Heat Control
1.5M USB-C charging cable
Smart LED indicators
Environmentally friendly technology
The magnetic wireless charger made of genuine walnut wood offers the perfect sustainable alternative for a convenient & fast wireless charging experience.
Hand selected, sustainable materials
In addition to sustainable walnut wood, vegan plant material made from hemp provides extra grip and protects against scratches and dirt.
10 Watt charging power
Faster charging from 0-100% with a constant 10 watts while other devices drop off quickly.

Compatible with many cases.
The MagPad can charge smartphones with Cases up to 3mm thickness and is fully compatible with all official Apple MagSafe®-Cases .
Perfect for the Bumper Case MagSafe
Integrated magnets for the full power of the charger and reliable hold.
Compatibility
MagSafe is the new Apple magnetic system from the iPhone 12 series for easy magnetic docking and faster wireless charging. Magnets in the charger and iPhone make a foolproof one-click connection possible and let you continue to use your smartphone without restrictions. This also makes our charger compatible with all official MagSafe® products, such as the official MagSafe Cases. Of course, you can also charge all other Qi-enabled iPhones wirelessly, but then without magnetic function.
Yes, the MagPad was designed by us especially for use with MagSafe and is therefore optimally adapted to the new Apple iPhone technology. This means that our charger is also compatible with all official MagSafe® cases (and even those from third-party suppliers that use magnets) and you can continue to enjoy all the MagSafe benefits!
Simply place your Apple iPhone with the Apple logo on the wireless charger and wait until you feel a magnetic pull and the iPhone docks. As soon as the MagSafe Charging logo appears on your display, your iPhone will be charged wirelessly!
Our handmade wireless charger is suitable for all iPhones (from iPhone 8) and all other Qi-enabled wireless devices. Simply place your smartphone in the center of the charging station and you can charge it wirelessly. However, the magnetic function is so far only compatible with iPhone models from iPhone 12, as these have the new magnetic Apple MagSafe® technology!
Sure! You can also charge your AirPods (2nd generation) and Airpods Pro comfortably and quickly with our sustainable Apple MagSafe® alternative!
In the MagSafe charger itself as well as in the case of your iPhone 12, iPhone 13 or iPhone 14 there are two integrated magnetic rings, which are exactly adapted to the technology of your iPhone and thus provide the necessary magnetic hold between charger & iPhone. This prevents your MagSafe® Charger from slipping away and interrupting the charging chain. In addition, there are two magnetic strips in your iPhone underneath the ring, which ensure the vertical alignment and hold of the MagSafe® accessories used. This magnetic technology is only included in the iPhone 12, 13 and 14 models, but does not affect the wireless charging function, which continues to work via the Qi standard. So while MagSafe® magnetic docking is only possible for iPhone 12, 13 or 14, you can still enjoy full charging power with all other models!
The signal strength of our MagSafe Charger can charge smartphones with Cases up to 3mm thickness. As long as the back of the Case does not exceed the thickness, and your case is not made of metal, the phone does not need to be removed from the Case . Please also make sure that there are no magnetic objects, metal rings or other interfering objects such as credit cards between the smartphone and the wireless charger!
Please also note that the magnetic hold function only works with iPhone models from iPhone 12 onwards and only works with thin Cases up to 1mm or with Cases which have integrated magnets, e.g. the official Apple MagSafe®Cases. We can also recommend our Slim Case! Thanks to the 1mm thin wooden layer, the full magnetic force between your iPhone and your wireless charger is maintained and ensures a stable hold.
Function
Our magnetic innovative MagPad can reach up to 10W charging speed. Please note that the achieved inductive speed depends on many factors, such as charging input (power supply, power adapter, etc.), device specification, software and temperature. The stated values in our test were determined with an Apple iPhone 12 at room temperature. Here, 100% battery level was reached in 130 min. Unlike many other wireless chargers, our MagPad does not flatten out in performance, but offers a stable and controlled speed.
Please also note that the achieved speed depends on the integrated technology in your smartphone model:
Apple iPhone 12 generations reach 10W charging speed
Older iPhone models, such as iPhone 8, 11, SE 2020 charge at 7.5W due to Apple technology
On the other hand, most Samsung & Android smartphones can charge up to 10W
The robust charging cable is longer than conventional cables and with brings more flexibility with 1.20m! The high-quality USB-C connector guarantees stable and fast wireless charging. In addition, we give you a practical USB-A charging adapter, so you can also connect your MagPad with other power supplies or notebooks.
The inductive charging station features "Foreign Object Detection" according to the QI standard. When there is no smartphone on the charger, it automatically turns off and does not consume unnecessary power. This also ensures that the MagSafe Charger deactivates when other objects are on it. This foreign object detection is particularly important, as the MagPad would otherwise charge constantly if non-chargeable, metallic objects were on it. Similar to an induction cooktop, heat would be produced permanently. Please note that this is a safety precaution and not a defect. If your iPhone or device is not recognized immediately, please wait a few seconds and then put it back on. After that your device will be recognized immediately and you can charge it again. If you have any further questions, please feel free to contact our customer service!
Material
Our magnetic charger is made of high quality American walnut wood, which we import from the USA and prepare by hand. Since we work with a real natural material, each charger is unique with different grain and feel.
No! And that's exactly what makes our sustainable, handmade chargers! Each wireless charger is truly unique and will only exist once in the world. Because we work with a natural product that always has different grains and textures, each MagSafe® Charger is individual in its look and feel.
Our smart wireless charging station is made from premium walnut wood, plant-based hemp fabric, and the end pieces are brushed recycled aluminum. Through our sustainable ethos, we've created a true greener MagSafe® alternative. In addition to natural, controlled materials, we also thought of a sleek Apple design for our wireless charger. The inductive charging station therefore weighs only about 60g & has a slim finish.