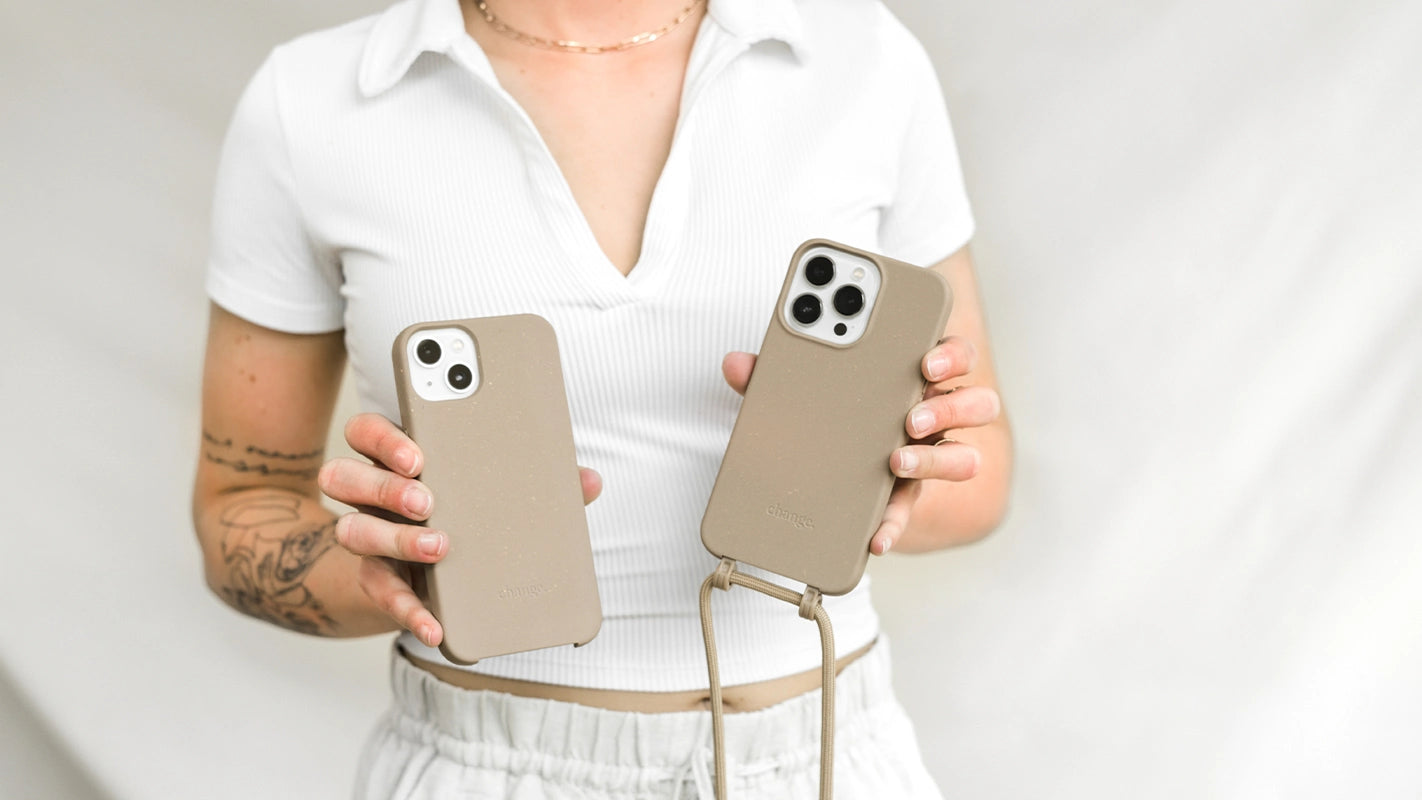 iPhone 11 Necklace Cases
Browse through our variety of mobile chains and cords for your iPhone 11! Our Change Case combines flexibility, individuality and sustainability in one Case and can be designed freely according to your wishes with its innovative click-in system. The components are modular & interchangeable and turn your necklace case for iPhone 11 easily into a practical cell phone case with strap. Be flexible all day long!
Don't feel like making decisions? With our modular iPhone 11 phone chain, you'll never have to settle again. The iPhone 11 phone case with lanyard can be flexibly changed from a bumper case to a phone case to wear around your neck - simply clip in the cord strap and immediately hang your iPhone comfortably around your shoulder.

Design your iPhone 11 phone case with lanyard according to your mood and choose from a variety of interchangeable cord stra ps and lanyards made of robust OEKO-TEX® cotton. The bands and lanyards are adjustable and can be removed and combined differently at any time. You have the choice between plain solid colors and colorful color combos, so your phone case with strap for iPhone 11 is guaranteed to match all your outfits!

The Change Case belongs to our organic family and is made exclusively from recycled plant material and biodegradable plant starch (PLA). This organic blend is vegan, resource friendly and even makes your iPhone 11 phone case with band compostable! So we can reuse your old case to make new necklace case. In addition, thanks to a special antimicrobial formula , the iPhone 11 Case with band is equipped with a strong antibacterial protection that destroys 99.99% of all bacteria and viruses. Your cell phone case with chain for iPhone 11 thus remains permanently germ-free and protects not only your smartphone, but also you and your fellow men!

The sustainable necklace case iPhone 11 is available in a timeless monochrome design or in a stylish batik look. For our special Filia Case in beige-blue we donate 10% of the sales to the Filia Women's Foundation!
Over 200,000 satisfied customers