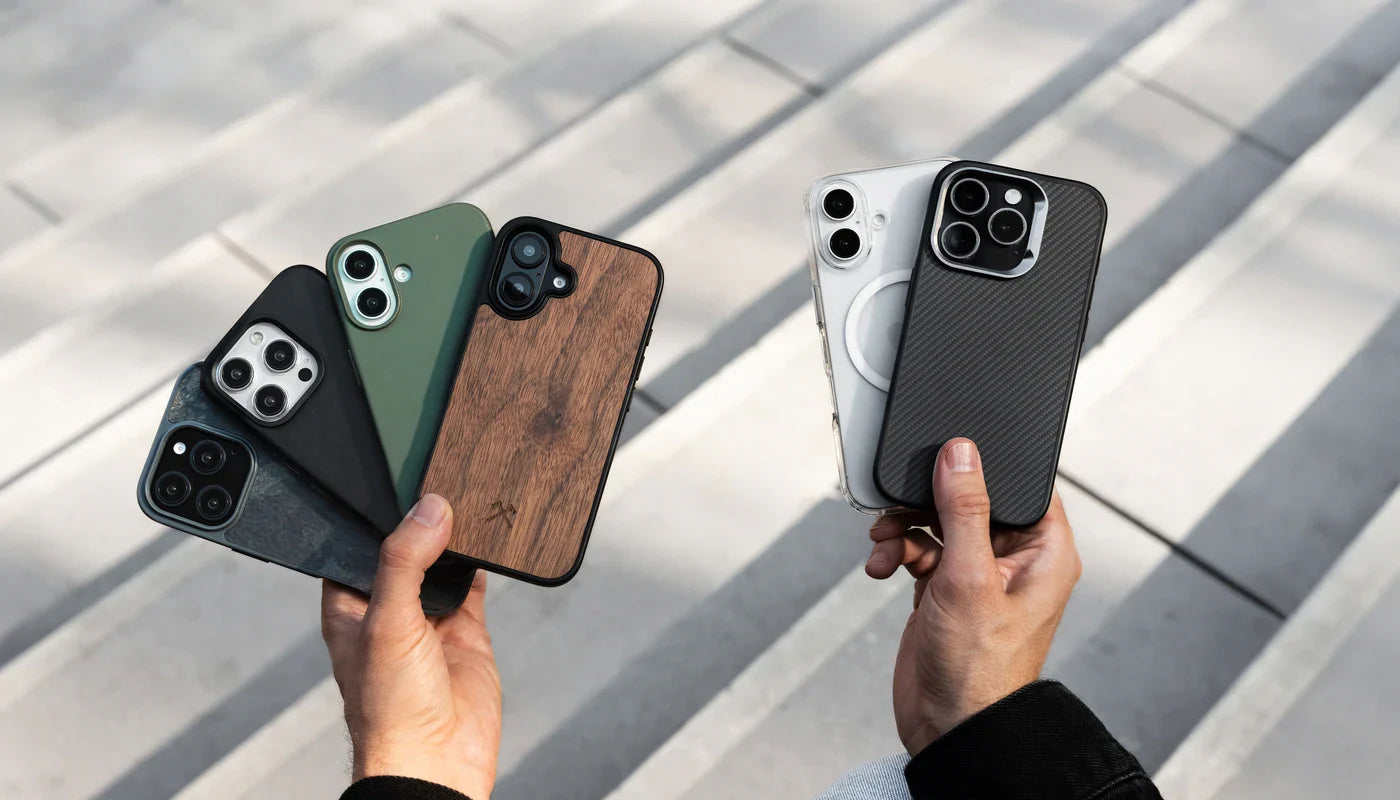 iPhone Cases: Quality and sustainability combined
In the world of technology and style, ouriPhoneCases from Woodcessories stand out for their unique design and quality. But what happens when these two aspects are combined with the important feature of sustainability? The result is a product that impresses with a perfect symbiosis of aesthetic design and innovative technology and protects your iPhone in a stylish and sustainable way. Your iPhone is more than just a technical device, it is an expression of your style, your personality and your values. Why shouldn't these elements be reflected in your choice of iPhone caseCase ? At Woodcessories, we have made it our mission to unleash the full potential of your iPhone - both in terms of its aesthetics and its functionality. Our iPhone casesCases offer far more than just protection. They are a statement for those who crave something special. After all, it's not just about what's on the screen of your iPhone, but also about how it feels in your hand, how it looks when it's on a table or how it accompanies you in your everyday life.
While many people see an iPhone case as a necessity to protect their device from the vagaries of everyday life, we see them as much more. Protection is essential, but it's only one aspect of what an iPhoneCase can do. In the right organic iPhoneCase , your smartphone merges with your lifestyle, becoming a constant companion that not only works, but also inspires.
We believe that a Case should be as innovative and well thought-out as the device it protects. That's why when we design our iPhoneCases cases, we make sure that they are aesthetically pleasing as well as functional. An iPhone-Case from Woodcessories is designed to withstand the rigors of everyday use as well as the highest design standards. Of course with full focus on the aspect of sustainability.
The special feature of the Woodcessories iPhone case - sustainable and aesthetic
Nature is the ultimate designer. For thousands of years it has been creating shapes, textures and patterns that are unsurpassed in their beauty and function. At Woodcessories, we have taken inspiration from this and integrated these natural elements into our iPhoneCases using exquisite natural materials. Every piece of wood we use has its own story, its own personality. This is not only a testament to our attention to design, but also to our commitment to using sustainable and environmentally friendly materials.
In a world dominated by disposable products, we have decided to take a different approach with our sustainable iPhone cases. By using organic materials and recyclable components, we are helping to reduce the ecological footprint and preserve our planet for future generations. Choose one of our iPhone casesCases and bring a touch of nature directly into your home.
As with all our products, we believe that sustainability and quality should go hand in hand with our iPhoneCases. That's why our iPhoneCases cases are not only biodegradable, but also robust and durable. For iPhone cases that sustainably protect our planet.
Cell phone case for your iPhone: tips and tricks for optimal use
Choosing a Woodcessories iPhone caseCase shows your commitment to quality, design and sustainability. To get the most out of your new sustainable phone case and keep it in pristine condition for as long as possible, we have put together some tips and tricks for you:
Cleaning and care:
Use a soft, slightly damp cloth to gently wipe the Case .
Avoid using chemical cleaning agents as they can damage the natural wood.
A little olive oil can be applied occasionally to nourish the wood and maintain its shine.
Avoid extreme temperatures:
Excessive heat or cold can cause the wood of the iPhone-Case to dry out or warp.
Do not store your iPhone with the Case directly in the sun or in very cold environments.
Protect from moisture:
Although our iPhonesCases offer a certain degree of water resistance, they should not be stored in wet environments for long periods of time.
If your iPhone-Case gets wet, dry it immediately with a soft cloth.
Dealing with wear and tear:
It is natural for wooden products to show signs of wear over time. This gives them character and makes each Case unique.
However, if your iPhone-Case shows unexpected damage, do not hesitate to contact our customer service. Your satisfaction is important to us!
This way, your iPhone caseCase will not only last a long time, but will always look like new. Enjoy the unique touch it adds to your iPhone and wear it with pride, knowing that you have made an environmentally friendly and stylish choice. For quality iPhone cases - sustainable and aesthetic.
Cell phone case for iPhones: Inspired by nature, made for the future
Your iPhone is a technical masterpiece, a marriage of engineering and design. At Woodcessories, we believe it's only right to protect this masterpiece with a Case that's just as impressive. Our iPhone casesCases are works of art, inspired by nature and crafted with an eye for detail.
The heart of our philosophy lies in the combination of design and nature. Our organic iPhone case reflects exactly that and shows that technology and environmental protection can go hand in hand. Choose an organic iPhone case or an organic iPhone caseCase and decide not just for a product, but for a philosophy of sustainability.
When you hold your iPhone-Case in your hand, you can feel the texture of the wood, see the unique grain that makes each Case one of a kind. But behind this beauty is also a deep commitment to our environment. Every time you buy one of our wooden phone cases, you are helping to make our planet greener and more sustainable. How? We plant a tree for every product sold and thus contribute to a reduced CO2 footprint.
Discover our range of iPhone casesCases, cell phone chains and more. Experience them as the perfect companion for your smartphone and for those who think one step ahead. If you have any questions, don't hesitate to contact our customer service team. We are here for you.


Our sustainable iPhone Cases are available for:
iPhone 15 | iPhone 15 Pro | iPhone 15 Plus | iPhone 15 Pro Max
iPhone 14 | iPhone 14 Pro | iPhone 14 Plus | iPhone 14 Pro Max
iPhone 13 | iPhone 13 Pro | iPhone 13 Mini | iPhone 13 Pro Max
iPhone 12 | iPhone 12 Pro | iPhone 12 Mini | iPhone 12 Pro Max
iPhone 11 | iPhone 11 Pro | iPhone SE 3 | iPhone SE (2020)
iPhone Xr | iPhone X/X(s)