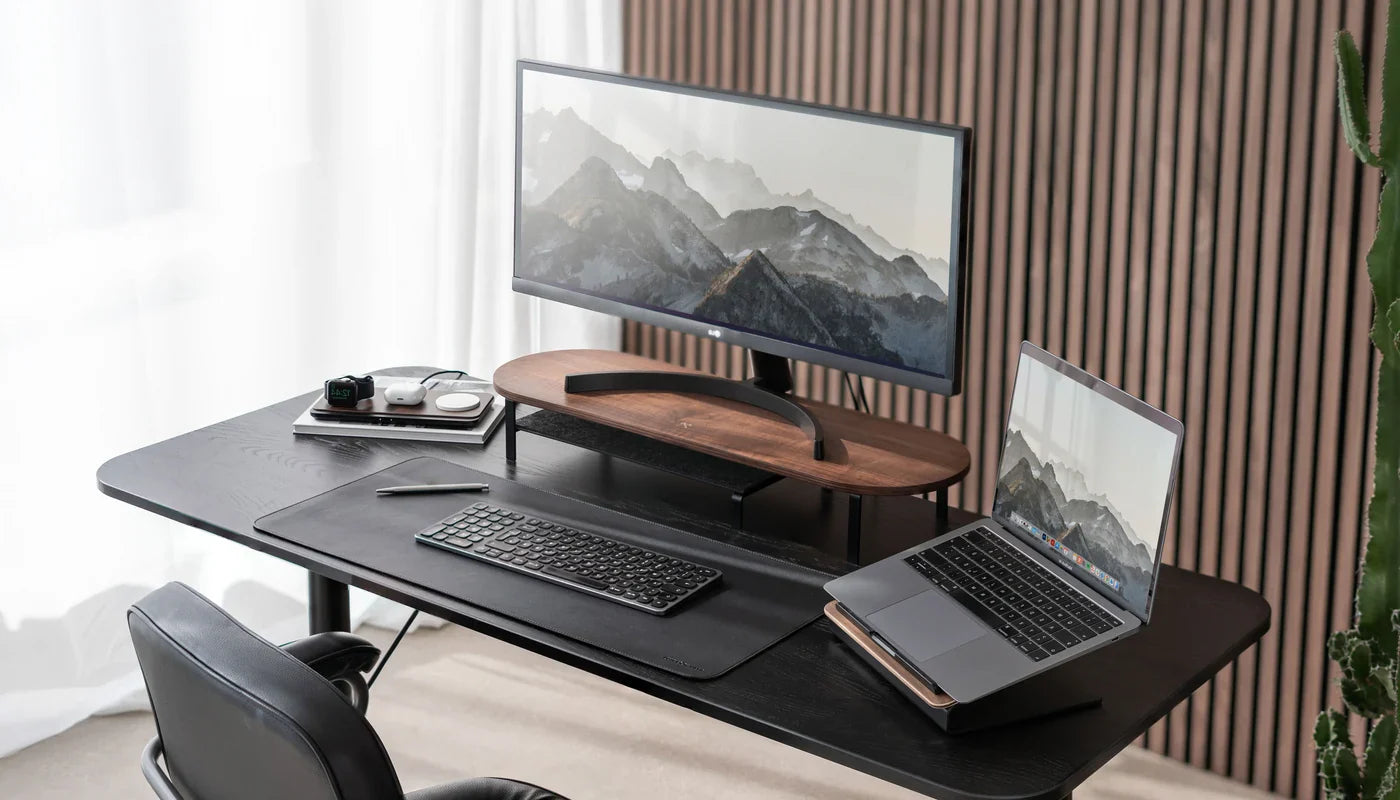 Monitor stand
A must-have for every desk! With our practical monitor stands you not only give your desk a stylish look, but you also get a real space miracle. The combination of sustainable materials with minimalist design makes the wooden monitor stand an eye-catcher in any office.
Work and nature in perfect harmony

The elegant desk accessory for individualists with style. Highest quality materials meet sophisticated aesthetics and practical features! Consisting of noble wood and matte aluminum, our accessory is an eye-catcher on every desk and home office! Thanks to the ergonomic design, it is the ultimate combination of style and functionality.
Ergonomics at work: the monitor stand for your well-being
Our high-quality monitor stands are specially designed to provide an ergonomic working environment. This helps reduce neck and back pain caused by an incorrect monitor position. With our monitor stand, you can work in a natural and comfortable posture that promotes your health and productivity.

Space-saving elegance: organize your workspace
Our monitor stand not only has ergonomic functionality, but is also extremely space-saving. You can store your keyboard, mouse and other work essentials under the stand to keep your workspace tidy. This not only creates an organized atmosphere, but also maximizes the available space on your desk. The stylish and modern design of the stand blends seamlessly into any office environment and adds an elegant touch to your workspace.

Stability and Versatility: For all Monitors Sizes
Our monitor stand is made from high-quality materials to provide a stable platform for monitors of various sizes. Whether it's one monitor or even 2, our stand effortlessly holds any device. The non-slip feet ensure added stability and prevent the stand or monitor from slipping. Experience a wide range of uses and increase the flexibility of your workspace.