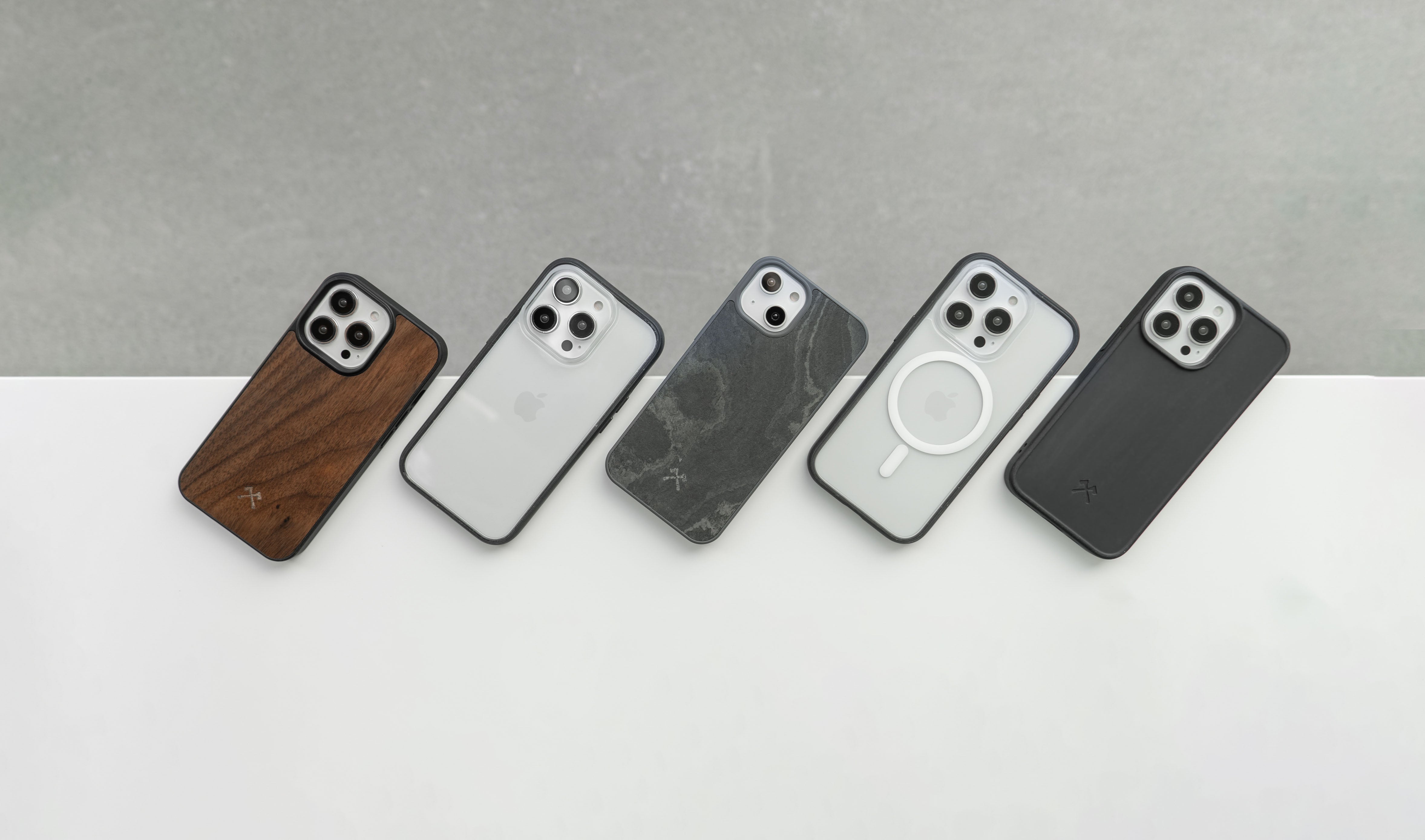 iPhone 14 Pro Cases
Discover our variety of cases for your iPhone 14 Pro. With our sustainable handmade cell phone cases your iPhone is in safe hands! Our iPhone cases are made of exclusively natural materials like high quality wood, stone and organic material made from plants. Whether extra slim design, reinforced bumper with drop-down protection or elegant split look - find your perfect Woodcessories companion for your iPhone 14 Pro!
Bio Case
Organic Leather Case
Bumper Case
Clear Case
Necklace case
Tempered Glass
Bulletproof Glasses Bundles
Ready to go with your iPhone 14 Pro
With our versatile iPhone 14 Pro phone cases you are prepared for everything. Whether it's scratches, dirt, or inclement weather, your sustainable iPhone 14 Pro case is sure to accompany you through everyday life with high-quality all-around protection and exceptional looks. All our Bumper Cases offer certified impact protection with a reinforced shock-absorbing frame made of recycled TPU and an individual design made of wood, stone or plants.
Crystal clear vision with our Clear Case
The perfect Case for those who want to make the Apple design of their iPhone 14 Pro shine. The iPhone 14 Clear Case offers lifetime clarity with an anti-yellowing guarantee and is completely biodegradable! The clear iPhone 14 Pro Case additionally comes with interchangeable buttons with which you can give your Clear Case a personal touch.
iPhone 14 Pro MagSafe Case for optimized charging
You are spoilt for choice - almost all of our iPhone 14 Pro cases are available as normal bumper Case or as magnetic Case with MagSafe charging function. Thanks to innovative heat-resistant magnets, the MagSafe Case for iPhone 14 Pro provides an extra strong hold for MagSafe chargers and accessories and enables Fast Charging up to 20W.
Everything for your iPhone 14 Pro
In addition to our environmentally friendly smartphone Cases you will also find high-quality accessories for your iPhone 14 Pro. The extra strong 9H Asahi glass helps our iPhone 14 Pro cases to protect your iPhone and fits perfectly on your display.

All our iPhone 14 Pro Cases can also be used with MagSafe Bio Cases and Bumper Cases, charging has never been easier. Our ultra-thin Slim Case also allows the use of other MagSafe products like the Apple Leather Wallet with full magnetic power.

Protect your iPhone 14 Pro with your original Woodcessories iPhone 14 Pro case and combine high quality protection with stylish Apple design!

Our sustainable iPhone Cases are available for:
iPhone 15 | iPhone 15 Pro | iPhone 15 Plus | iPhone 15 Pro Max
iPhone 14 | iPhone 14 Pro | iPhone 14 Plus | iPhone 14 Pro Max
iPhone 13 | iPhone 13 Pro | iPhone 13 Mini | iPhone 13 Pro Max
iPhone 12 | iPhone 12 Pro | iPhone 12 Mini | iPhone 12 Pro Max
iPhone 11 | iPhone 11 Pro | iPhone SE 3 | iPhone SE (2020)
iPhone Xr | iPhone X/X(s)
Over 200,000 satisfied customers