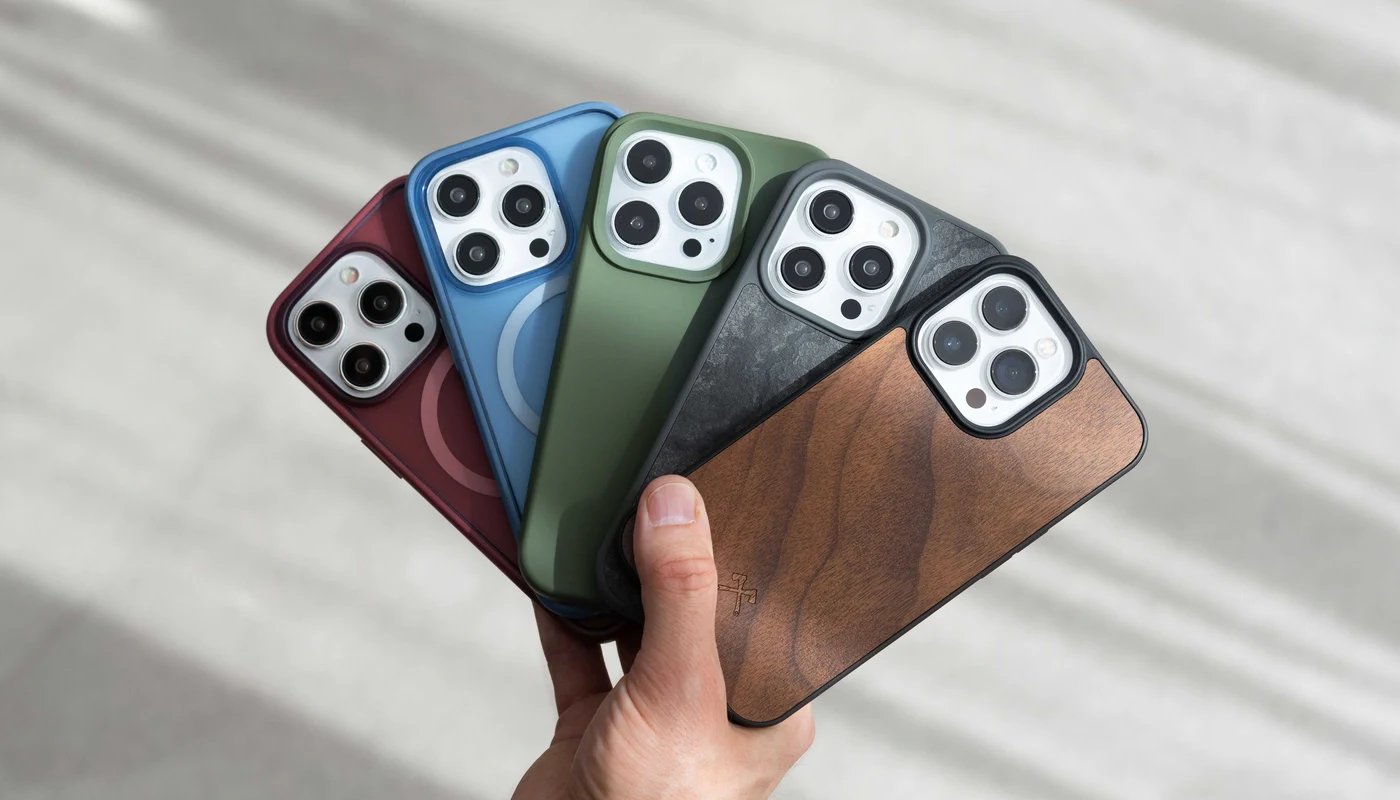 iPhone 15 Cases
Discover our new iPhone 15 Cases collection. With our sustainable & handmade phone cases your new iPhone 15 is in safe hands! Our iPhone 15 Cases are made exclusively from natural materials like wood, stone and organic material from plants. Besides our classics like the Bio Case made from straw & wheat scraps or our iPhone 15 Bumper Case made from wood & stone, our new collection also features new iPhone 15 cases like our vegan leather case made from aloe vera. No matter if you prefer a slim design, robust corners or a transparent back - you will find the perfect Woodcessories companion for your iPhone 15 that underlines your personal style!
Bio Case
Bumper Case
Clear Case
Organic Leather Case
Necklace case
Tempered Glass
Bio Case MagSafe
Bulletproof Glasses Bundles
Our iPhone 15 Cases cases have been specially developed to optimally support the unique requirements and features of the iPhone 15. Our iPhone 15 cases not only offer first-class protection, but also innovative features that make your iPhone 15 even more powerful. From modern designs to advanced materials, our iPhone 15 cases are the perfect complement to your device.
Unique reasons for Woodcessories iPhone 15 Cases
Our iPhone 15 phone cases from Woodcessories are more than just protective cases - they are an expression of quality, sustainability and design innovation. Wood, stone, organic plastics and vegan leather are our basis for protecting your iPhone 15 in a stylish and environmentally friendly way. Our iPhone 15 Cases are perfectly tailored to your device to ensure an optimal fit and unrestricted functionality.
Our commitment to the environment is underlined by the use of materials that are FSC-certified or come from controlled, sustainable sources. In addition, we are constantly working to optimize our production processes and thus minimize our ecological footprint. At the same time, our design team works tirelessly on our iPhone 15 Cases - for cases that are not only functional, but also a real visual highlight.
iPhone 15 Case - sustainable from wheat & straw
Our Bio Case for the iPhone 15 is an outstanding example of sustainable protection with natural materials. Made from wheat and straw waste, the iPhone 15 Case not only offers first-class protection for your iPhone, but also actively contributes to reducing environmental impact. With a choice of different colors and a sleek design, the iPhone 15 Case gives your smartphone a unique aesthetic.
The phone case for the iPhone 15 is characterized not only by its environmental friendliness, but also by its resistance to daily wear and tear. Known for their shock-absorbing properties, straw and wheat minimize the risk of damage to your iPhone in the event of a fall. In addition, the iPhone 15 case feels pleasantly warm and natural - a striking difference to conventional plastic cases. Thanks to its refined texture and lightweight design, the iPhone 15 stays in your hand without weighing you down. For a sustainable cell phone case that impresses.
Robust protection with style: the iPhone 15 bumper case made of wood & stone
Our iPhone 15 Bumper Case is the ultimate choice for those looking for a unique design. This iPhone 15 Case combines the strength of wood and stone and is available in the limited Black Series to give your iPhone 15 a unique touch. The bumper case offers robust protection against bumps and scratches without sacrificing elegance. Each iPhone 15 Case is made by hand and is unique, showcasing the natural beauty of wood and stone.
Clear protection with a green conscience: The first completely plant-based Clear Case for the iPhone 15
Our iPhone 15 Clear Case sets new standards for transparent protection and sustainability. It is the first Clear Case that is made entirely from organic materials. Thanks to the plant-based material, we can also guarantee that the transparent back of the premium iPhone 15 case will not discolor.
The innovative material retains its clarity and emphasizes the design of the iPhone without obscuring the view of the elegant Apple logo. Withstand daily wear and tear without looking bulky? It's possible with our clear Case for the iPhone 15. The slim shape adapts perfectly to the contours of the iPhone and thus offers protection without being bulky. Thanks to the use of plant-based materials, this iPhone 15 Case is not only environmentally friendly, but also free from harmful chemicals - perfect for your health-conscious lifestyle.
Flexible and practical: the iPhone 15 Change Case with detachable cord
Our Change Case for the iPhone 15 is the ideal choice for those who value flexibility and functionality. This popular iPhone 15 Case is equipped with a detachable cord that allows you to wear your iPhone comfortably around your neck or use it as a crossbody bag. Thanks to the smart click system, you can change or remove the cord on the iPhone 15 Case in seconds!
The iPhone 15 Case not only offers a new level of comfort, but is also a fashionable accessory that can be easily adapted to any outfit thanks to the different cord colors. The robustness of the cord ensures that your iPhone stays securely with you, while the flexibility of the material guarantees a comfortable fit. This iPhone 15 Case is the perfect companion for anyone who wants to keep their hands free but always have their smartphone to hand.
Stylish protection without compromise: Our vegan iPhone 15 leather case made from Aloeskin
Our vegan leather iPhone 15 Case is the first vegan leather case made from plant-based materials. The basis for this iPhone 15 Case is the aloe vera plant, from which the so-called aloeskin material is made, which has the same characteristics as leather. We believe that sustainability and elegance can go hand in hand, and our vegan leather iPhone 15 case Case is the proof.
The Aloeskin case is a prime example of innovation in the field of vegan materials which, in addition to its ecological responsibility, also impresses with its soft, non-slip surface. The texture of the iPhone 15 Case offers a pleasant tactile feel and prevents the device from slipping out of your hand. Our iPhone 15 case is easy to care for and resistant to daily wear and tear such as scratches and abrasion. The design of the iPhone Case is timeless and elegant, so that it meets business requirements as well as everyday use. With this iPhone 15 Case you are making a statement for responsible consumption - without compromising on quality and style.
Perfect compatibility with MagSafe: Our iPhone 15 MagSafe Cases
Our Bio Case, bumper case, Clear Case and leather case for the iPhone 15 are all equipped with the latest MagSafe technology. This means that you can charge your iPhone 15 wirelessly without having to remove the Case . In addition, our iPhone 15 Cases are perfectly matched to MagSafe accessories such as magnetic wallets or holders.
Discover the variety of our new iPhone 15 Cases collection that complements your everyday technology experience. Benefit in particular from a simple ordering process, secure payment and climate-neutral shipping.
If you have any questions about your new iPhone 15 Case , please feel free to contact us!
Our sustainable iPhone Cases are available for:
iPhone 15 | iPhone 15 Pro | iPhone 15 Plus | iPhone 15 Pro Max
iPhone 14 | iPhone 14 Pro | iPhone 14 Plus | iPhone 14 Pro Max
iPhone 13 | iPhone 13 Pro | iPhone 13 Mini | iPhone 13 Pro Max
iPhone 12 | iPhone 12 Pro | iPhone 12 Mini | iPhone 12 Pro Max
iPhone 11 | iPhone 11 Pro | iPhone SE 3 | iPhone SE (2020)
iPhone Xr | iPhone X/X(s)
Over 200,000 satisfied customers