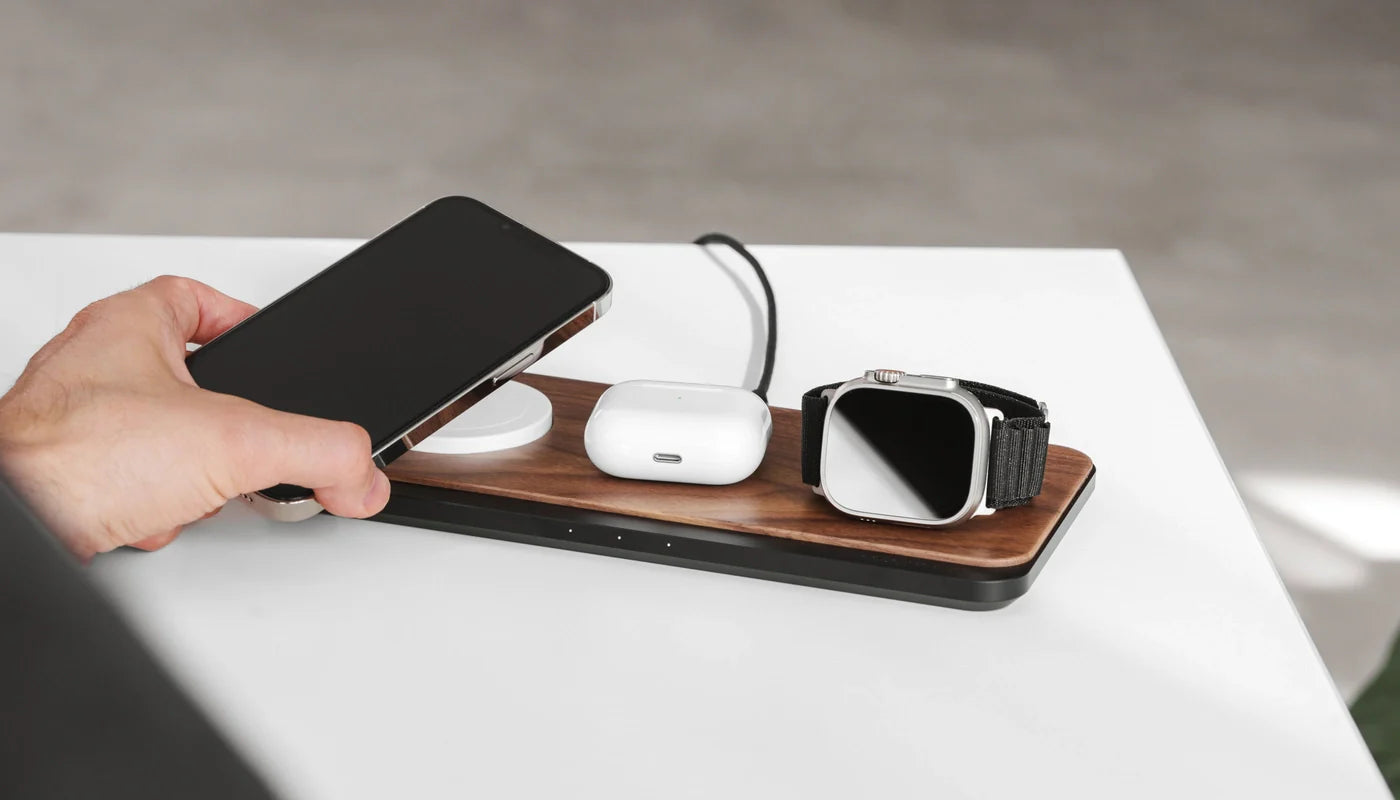 iPhone & Apple Watch Charger
We have combined the most advanced (Magsafe©) technology with fine, unique materials to give you the highest quality and most comfortable charging experience ever! 
3 intuitive wireless coils charge your iPhone, AirPods, and Apple Watch at up to 15W while maintaining a clean, Apple-like aesthetic. With a total power of 30W, it offers our fastest and most powerful wireless charging yet. Built-in magnets and a rotating Apple Watch module provide effortless charging. Smart LED light sensors dim the light for a harmonious nightstand setup.
Your Apple Watch is more than just an intelligent everyday companion - it is a statement of style and technological sophistication. That's why it deserves an Apple Watch charging station that is not only functional, but also visually appealing. Our selection of Apple Watch chargers is designed to charge your high-quality device safely and in style.
Design and sustainability combined - Apple Watch Charger
An Apple Watch charger from Woodcessories not only combines modern design with functionality, but also sets an example in terms of sustainability. Each Apple Watch charging station is made from FSC-certified hardwood, proving that elegant looks and eco-friendly materials can go hand in hand. Our commitment to sustainability is further strengthened by the use of recycled aluminum. At the same time, this gives our products additional stability and a timeless elegance.
Our MultiBase Pro, an innovative charging station for iPhone & Apple Watch, is the perfect example of the symbiosis of functionality and ecological awareness. This charging station uses the latest MagSafe technology to securely position your Apple devices and enable wireless charging without clutter. The pivoting Apple Watch charger flexibly adapts to your preferences, while the magnetic alignment ensures an intuitive charging experience - whether you prefer flat or elevated charging.
Buying one of our Apple Watch charging stations is a true win-win situation: While the elegant look of our charger fits seamlessly into any lifestyle, the environmentally conscious design minimizes your ecological footprint.
Intelligent functions for modern charging
Charging your Apple devices becomes an experience of simplicity and efficiency with our Apple Watch charging station. With advanced MagSafe technology, attaching your devices is a breeze: magnets ensure perfect alignment and a firm hold to make charging as seamless as possible. The MultiBase Pro allows you to charge your iPhone, AirPods and Apple Watch with up to 30W of power. This powerful Apple Watch charging station offers you incomparably fast charging and puts an end to the annoying tangle of cables!
Of course, in addition to the fast charging speed, convenience must not be neglected. That's why our charging station features three high-performance magnetic charging coils that enable flat or elevated charging. This means that you can leave your Apple Watch on the charging station or raise it to make it easier to see the alarm clock or incoming messages, for example. The Wireless Charger also ensures that you can conveniently charge your devices overnight and start the next morning with full power. Thanks to intelligent LED indicators, the Apple Watch charging station signals to you that your device is charging. They dim automatically to respect your rest periods - proof that we at Woodcessories always have our customers' needs in mind.
Stylish symbiosis: Apple Watch charging stations as part of the living ambience
The Apple Watch charging station is not just a useful tool - it is part of your interior design. Thanks to their harmonious combination of technology and design, our charging stations fit seamlessly into your living environment and become a real eye-catcher that underlines your personal style. The careful selection of premium materials such as hardwood and recycled aluminum not only reflects your sense of aesthetics, but also emphasizes your commitment to the environment. The natural charm of the wood and the robust yet elegant metal combine to create an appealing whole that is both functional and sophisticated. With the Apple Watch charging station and thanks to the integrated magnetic MagSafe© bases and the quick snap lock, you will not only experience unparalleled convenience, but also outstanding safety for your devices. The feature that allows you to charge your iPhone, your AirPods and your Apple Watch simultaneously when using the MultiBase Pro is particularly practical - with up to 30 W total power.
No matter which Apple Watch charging station you choose - our products impress with their quality and design. From purist elegance to natural warmth - our range of 3 in 1 wireless chargers offers the right accessory for every taste and every interior.
How to maintain the quality of your Apple Watch charging station
The longevity of our Apple Watch charging stations is important to us. That's why we have summarized some care tips below to help you maintain the aesthetics and functionality of your wooden Apple Watch charging station for a long time:
Use a soft, slightly damp cloth to clean the surface of your Apple Watch charging station.
Avoid using aggressive cleaning agents so as not to damage the natural material of your charging station for iPhone & Apple Watch.
Do not place the Apple Watch charging station in direct sunlight to prevent the wood from fading.
Keep the charging station for the Apple Watch dry and avoid contact with liquids.
These simple steps for proper care ensure that the natural material of the Apple Watch charging station retains its beauty and the charging technology works perfectly.
Why an Apple Watch charging station from us is the best choice
At Woodcessories, you won't just find an Apple Watch charging station. You'll find a promise: For design that impresses, quality that lasts, and a philosophy that takes the protection of our environment seriously. Step up to a new level of charging that suits your lifestyle and reflects your awareness of sustainability. Style, functionality and sustainability combined - that's what characterizes Woodcessories.
The MultiBase Pro is the epitome of modern charging and is compatible with all Apple Watch models, making it the ideal partner for any version of your smartwatch - from the 4 to the latest Apple Watch Ultra. To make the ordering process particularly straightforward, we offer various payment options - from credit card to PayPal. This allows you to complete your purchase of the Apple Watch charging station quickly and securely. Our ordering process is also designed to provide you with a clear and transparent overview of the individual steps so that you can make an informed and convenient decision at any time.
If you have any questions about our Apple Watch charging station, don't hesitate to contact us. We are here for you.

Over 200,000 satisfied customers