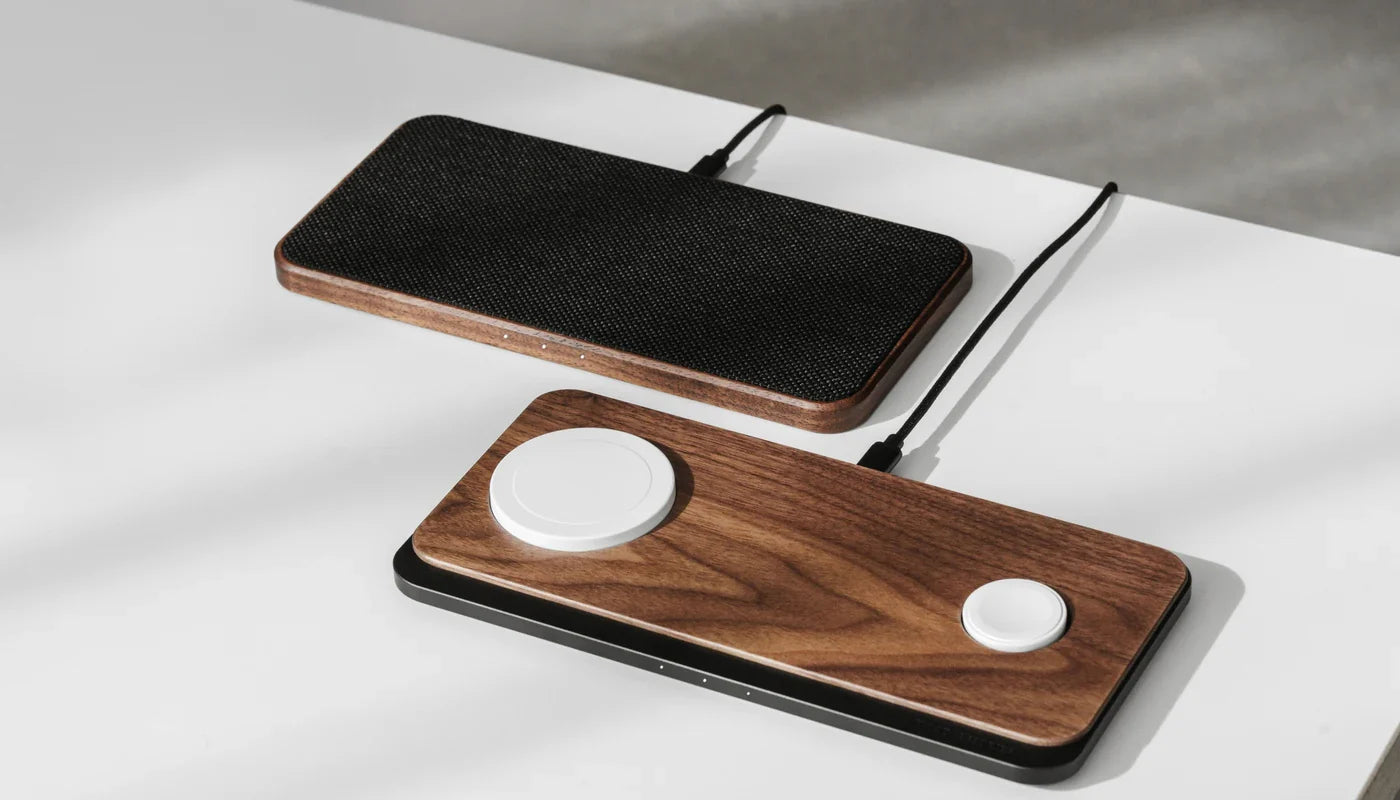 3 in 1 Charging Stations with Apple MagSafe©
Discover the latest innovation in the world of 3 in 1 Apple charging station. We have combined the most advanced (Magsafe©) technology with fine, unique materials to give you the highest quality and most convenient charging experience ever! Our Apple charging station 3 in 1 offer you the ultimate solution for charging all your Apple devices at the same time.
An incomparable charging experience! Our 3 in 1 charging stations are the perfect solution for anyone who wants to eliminate tangled wires and charge all their devices in one place. Charge your iPhone, AirPods & Watch simultaneously without sacrificing a premium look. Our 3 in 1 charging stations feature unique aesthetics and cutting-edge charging technology for a one-of-a-kind experience! For home and office use! Find the charging station that's right for you!
Multipad 3in1 - for Android, Apple & Co.
Minimalist and elegant charging with our 30W premium wood & fabric charging station! With the 3 charging zones you can charge all wireless charging compatible smartphones and Bluetooth headphones simultaneously and that with up to 15 W fast charging! Through the discreet LED lights you always have an overview of the charging process!
Multibase Pro - The Magsafe charging station for all your Apple devices!
Our Apple 3 in 1 charger charges your iPhone, AirPods and Apple Watch simultaneously with up to 15 watts. With a total power of 30W, our MultiBase Pro offers our fastest and most powerful wireless charging yet. Built-in MagSafe magnets and a rotating Apple Watch module make charging effortless. Smart LED light sensors dim the light for a harmonious nightstand setup. Thanks to the weighted aluminum housing, the 3 in 1 MagSafe charger stays firmly in place when you want to pick up your device!
3 in 1 iPhone Charger - every detail matters
We place great emphasis on the design of our products. We have carefully designed our charging stations for aesthetics and performance! Its sleek, minimalist lines combined with high-quality materials set a new design standard! A vegan braided USB-C cable and Portuguese cork bottom feet complement our vision of sustainable product design.