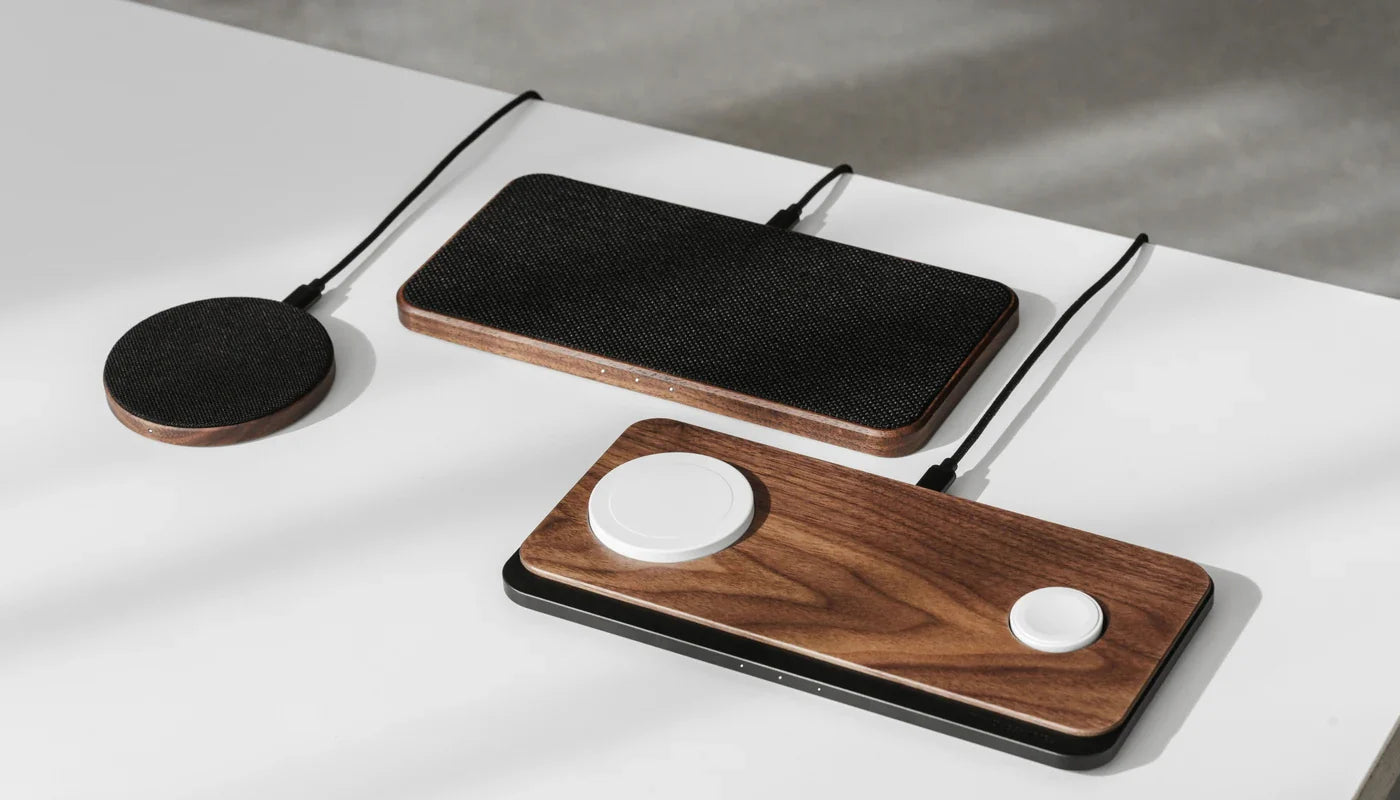 Wireless Charger
Technology and design hand in hand - that's exactly what our wireless chargers from Woodcessories offer. Experience the magic of inductive charging and put an end to the tangle of cables at home once and for all.
But how exactly do the wireless chargers work? It's simple: Place your device, such as your smartphone, Bluetooth headphones or Apple Watch, on the appropriate inductive charging station and the charging process begins thanks to the generated electromagnetic field - without any physical cables.
At Woodcessories we offer you various wireless chargers that all have one thing in common: aesthetic design and innovative technology in perfect symbiosis. Starting with the selection of our exquisite natural materials to the production, we put special emphasis on sustainability in our products. For you AND the environment.
Single Charger
Multi Charger
Power supply unit
Our wireless chargers made of wood, woven linen fabric from hemp and recycled aluminum will not only inspire you with their outstanding quality and functionality, but also integrate perfectly into your modern home with their minimalist look. Whether on your desk or your nightstand - with a wireless charger you charge your devices not only quickly and easily, but also safely. Thanks to intelligent technologies such as the automatic switch-off when the device is fully charged, energy consumption is minimized and overcharging is avoided.
But that's just one of the many benefits that Woodcessories wireless chargers offer you. Due to the lack of physical connections, there is hardly any wear and tear on the connections, less electrical waste and the risk of electrical short circuits is reduced. See for yourself and experience the difference soon.
 Discover our top 3 wireless charger products:
MultiPad 3in1: Our 30 W premium charging station made of wood and fabric combines minimalist design and fast charging. Thanks to three different charging zones with up to 15 W fast charging, you can charge your smartphone and AirPods at the same time and with the discreet LED lights you always keep track of the current charging process of your devices!
EcoPad: The EcoPad made of premium wood and canvas convinces with 15 W charging power and state-of-the-art protection against overheating and overcharging - for innovative charging like never before.
MagPad: Look forward to a fast and wireless charging performance with our MagPad including MagSafe technology! The vegan and non-slip fabric protects against scratches and the extra-long cable gives you the flexibility you need.
Wireless Charger - part of our philosophy
Our goal is to develop plastic-free companions in the form of sustainable accessories made of natural materials with a lot of passion, dedication and high quality standards. We create products that combine quality, design and functionality in equal measure. Our modern wireless chargers are no exception. Fair and environmentally friendly, they are made from sustainable as well as recycled materials, thus creating new standards for tomorrow's technology with our wireless chargers today.
In order to maintain a constant balance between sustainability and quality, we have relied on a valuable natural resource since the beginning of our production: high-quality American wood. It is characterized above all by its durability and robustness, so that your Wireless Charger will look like new for a long time. Whether it's the wood, which we obtain exclusively from FSC-certified forests, or our packaging made from recycled paper, which saves enormous amounts of CO2 - wherever we can, we make our contribution to climate protection. With the purchase of a Woodcessories Wireless Charger you can also get involved. For every product sold, we plant a tree that can donate to the future together with Trees for the Future. Be a part of it and join us on our journey to make the world a little bit better. 
Small but mighty - your wireless charger for home or on the road
A wireless charger can be used in many ways. Whether at home or on the road in cafes, libraries and the like - the inductive charger is handy and fits in any pocket. For quick power in between!
Our wireless chargers are not only wireless chargers, but also an expression of your lifestyle. Make a statement for sustainability with the inductive charging station, available in walnut, oak or black, and support us on our mission to unite technology and nature so that we can offer you a completely climate-neutral product range by 2024. Feel free to browse our online store and discover our other products besides the wireless chargers, such as the thin and sustainable cell phone cases or our elegant wooden laptop stands - if you're looking for modern eye-catchers for your innovative home, you're guaranteed to find what you're looking for.
As soon as you have decided on a wireless charger or one of our other products, you can order it easily and conveniently online. Of course, we offer you various payment options, via Paypal, ApplePay, Visa and Co. and ship your item, according to our philosophy, climate neutral. Once the product has arrived at your home, we ensure that your wireless charging station works smoothly with our two-year warranty. 
However, if you are not satisfied with your choice, you can rely on our easy exchange service. Please do not hesitate to contact us if you have any questions about our wireless chargers. We are here to help you.