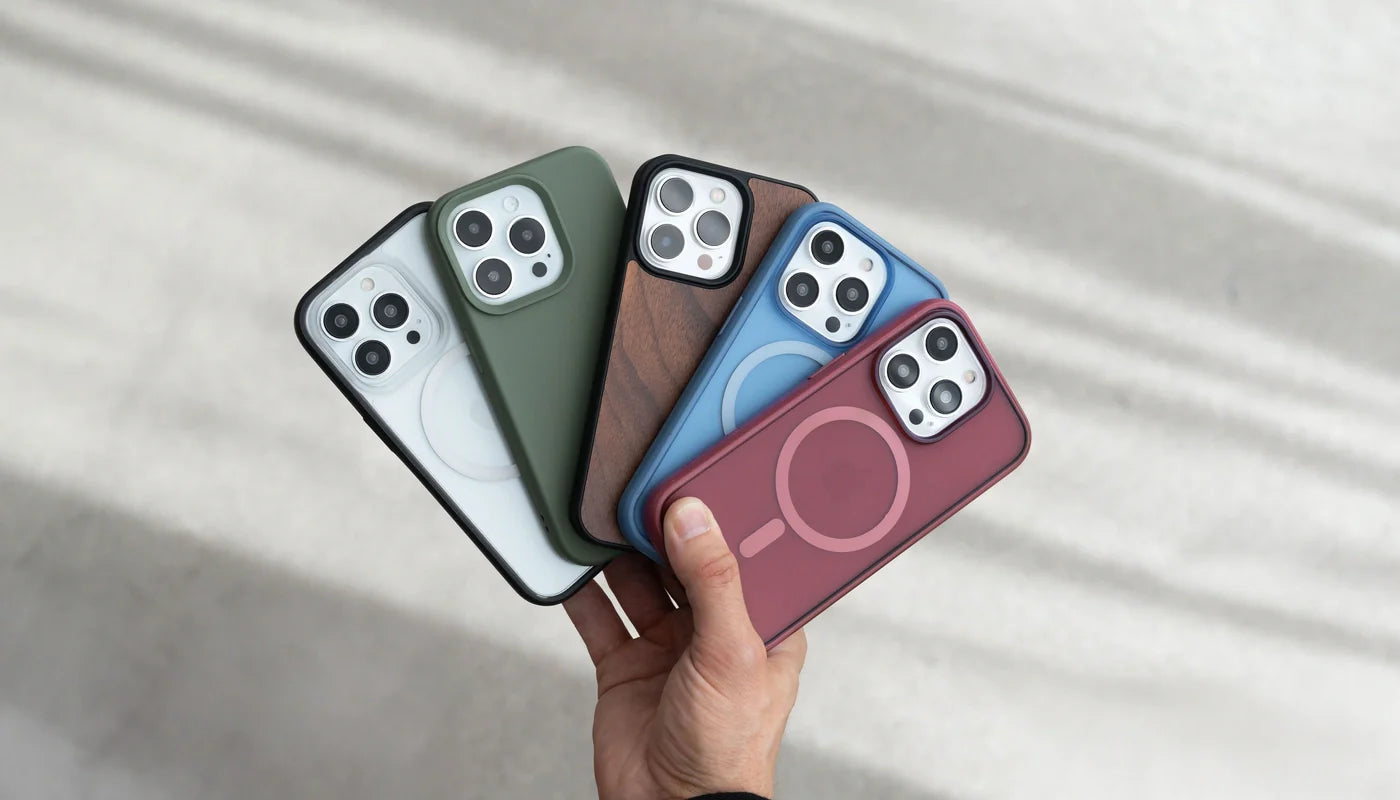 iPhone 15 Pro Cases
Discover our diverse selection of stylish Apple iPhone 15 Pro phone cases for your iPhone 15 Pro now. With our high quality iPhone Cases your iPhone 15 Pro is well protected. We use only natural materials such as wood, stone and eco-friendly organic materials, giving your iPhone a custom look. Whether you prefer a slim design, robust corners or a transparent back, you will find the perfect Woodcessories companion for your iPhone 15 Pro that underlines your personal style. Make your statement now and give your iPhone 15 Pro the uniqueness and quality it needs!
Bio Case
Bumper Case
Clear Case
Organic Leather Case
Necklace case
Tempered Glass
Bulletproof Glasses Bundles
Bio Case MagSafe
Experience smartphone protection in a new way with our customized iPhone 15 Pro Cases. These Cases are specially designed to perfectly complement the advanced features and needs of the iPhone 15 Pro. With our iPhone 15 Pro cases, you not only get superior protection, but also innovative features that further enhance the power of your iPhone. Our selection combines pioneering materials with trendy designs - for iPhone 15 Pro Cases that are simply better.
Your ecological choice: The iPhone 15 Pro Case
Our iPhone 15 Pro Case from Woodcessories is a true masterpiece of sustainable design. Made from leftover wheat and straw, this Case not only protects your iPhone 15 Pro from damage, but also actively contributes to environmental protection. The Case for the iPhone 15 Pro has a slim design and is available in different colors - for your individual look. With our iPhone 15 Pro Cases , environmental friendliness and excellent durability go hand in hand. They offer you optimum protection against everyday wear and tear. The iPhone 15 Pro protective case uses the shock-absorbing properties of straw and wheat to minimize the risk of damage in the event of a fall. At the same time, the iPhone 15 Pro Case feels warm and natural. With our sustainable phone cases, you will experience a clear difference to conventional plastic cases.
The protective case for the iPhone 15 Pro also offers:
Lightweight design for comfortable handling
Environmentally friendly production that conserves resources
Non-slip surface for a secure grip
Easy assembly and disassembly for quick replacement
Accessibility to all ports and operating elements
Long durability despite daily use
Unique, aesthetic appearance
This iPhone 15 Pro Case not only protects your device effectively, but is also the ideal companion for your sustainable lifestyle.
Style meets stability: your iPhone 15 Pro bumper made of wood & stone
Our iPhone 15 Pro Bumper Case is the epitome of style and strength. This iPhone 15 Pro Case combines the robustness of wood and stone and is available as part of our exclusive Black Series. Each piece is handcrafted and emphasizes the natural beauty of the materials. The Bumper iPhone 15 Pro Case reliably protects your device from bumps and scratches without compromising on elegance.
This Case represents a symbiosis of traditional craftsmanship and modern technology. The use of real wood and stone gives each iPhone 15 Pro Case a unique pattern and an incomparable feel. These materials not only impress with their natural beauty, but also with their durability and resistance. While the wood offers a warm, pleasant texture, the stone is known for its robust properties. This makes the bumper case for the iPhone 15 Pro a real gem that protects your smartphone from the vagaries of everyday life. It is therefore the ideal choice for anyone who values aesthetics, quality and sustainability.
The iPhone 15 Pro Clear Case: Transparent & sustainable
Our iPhone 15 Pro Clear Case sets new standards in terms of transparent protection and sustainability. As the first of its kind to be made entirely from organic materials, it remains clear and does not discolor. The discreet appearance of the iPhone 15 Pro Case emphasizes the elegant design of your smartphone. The slim shape offers reliable protection without being bulky and is environmentally friendly and free from harmful chemicals thanks to the use of plant-based materials. For the next generation iPhone 15 Pro Cases .
Flexible & fashionable: the iPhone 15 Pro Change Case with detachable cord
This iPhone 15 Pro Case is the ultimate addition for a flexible and stylish appearance. Equipped with a detachable cord, it allows you to carry your iPhone comfortably and securely. The phone chain is quick and easy to attach or remove, so you can customize the iPhone 15 Pro Case to your liking. Discover the different color options and find matching cords to coordinate your iPhone 15 Pro Case with any of your outfits on a daily basis.
The vegan iPhone 15 Pro leather case made from Aloeskin: elegance meets sustainability
Our innovative iPhone 15 Pro leather case, made from eco-friendly Aloeskin, sets new standards in vegan materials. This material, based on the aloe vera plant, imitates the properties of real leather without compromising on environmental compatibility and elegance. The iPhone 15 Pro Case made from Aloeskin is characterized by its soft, non-slip surface, which also prevents your device from slipping. It is easy to care for and resists everyday challenges such as scratches and wear and tear. The timeless and elegant design of the iPhone 15 Pro Case is suitable for both professional and everyday use. Make a strong statement for responsible consumption with this iPhone 15 Pro Case .
Optimized for MagSafe: Our iPhone 15 Pro MagSafe Cases
Our collection of iPhone 15 Pro Cases, including Bio Case, Bumper Case, Clear Case and Leather Case, are all compatible with the latest MagSafe technology. This means you can effortlessly charge your iPhone 15 Pro wirelessly without having to remove the Case . In addition, our iPhone 15 Pro Cases are perfectly matched to MagSafe accessories such as magnetic wallets or holders to give you maximum flexibility and convenience.
Explore the variety of our iPhone 15 Pro Cases and benefit from an uncomplicated ordering process, secure payment processing and environmentally friendly shipping. If you have any questions about your new iPhone 15 Pro Case , we will be happy to help and advise you at any time.

Our sustainable iPhone Cases are available for:
iPhone 15 | iPhone 15 Pro | iPhone 15 Plus | iPhone 15 Pro Max
iPhone 14 | iPhone 14 Pro | iPhone 14 Plus | iPhone 14 Pro Max
iPhone 13 | iPhone 13 Pro | iPhone 13 Mini | iPhone 13 Pro Max
iPhone 12 | iPhone 12 Pro | iPhone 12 Mini | iPhone 12 Pro Max
iPhone 11 | iPhone 11 Pro | iPhone SE 3 | iPhone SE (2020)
iPhone Xr | iPhone X/X(s)
Over 200,000 satisfied customers