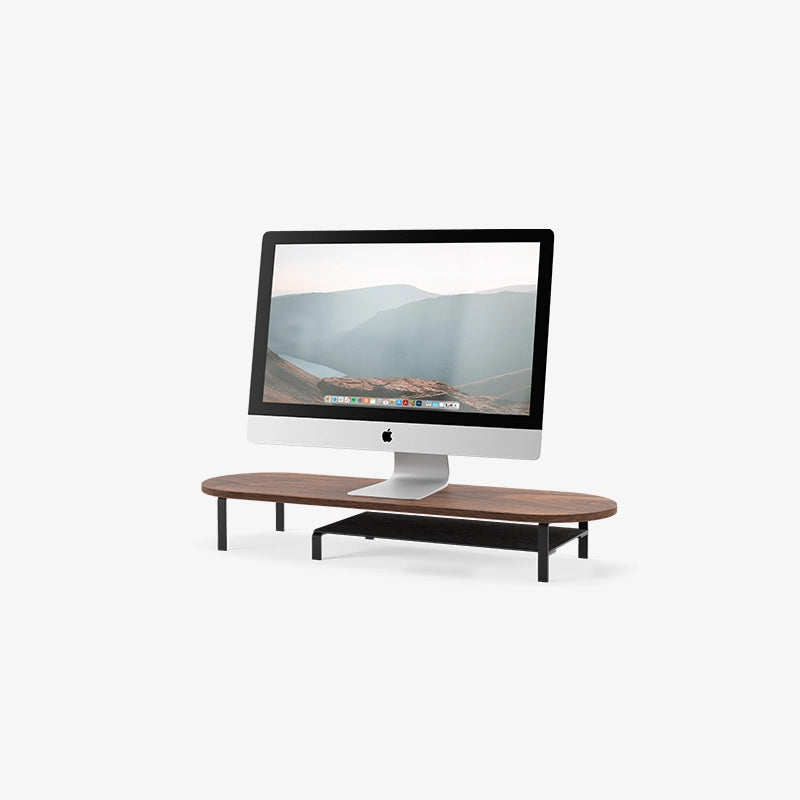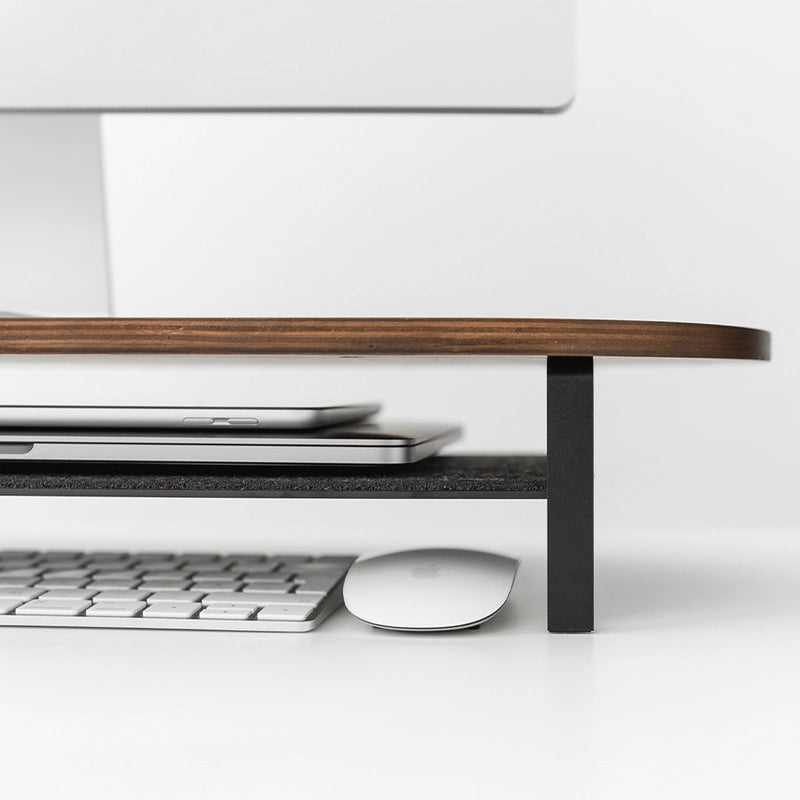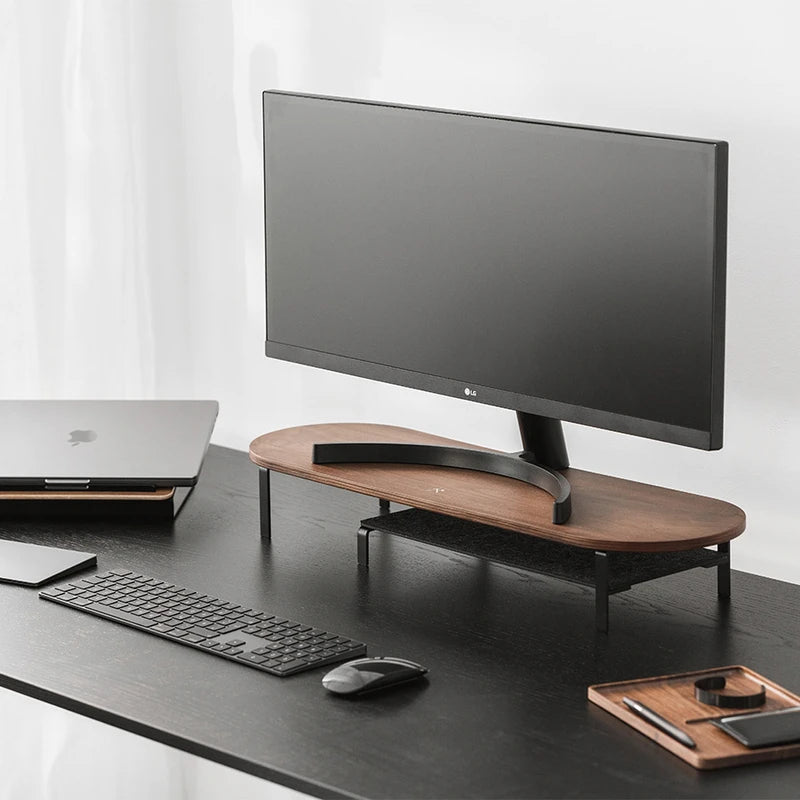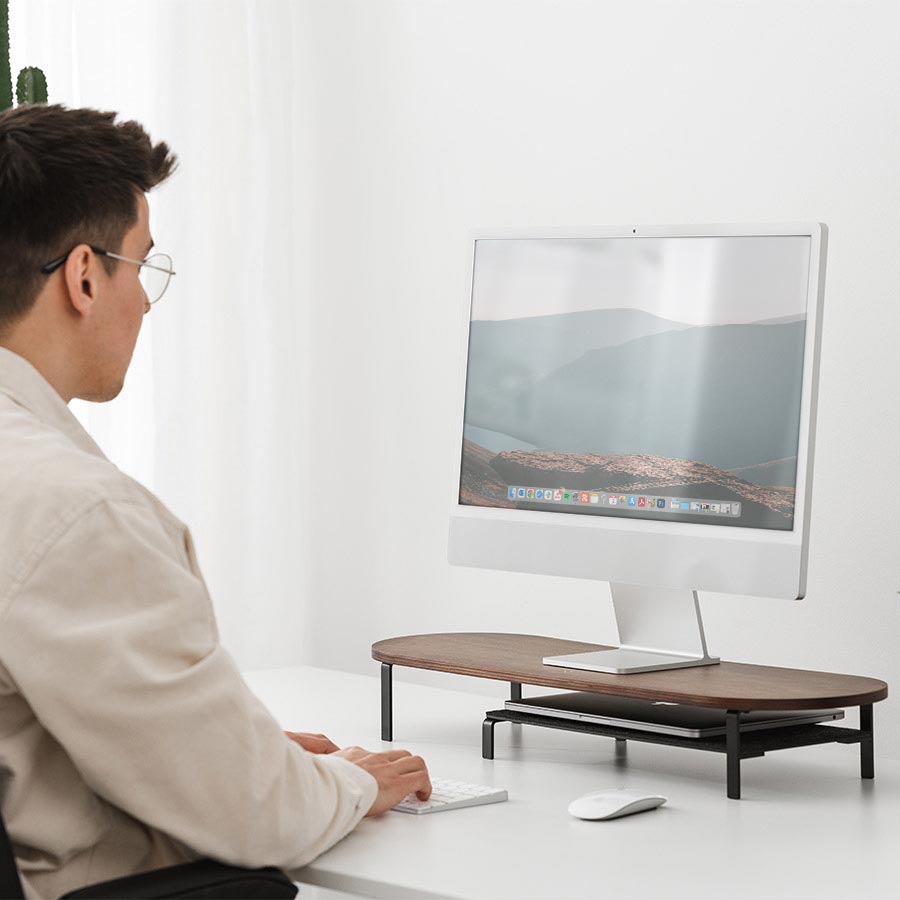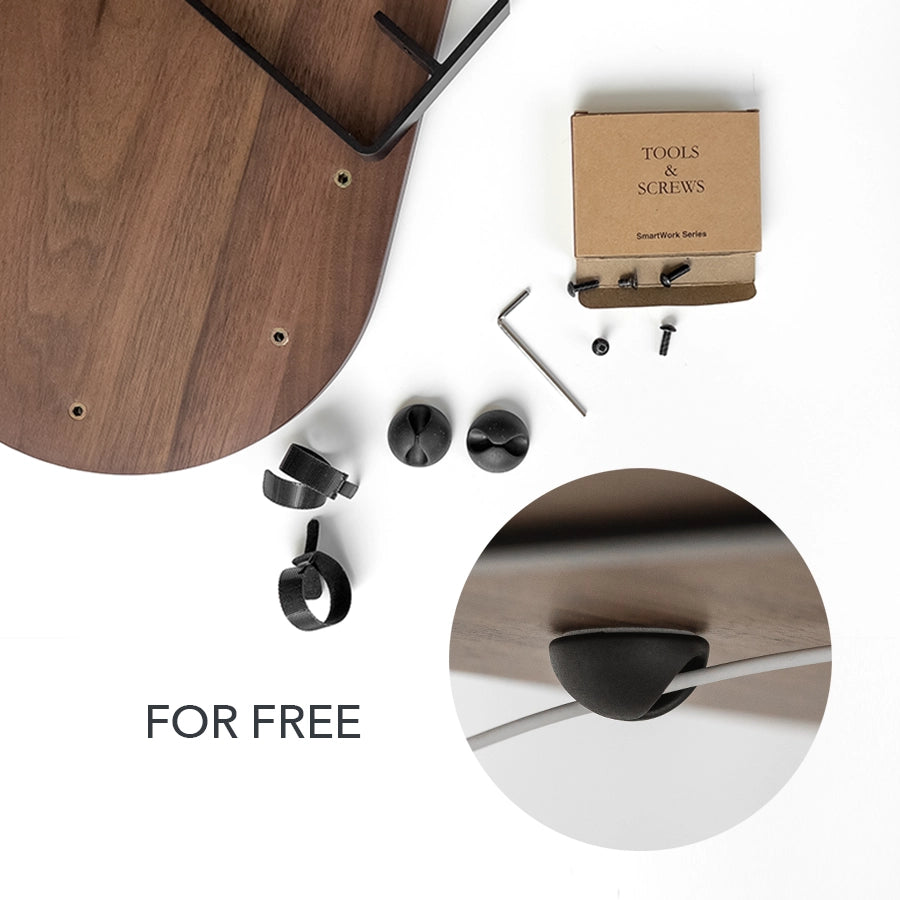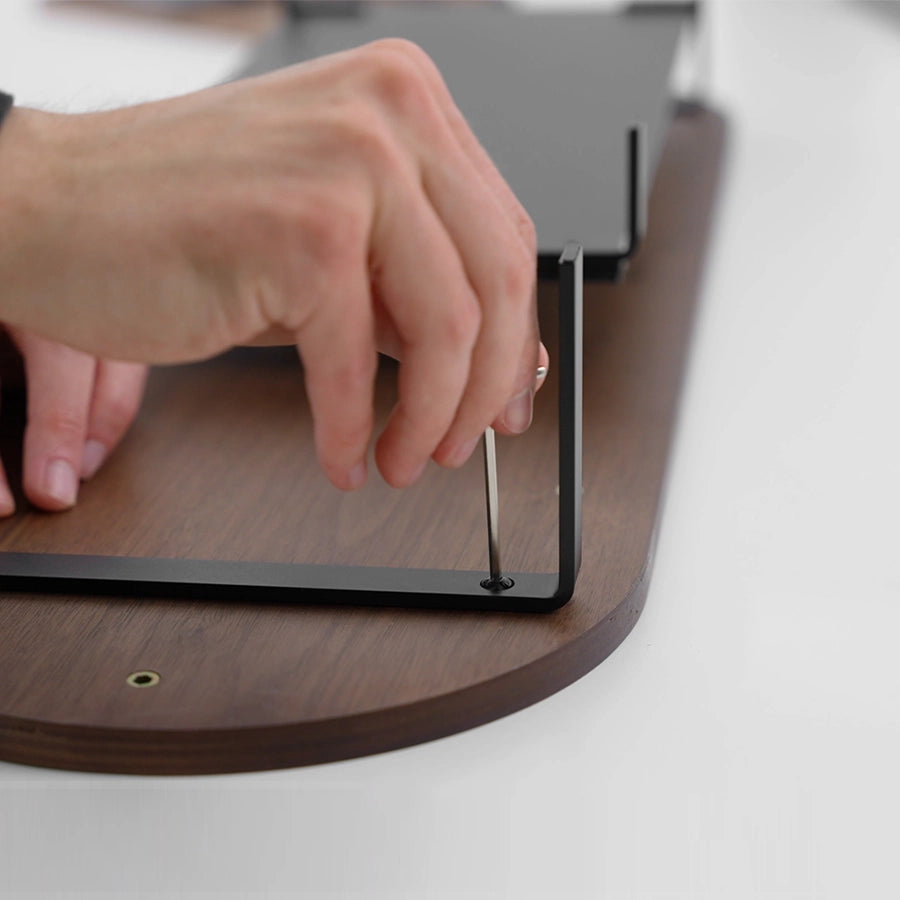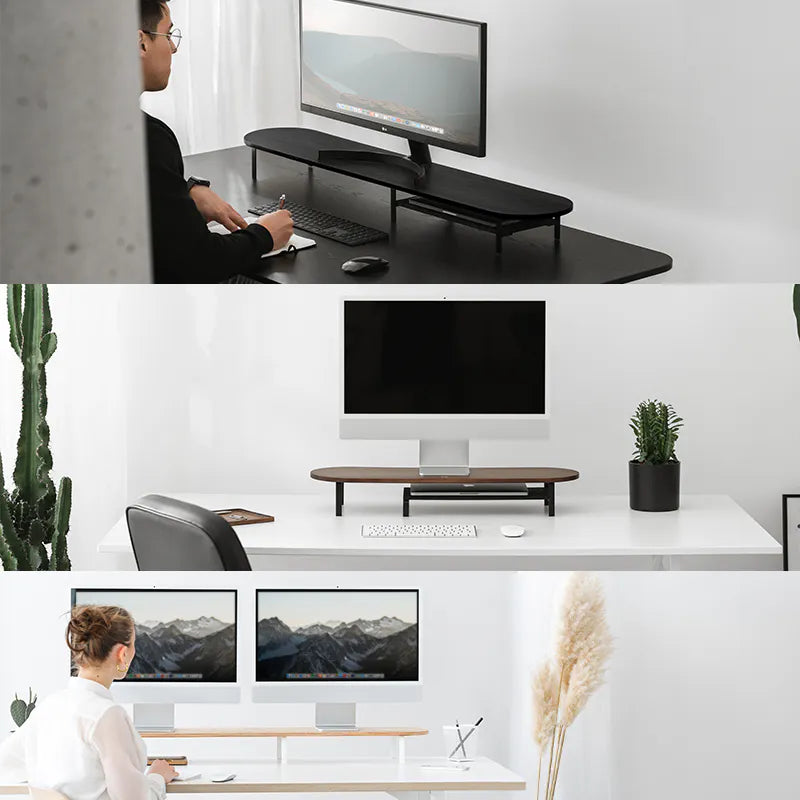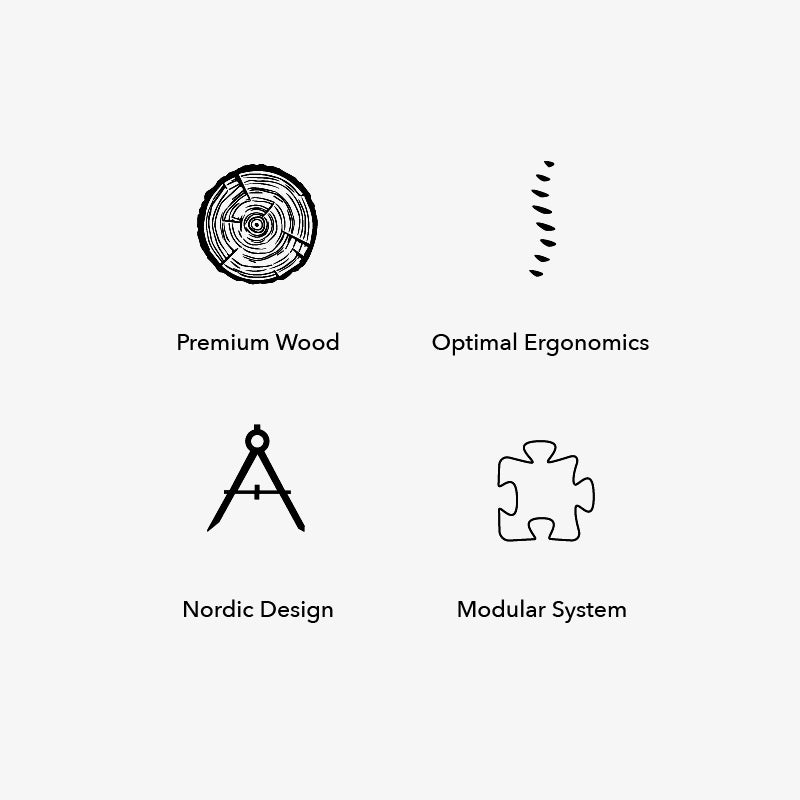 Monitor stand with shelf made of wood
Only 50 left
With the monitor stand made of certified wood and aluminum, efficient and ergonomic work becomes even easier! The monitor riser combines functionality and aesthetics while also providing a practical storage space thanks to the optional shelf! Expand your workspace with the stable monitor stand and optimize your desk setup!
Efficient work thanks to perfect ergonomics.
Elegant combination between aesthetics & functionality.
Additional storage space due to expandable shelf.
Individual design & multifunctional use.
Carefree stability due to solid aluminum base.
Weight: 2.1 kg, load capacity: 25 kg
WxHxD: 70 x 10 x 22 cm
Distance feet: 52.8 cm
Length shelf: 35.5 cm
Shelf height: 4.2 cm
American premium real wood
Recycled and coated aluminum
Compatibility: all common monitors (stand must match the dimensions of the monitor stand shelf).
Modular & Stylish
Thanks to the smart construction of our monitor risers, you can design your workstation according to your needs without sacrificing design and ergonomics.
Easy installation
Our addons can be easily and individually attached to the practical attachment points on the underside.
With Design in Mind!
Noble real wood
Recycled aluminum
Modular Extensible
Ergonomic shapes
Clear design
Practical storage space
High quality materials
Select walnut and oak wood combined with a matte recycled aluminum base give the monitor stand a sustainable design.
Smart accessories
With practical addons, you can flexibly design your monitor elevations to be even more functional according to your needs.
Thoughtful details
The practical tray is perfect for storing an ordinary laptop or documents, making your desk more organized.
Healthier working
The surface of the monitor stand is designed exactly so that your monitor can fit on it. The optimal height makes your desk an ergonomically perfect workplace!
Made for your home
You can choose between three unique styles to suit your interior and your desk: Whether it's elegant walnut wood, a clear oak design or a classic black look. Create a perfect working atmosphere and choose your favorite
Mounting
You can easily assemble your monitor stand using the included accessories. The aluminum legs are attached to the board with screws and an Allen wrench, so they can be removed without much effort. You will also find instructions in your package to help you with this.
Just like the aluminum legs, the shelf is screwed on with the enclosed Allen key. One of the two legs has a small protrusion with a screw hole in the front and back at mid-height, to which you attach one side of the shelf. The other side is supported by the third smaller leg. You will find an explanatory illustration in your supplied instructions.
Our wooden monitor stand can be used for any type of monitor. The base of the monitor must only correspond to the dimensions of the shelf of the monitor stand to be able to guarantee the necessary stability.
Our Monitor Stands measure 70 x 22 cm with a height of 10 cm. The distance between the feet is 52.8 cm. The shelf is 4.2 cm high and 35.5 cm long, so an ordinary laptop and documents can be placed there.
The monitor stand can withstand a load of up to 25 kg and supports an ordinary monitor without any problems.
Material & Care
The monitor elevation is made of high quality materials such as premium walnut and oak wood together with a stabilizing base made of recycled aluminum. This way we create a high quality product and can guarantee a long term resilience of the material under the monitor weight.
Since your handmade unique piece is made of real and natural wood, your product may change a little over time. Wood is a living, breathing material that reacts to temperature, humidity and other outside influences. In addition, each piece of wood is unique and therefore shows different structure, color and grain. All these are signs of high quality and authenticity! So if you notice a change in the shape of the wooden board or your monitor stand looks slightly crooked, you don't have to worry. These changes in the natural material will not affect your work in any way, and the weight of your device will help straighten the shape of your mount.
No, and that's what makes our natural products so special. The monitor stands are made of real wood and thus each have a unique grain and structure. Therefore, each piece is unique!
We always pay attention to maximum sustainability in our production. All woods used are strictly controlled and come from sustainable forestry. In addition, we plant a tree for every product sold with the organization Trees for the Future (TFTF). All our packaging is 100% recyclable and made from recycled waste paper!
Your Woodcessories product does not require any special care. Even water stains or a spilled coffee do not affect your wooden stand. However, your unique piece should be protected from strong moisture, heat, cold or sunlight. Even if the wood is treated with several layers of wax, it is a natural product, which can be damaged by prolonged contact with water or extreme weather conditions and stains or cracked spots arise.