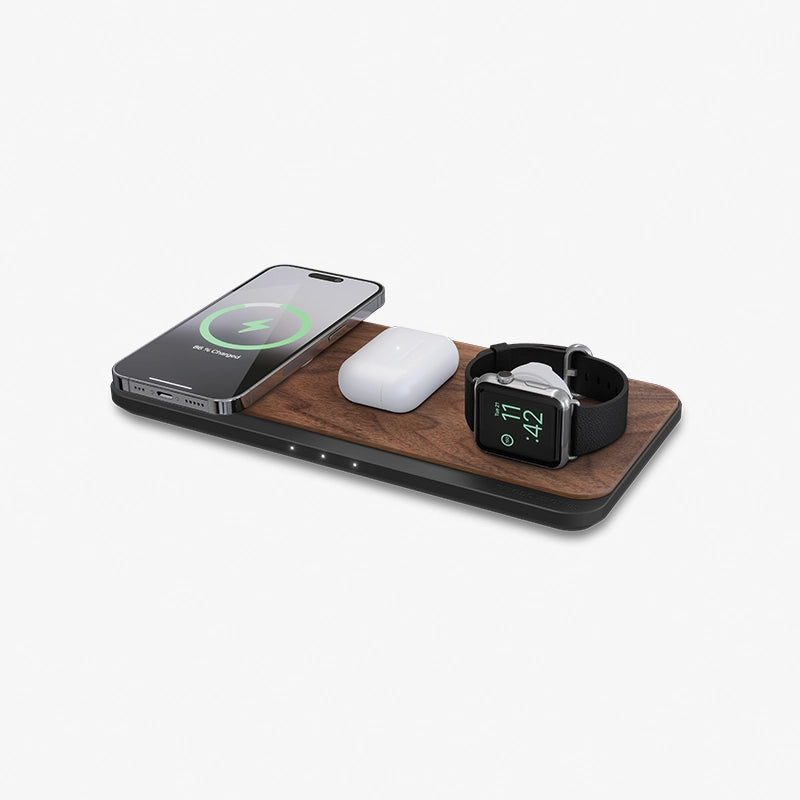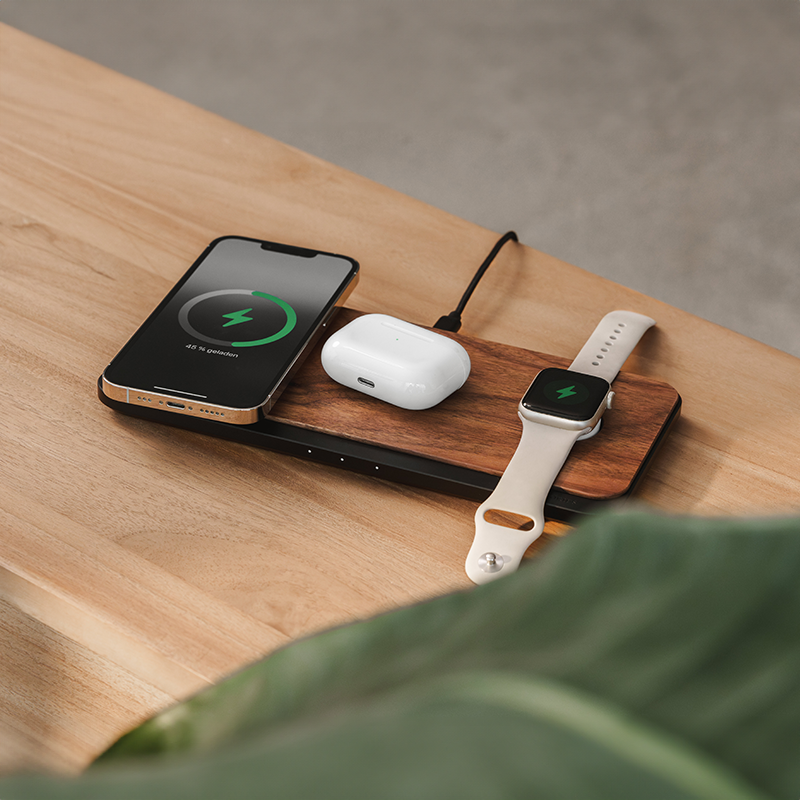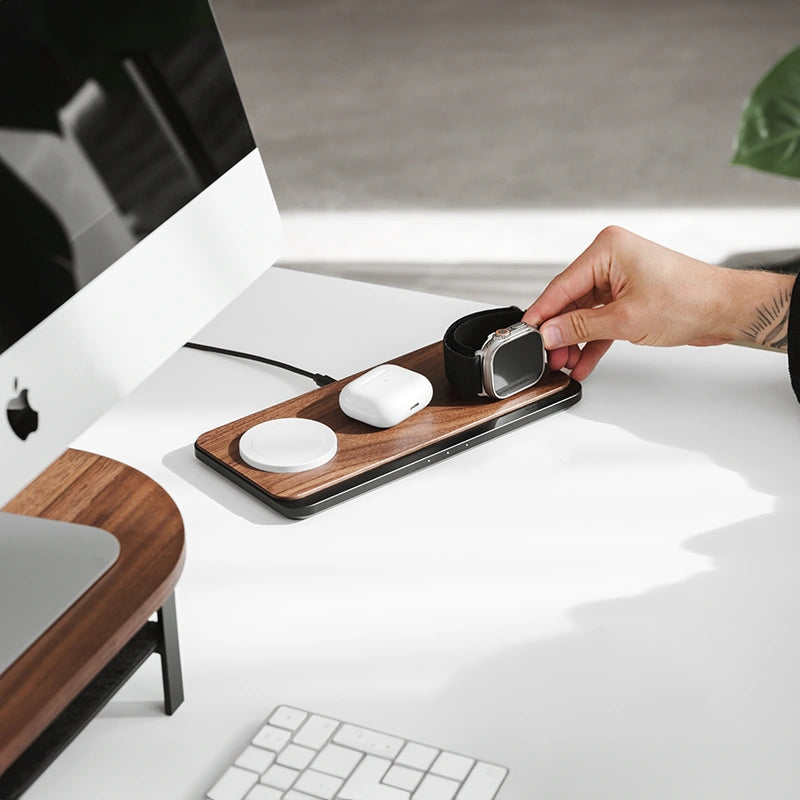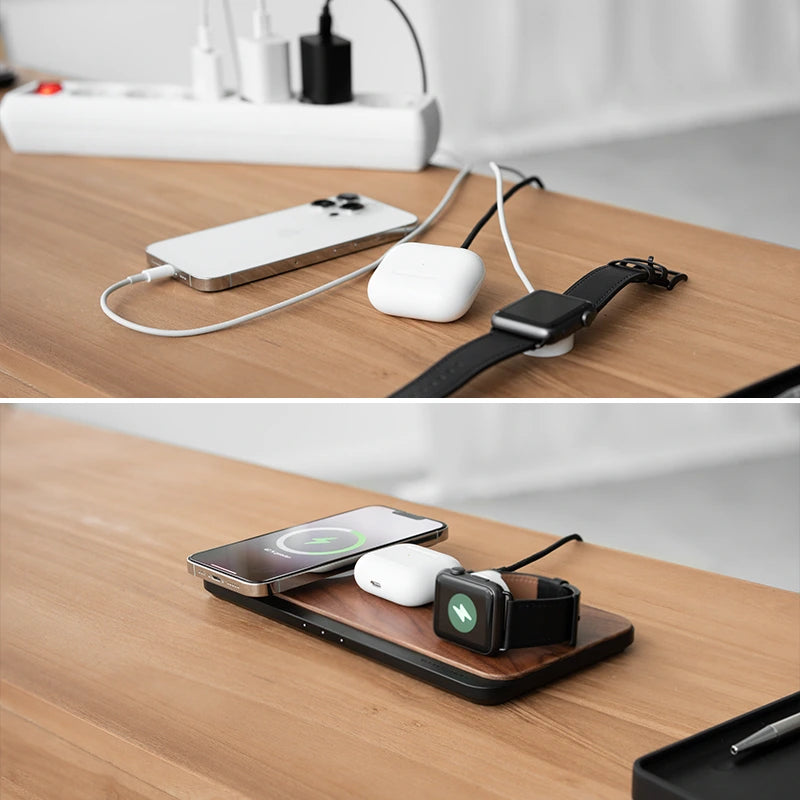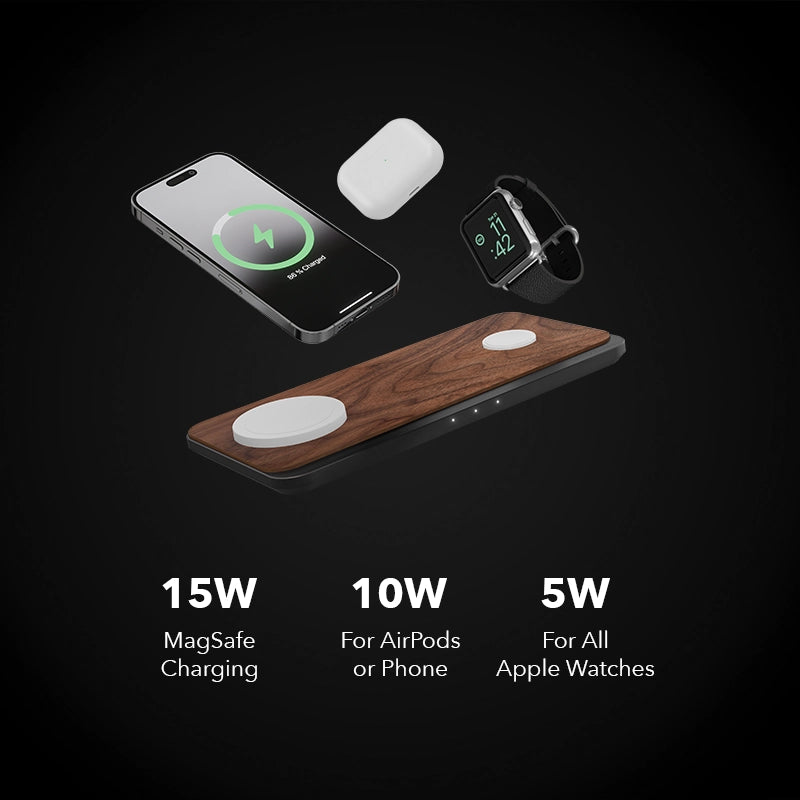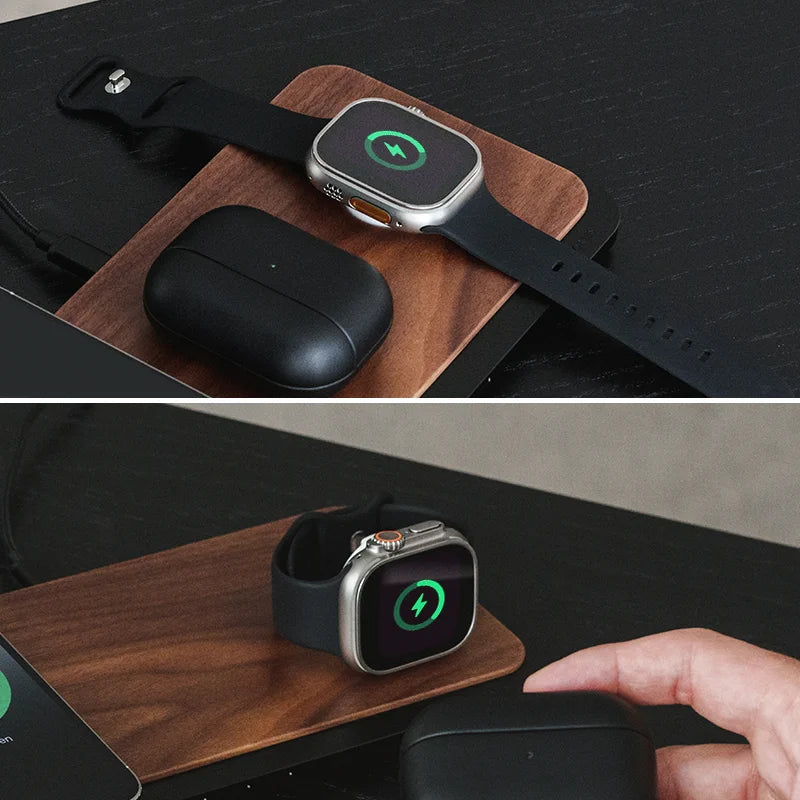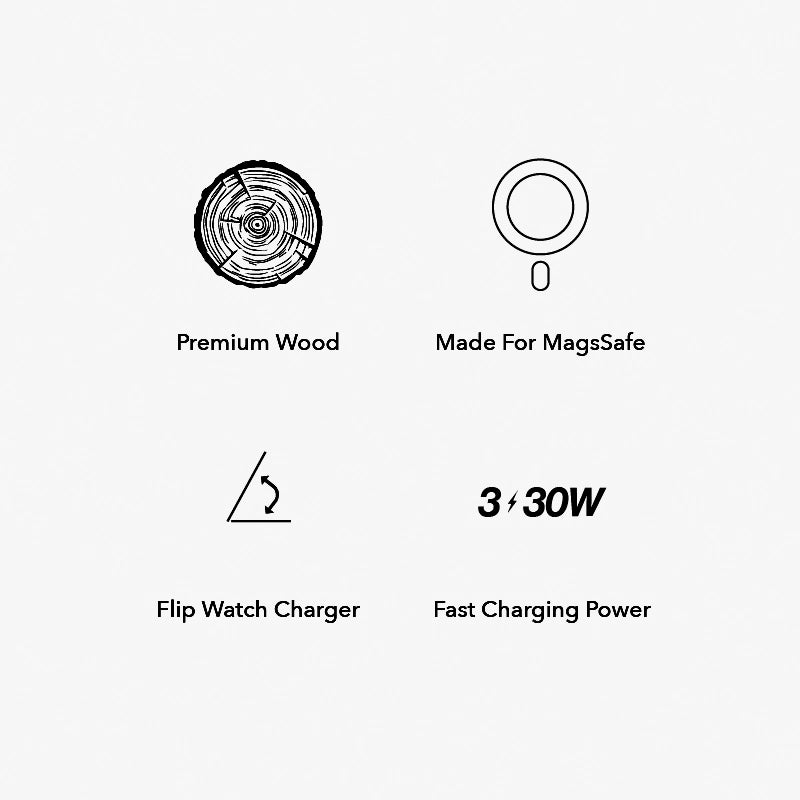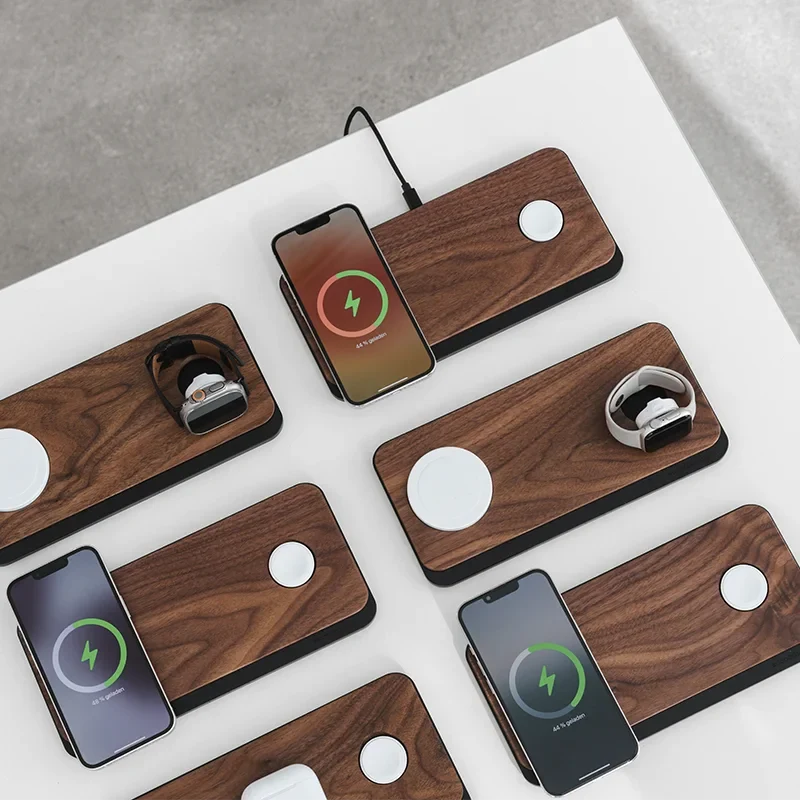 MultiBase Pro 3-in-1 MagSafe & Apple Watch Charger
Only now at a special Xmas price 🎁
In stock
Charging made Beautiful with MultiBase Pro! State-of-the-art MagSafe© technology meets fine materials to deliver the most stylish and practical charging experience ever! With magnetic charging zones, rotating Apple Watch module, 15W Fast Charging and a total power of 30W, MultiBase Pro becomes the new home for your most important devices! Smart LED light sensors dim the brightness for the perfect nightstand setup. 
3 charging zones for iPhone, AirPods & Apple Watch
Integrated Magsafe© Charger
Supports 15W Fast Charging
Extra long USB-C charging cable (1.50 meters)
Dimming LED light to indicate charging status
State-of-the-art protection against overheating and overcharging
45W power supply (e.g. Fast Charger) required!
Technology: QI Charging Standard
Input: 5V 3A/9V 3A
Output: 15W Max/10W/5W, 30W Total
Supports Fast Charging
Charging zones breakdown:
15W MagSafe© Charger
10W Qi Charger for AirPods or smartphone
5W Apple Watch Charger
Certificates: CE, FCC ID, ROHS
Charges iPhone 8 and newer and any Qi wireless charger
MagSafe feature works with iPhone 12 and newer iPhone models, as well as Magsafe-compatible phones and Cases
Elevated MagSafe charger ensures compatibility with any phone camera and case design
Compatible with Apple Watch Series 4, 5, 6, 7, 8 SE and Ultra
Dimensions:
Weight: 490 g
WxHxD: 235 x 13 x 113 mm
Cable: 1.5 m USB-C to USB-C
Material:
Certified walnut wood
Recycled solid aluminum
Cork from Portugal
Shipping costs and delivery time depend on the shipping method and country of the recipient. Shipping is climate neutral with DHL Green!
For more info see shipping info.
Performance meets luxury
Our goal: to design the most beautiful wireless charger ever! The result: MultiBase Pro! Clear, minimalist design combined with luxurious materials declares war on cheap plastic chargers!
Made for your Apple devices
With 3 intelligent high-performance charging coils and an integrated Apple Watch charger, MultiBase Pro provides a new kind of charging experience! State-of-the-art Fast Charging technology delivers fast charging up to 15W!
Magnetic MagSafe Power
Heat-resistant N52 magnets align with the MagSafe© magnets in the iPhone phone and Apple Watch. Feel the magnetic pull that holds your devices in place without having to search for the charging dock!
Guaranteed more order
Thanks to the 3 in 1 charging function, the Multibase Pro creates space for a tidy charging experience! Cable clutter and annoying search for connections was yesterday!
More power. More advantages!
Noble materials
MagSafe© module
3 in 1 charger
USB-C cable
Heat Control
Smart LEDs
Perfect angle for the Apple Watch
The rotating, magnetic Apple Watch module allows you to charge your Apple Watch at any angle! It is compatible with any strap and Apple Watch models, including Apple Watch Ultra.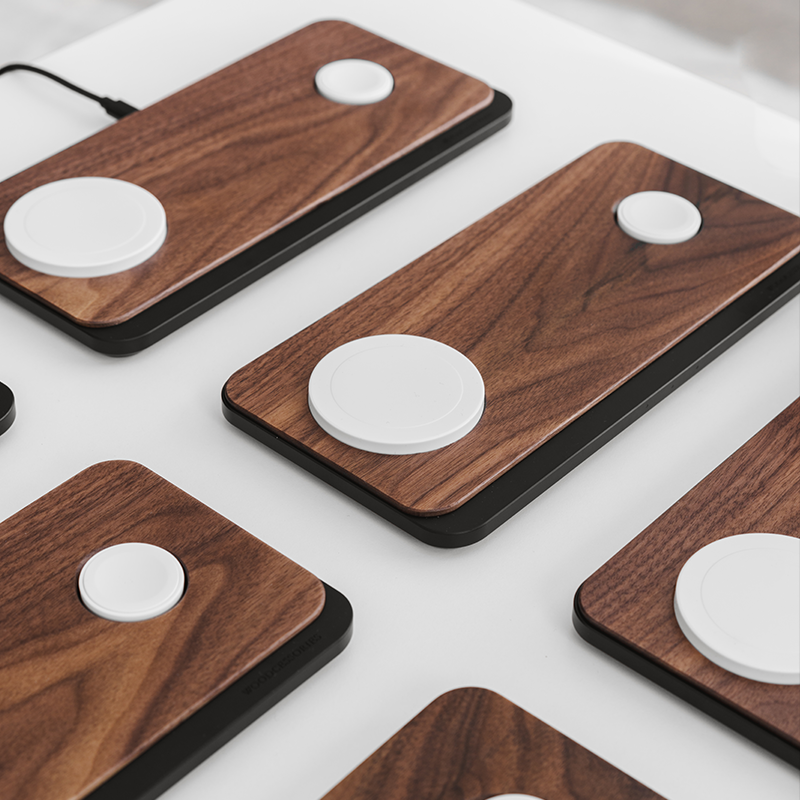 American walnut wood
FSC-certified hardwood gives an individual, noble character.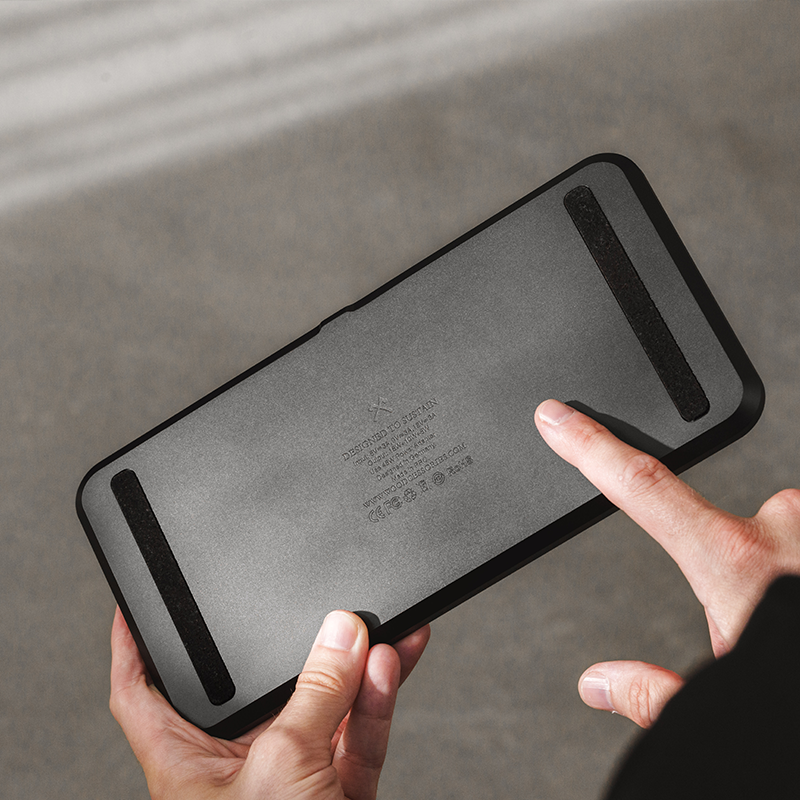 Recycled aluminum
The weighted base made of solid aluminum provides a stable stand.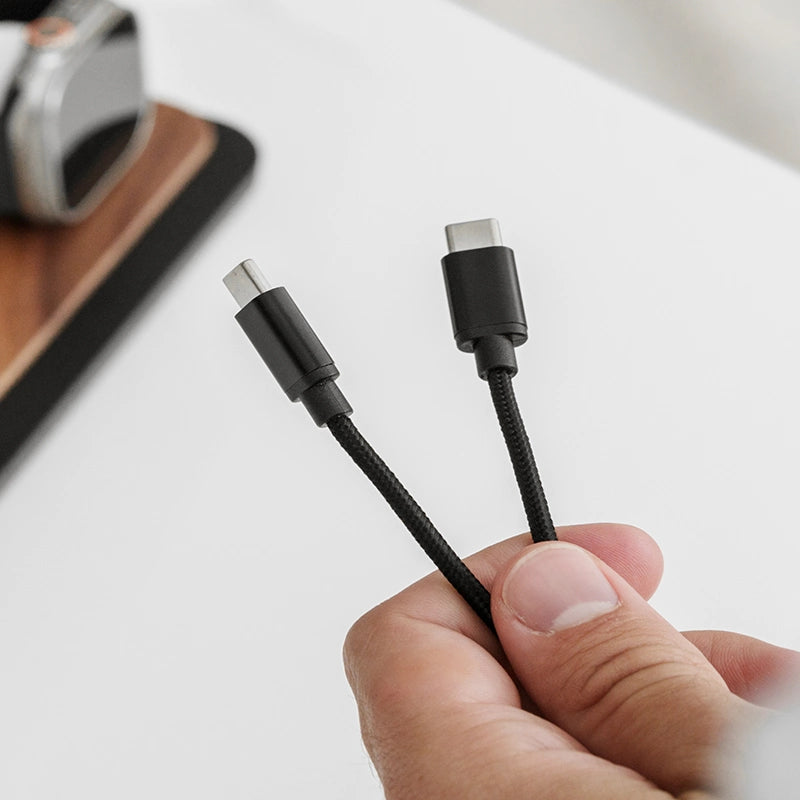 Tear resistant tech fabric
Double braided fabric gives the cables the necessary resistance.
Clever one-hand operation
The perfect balance of magnetic force and weight makes using the MultiBase Pro a pure pleasure. Uncomplicated MagSafe charging with just one hand, without everything falling off.
Smart LED displays
Based on customer feedback, we developed delicate white LED indicators that light up when a device is placed on the charging surface, but automatically dim. Perfect for any nightstand!
More design innovations
Discover more award-winning designer products for a thoughtful and stylish home office!
Discover here
Usage
The inductive charging station comes with a USB cable. Simply plug the USB-C connector into the Qi charging station and connect the other end of the cable to the wall outlet or power source using any standard USB adapter, or plug it into a terminal device (laptop, MacBook, iMac, etc.). Place the iPhone or Apple Watch on the magnetic charging pads and it will charge! Technical requirement to use the inductive charging station is a power supply with at least 45W power.
The technical prerequisite for using the inductive charging station is a power adapter with sufficient power. You should use a power adapter with at least 45W. Of course, you can also use stronger power adapters. In our test, we used our Multi Wireless Charger with our 45W Fast Charging power adapter and tested it with an iPhone 13 Pro. With these conditions, you can charge 50% of your smartphone battery in under 60 minutes. Of course, the charging time of your QI-enabled device also depends on other factors, such as battery status, temperature and other external circumstances.
Material & Other
Since our products are made of real wood, of course not every product looks the same. The wood has a unique grain, making it truly unique.
The USB-C charging cable is ideally 1.50m long and thus longer than common charging cables! The cable itself is covered with double-braided, tear-resistant fabric and thus particularly durable and stable. If the cable is too short for you, you can always replace it with a longer USB-C charging cable.
All products from our wood collection come from nature! We use real solid wood, which is mostly sourced from Germany, America and Europe. The unique pieces are handmade, thereby all woods come from sustainable forestry and are certified. The products of our Charging family are also CE, ROHS, FCC and REACH certified, following important technical and environmental standards.
We always pay attention to maximum sustainability in our production. All wood used is strictly controlled and comes from sustainable forestry and the aluminum used is recycled. In addition, we plant a tree for every product sold with the organization Trees for the Future (TFTF). All of our packaging is 100% recyclable and made from recycled waste paper!
It was important to us to listen to our customers' feedback. That's why the indicator lights light up as soon as a device is placed on the charger and then dim again. The LED light serves as a control, so you can always be sure that your device is charging. It also looks super high-quality and reflects the clear, minimalist design language!