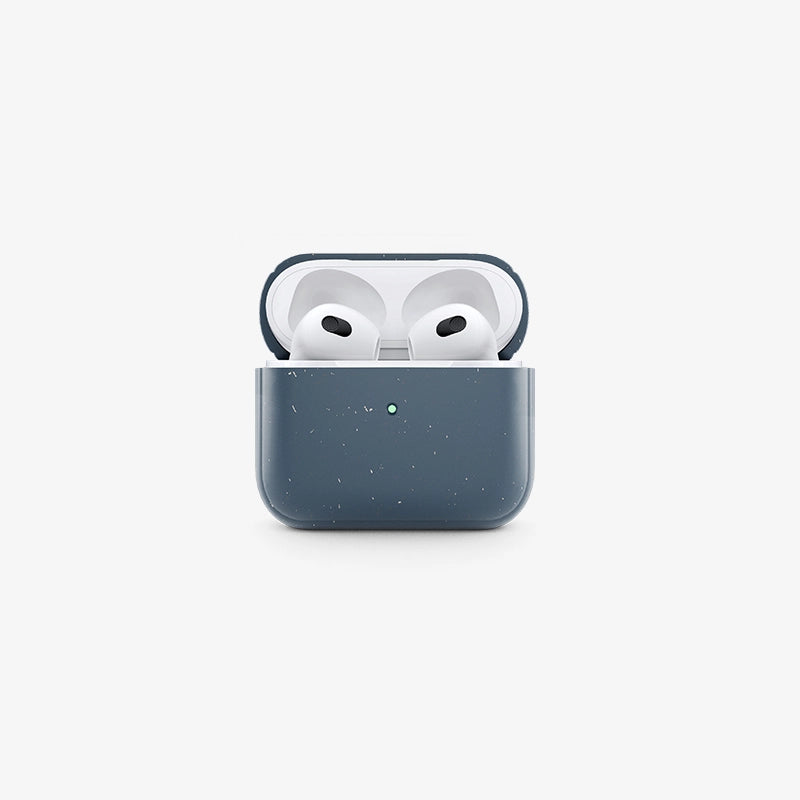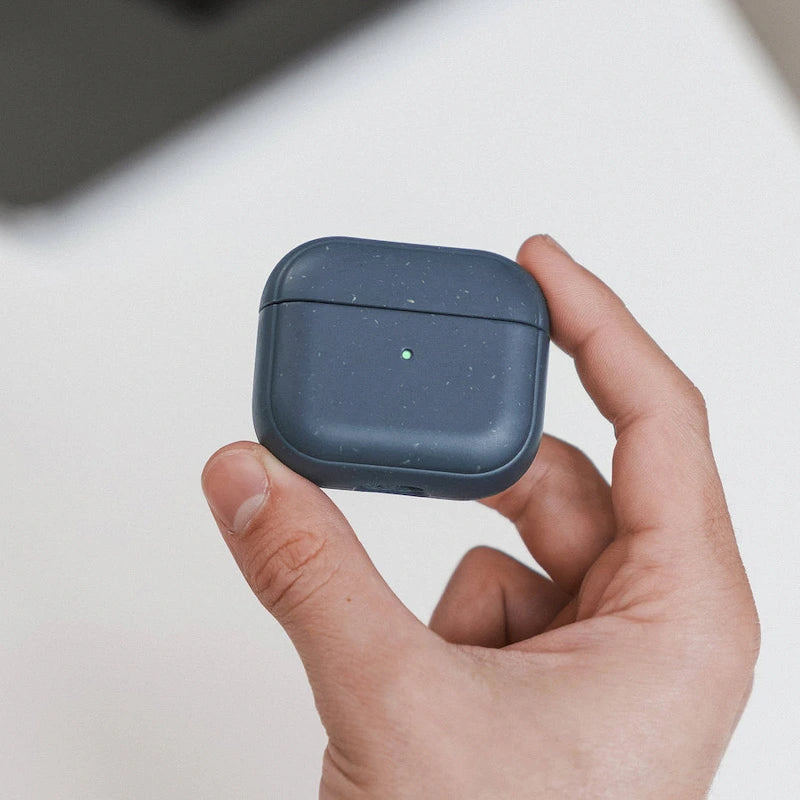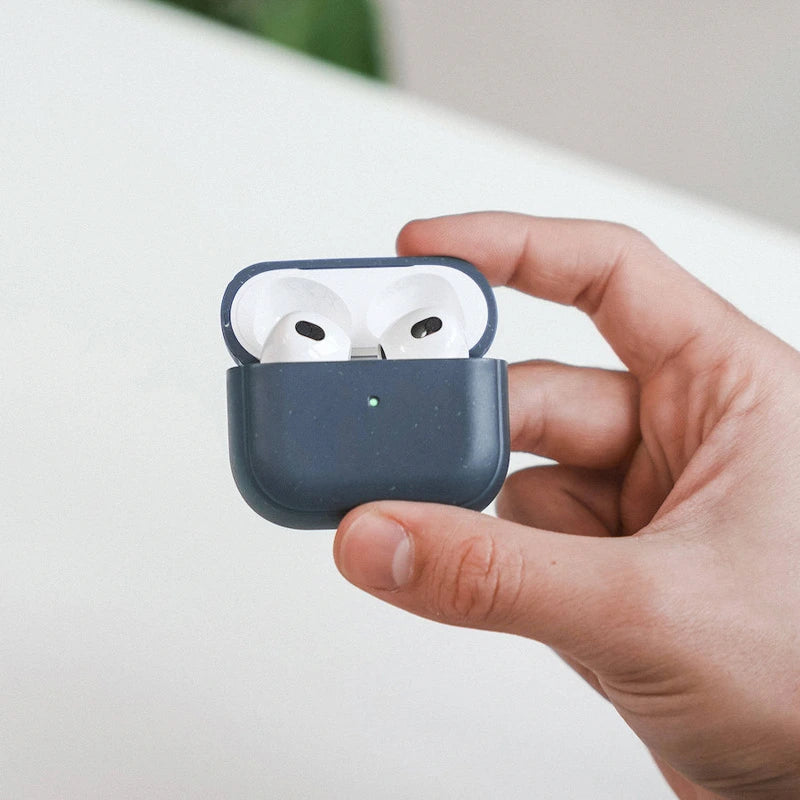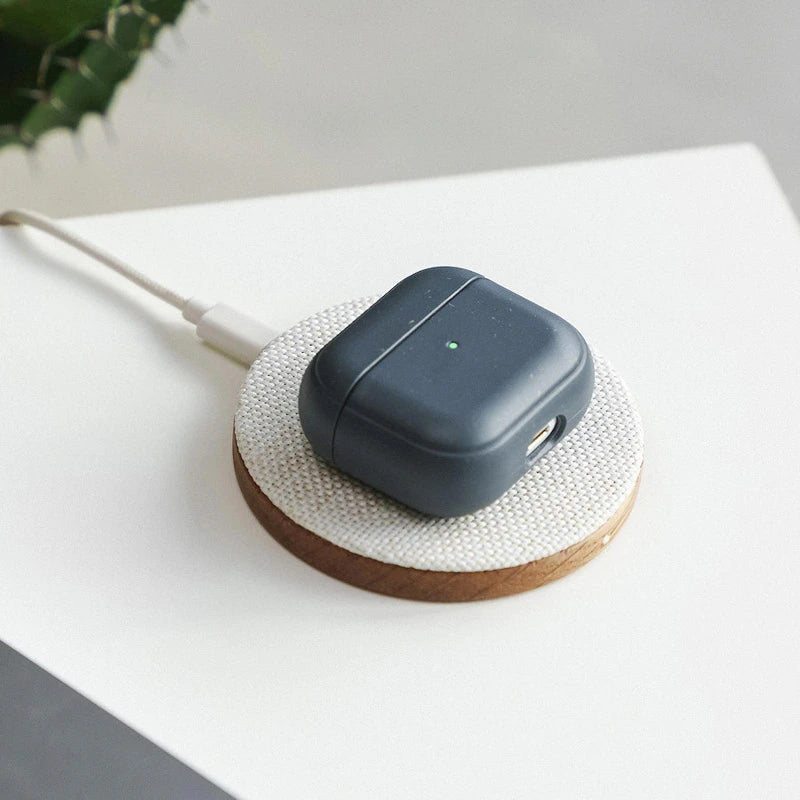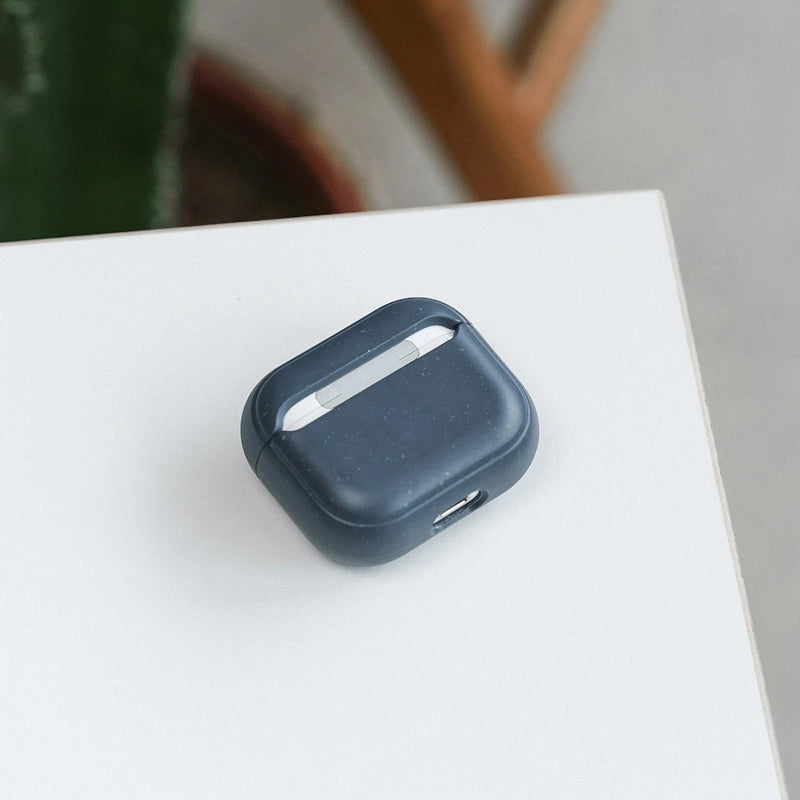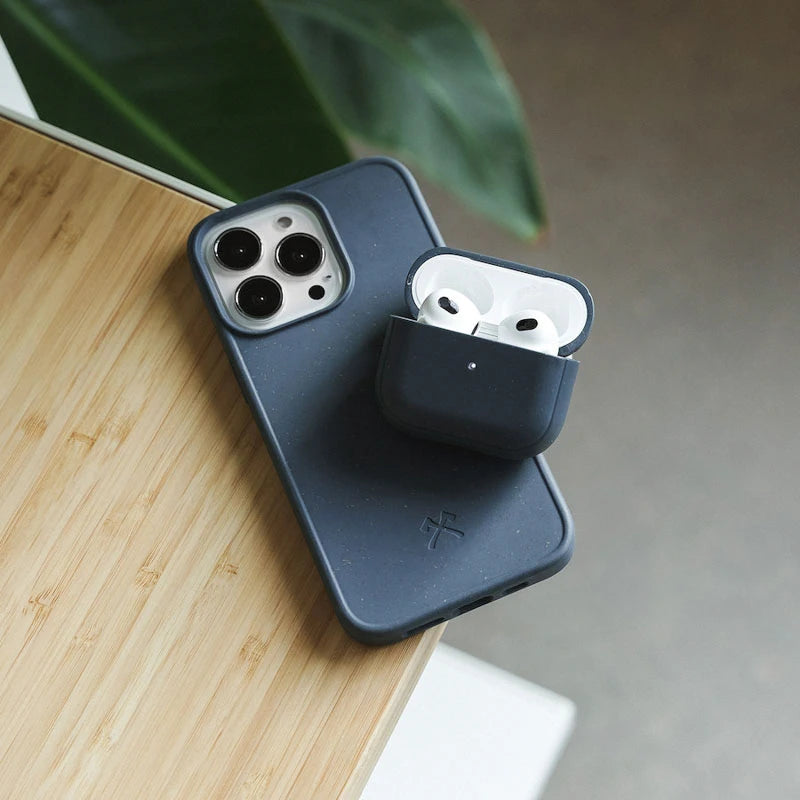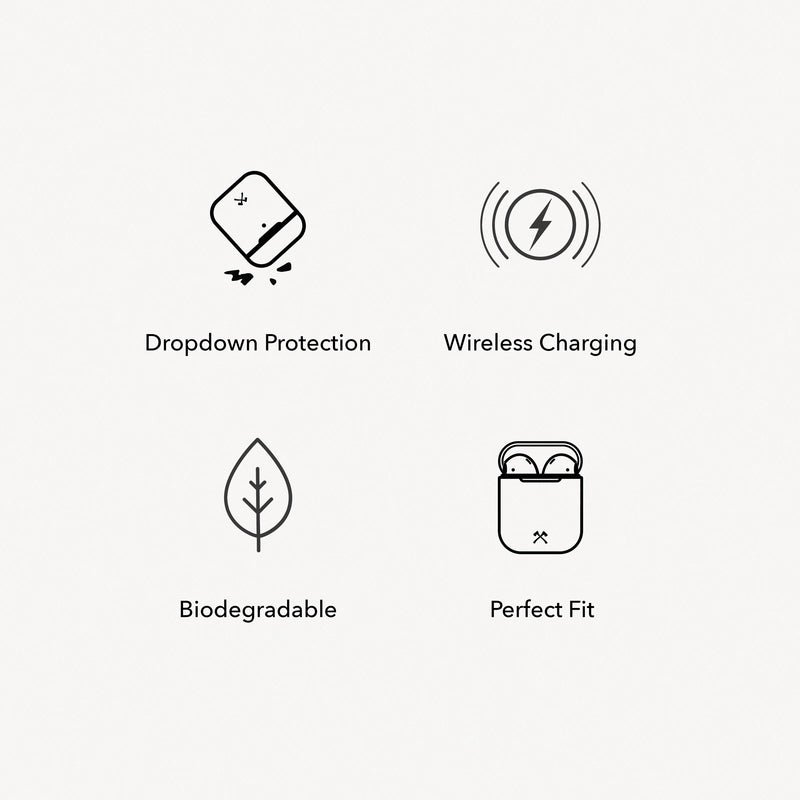 AirPods Case Organic AirPods 3 Case Sustainable
Your AirPods Case made of sustainable organic material protects your AirPods with 360 degree dropdown protection and is the better alternative to the classic plastic cases! Thanks to a particularly precise fit, the Case is extremely thin, ultra-light and non-slip and even supports wireless charging!
100% Low Harm & REACH Certified
360° dropdown protection
Slim design with reinforced corners
Extremely thin, ultra light & non-slip
Supports Wireless Charging
AirPods 1 & 2: 20 g
AirPods 1 & 2: 5.6 cm x 4.5 cm x 2.2 cm
Case from organic granules from plant starch
With straw and wheat residues
Shipping costs and delivery time depend on the shipping method and country of the recipient. Shipping is climate neutral with DHL Green!
For more info see shipping info.
Organic instead of plastic
The biodegradable AirPod Case with the smallest ecological footprint! The plant-based Case says war on plastic!
Slim Apple design
Minimalist Apple design meets sustainability! The protective cover is made to fit & remains super thin! Ideal for any pocket!
More power. More advantages!
Dropdown protection
Wireless Charging
Biodegradable
360° protection
Upcycling product
Wheat & Straw
Made for Wireless Charging
Despite rugged protection, your AirPods are still compatible with all wireless charging stations and can also be charged with the Apple MagSafe Charger©.
Material & Care
Yes! Your new sustainable AirPods Case is completely vegan, low in pollutants, based on plant materials and is also an upcycling product! Our AirPods cover is made of a specially developed bioplastic, which is mainly based on plant starch (PLA). PLA is one of the bioplastics that are made from renewable raw materials, so they are bio-based as well as compostable. Our used bio material is even certified according to European Standard EN 13432 for compostability. In addition, we use straw and grain, which are leftovers during the harvest. We upcycle these materials and add them to the innovative bioplastic for additional strength. Please note that currently not all models are fully compostable and have different material compositions. (See next FAQ).
In addition, the Case for AirPods is free of BPA, lead, cadmium and phthalates, works thanks to antimicrobial formula against bacteria & germs and is REACH certified!
Our AirPods Bio Cases are currently only fully compostable under industrial conditions. Unfortunately, a high proportion of plant material means that especially light-colored products are more susceptible to discoloration and scratches and may leave stains on your AirPods. When improving our products, we take your customer feedback to heart and have therefore decided to make our plant-based AirPods cases more resistant. So all models contain 50% recycled TPU (thermoplastic polyurethane). By doing this, we create a longer lifespan and ultimately reduce the consumption of AirPods protective cases. These can still be recycled in our production! And we have set a firm goal to develop the best possible and most sustainable materials and hope to soon convert our complete product family to full compostability.
Recyclable AirpodsCase (Partially compostable/ 50% organic material):
Components: PLA, straw, wheat, TPU (thermoplastic polyurethane).
The material is free of BPA, lead, cadmium, phthalates and REACH certified!
Good to know: even our cases that are not fully compostable can be completely recycled in our production process and thus recycled for new products! Instead of disposing of the case, just send it back to us and we'll recycle it for you and save you 30%.
Note: Since PLA consists of polylactic acids, it may happen that a light film (streaks) appears on your Bio Case , especially after a long period of non-use. Do not be alarmed - this is a natural reaction of the organic material and can be easily wiped off.
Since our protective covers for AirPods are made from plant materials and straw residues, there may be natural, small deviations in the look and texture . Since we also consciously avoid synthetic materials, the protective cover can develop a patina over time. Both are a clear sign of authenticity and use of organic materials.
Quite the opposite! We manufacture our Bio Case only from tested materials that are certified sustainable and 100% low-pollutant. So we even reduce our CO2 and greenhouse gas emissions. We also strictly adhere to REACH and RoHS environmental standards.
Thanks to the strong combo of plant materials and bio-plastic, our AirPods Case is durable for a long time and thus can be used in everyday life without any concerns. The life of the case is over 2 years and only in the recycling process it begins to decompose.
Upcycling is a special form of recycling in which low-grade raw materials such as waste or even leftover residual materials are used for the production of a new product . In the case of our bio-based AirPods cover, we use old Cases and agricultural waste, saving a lot of resources and reducing polluting emissions by up to 75%. Plus, you can easily send your used Case back to us and we'll recycle it for you, for a perfect recycling loop!
Other
Yes, you can still charge your AirPods conveniently with wireless charging. The Case for AirPods is super slim, allowing you to use all the features of your AirPods without any problem.
Yes, don't worry! Our Bio Case has a perfect fit with extra-strong frame and haptics that reliably protects your AirPods all around. Moreover, the Case has been tested in test labs for drop resistance. Our AirPods case has passed over 26 test drops from 1.4m. The non-slip silicone frame is also non-slip!
We believe in our cases and know from many customers that they have already survived a lot of falls! However, we do not claim that our cases are indestructible and that your device will survive any drop or external force without any damage. The truth is that every AirPods cannot always survive certain drops or violent impacts without any damage. Therefore, we ask for your understanding that Woodcessories will not be liable for any damage or repair costs.
But safe! All of our AirPods cases are compatible with Apple's MagSafe technology and can be easily charged with the MagSafe Wireless Charger. This gives you even faster charging power of up to 15W by simply placing your AirPods in the center of the charging pad. You should feel a magnetic pull there and the LED light will turn on - and your AirPods will be charged!
We have also put a lot of thought into our packaging and therefore only use recycled paper and recycled cardboard to package our products in the most environmentally friendly way possible. Even our entire insert material is recycled. Don't worry: Our sustainable shipping boxes are still very high quality, well protected and your favorite product will reach you without any problems! The shipping is completely climate-neutral via DHL GoGreen or optionally DPD, so that we can offset the resulting emissions again and your Change product arrives as green as possible with you!