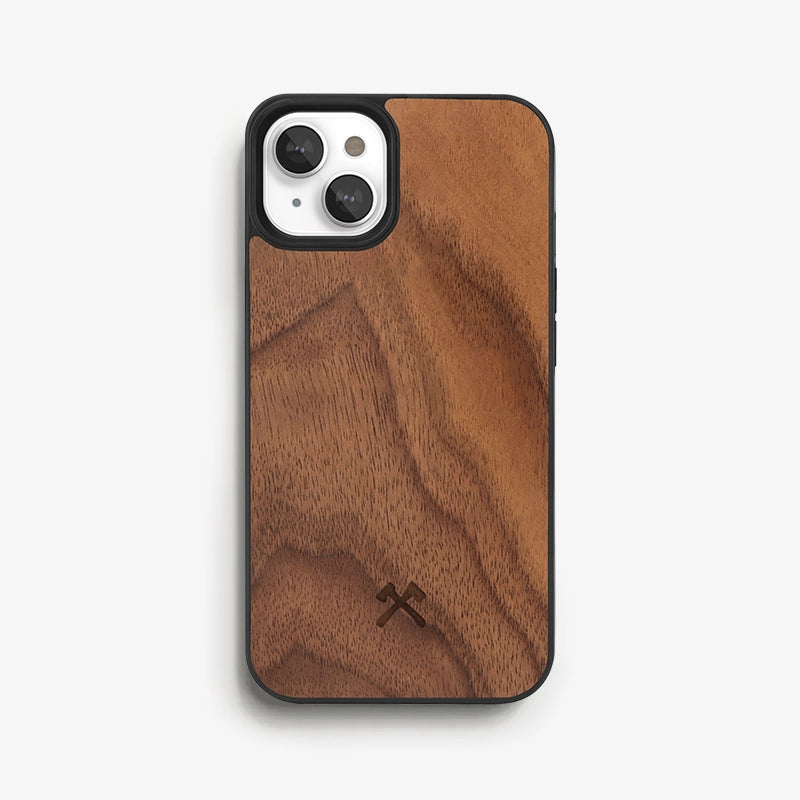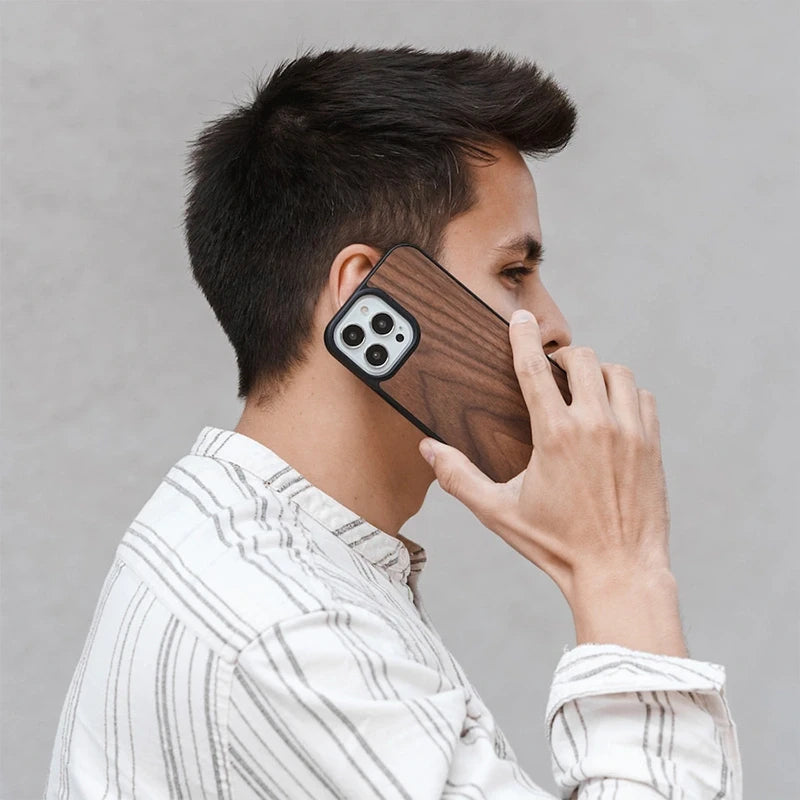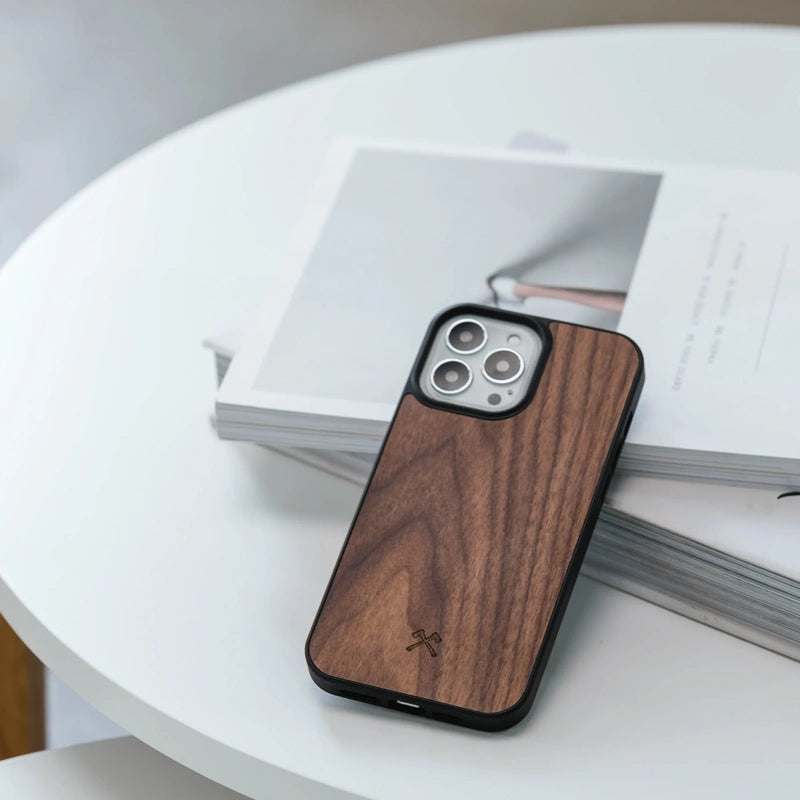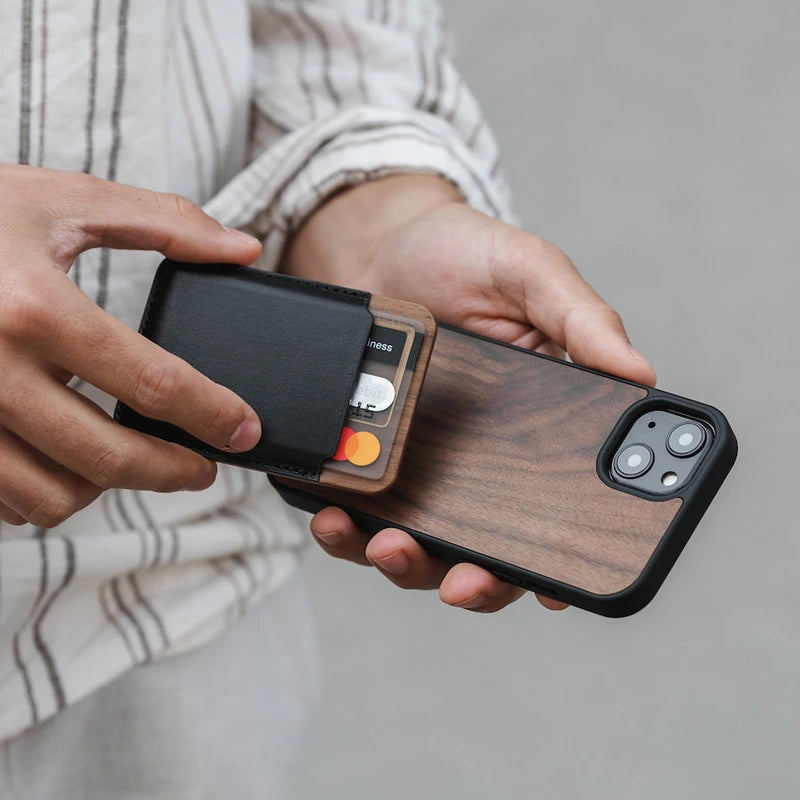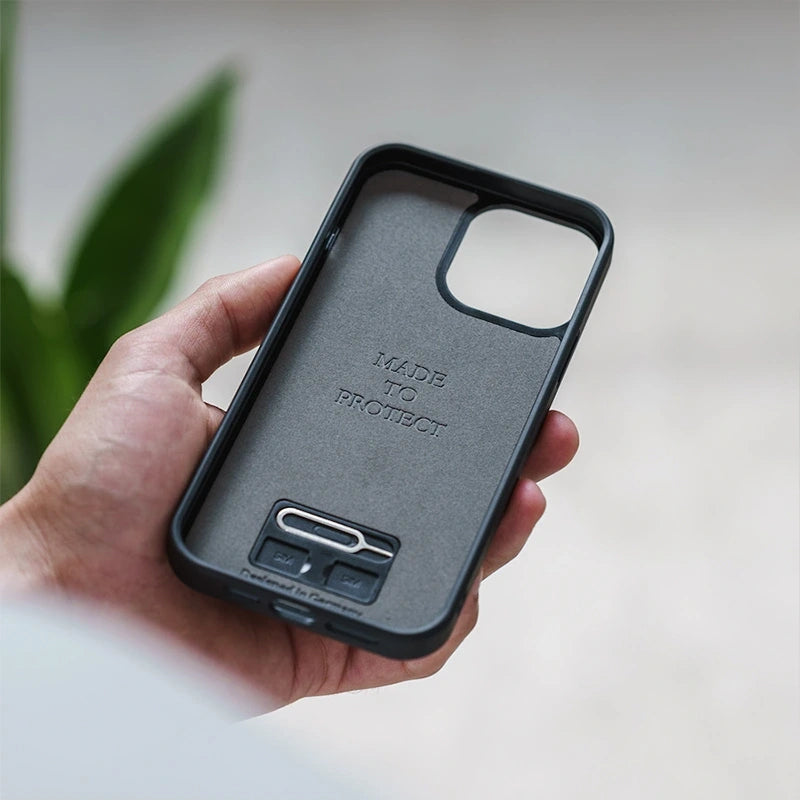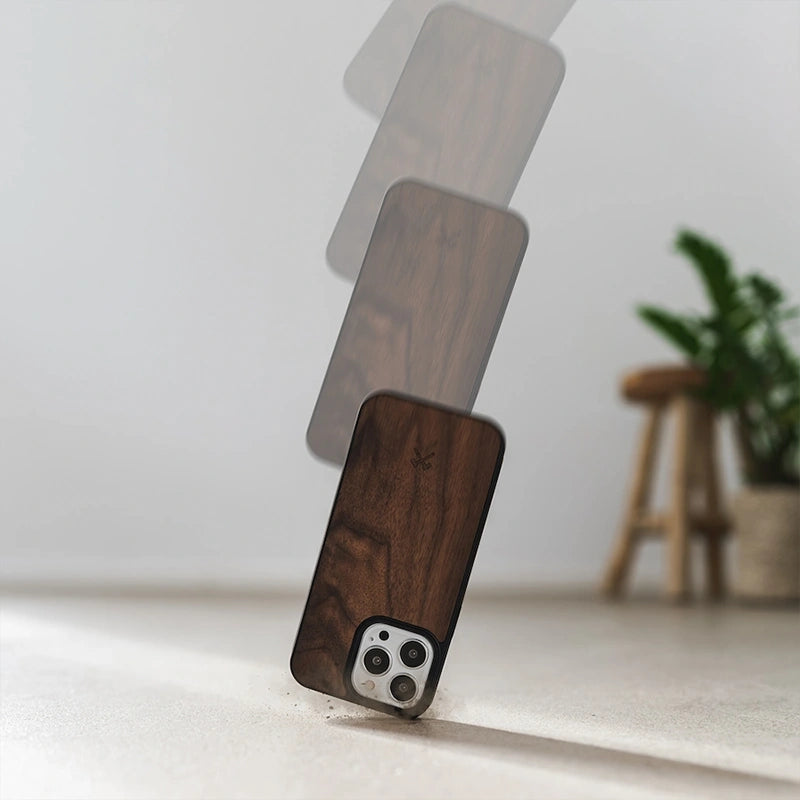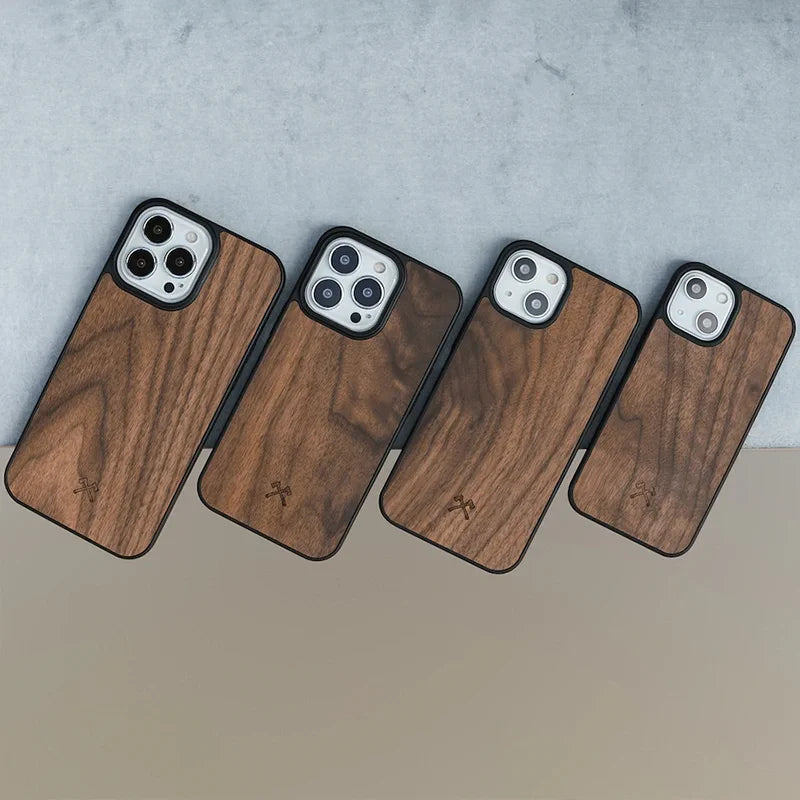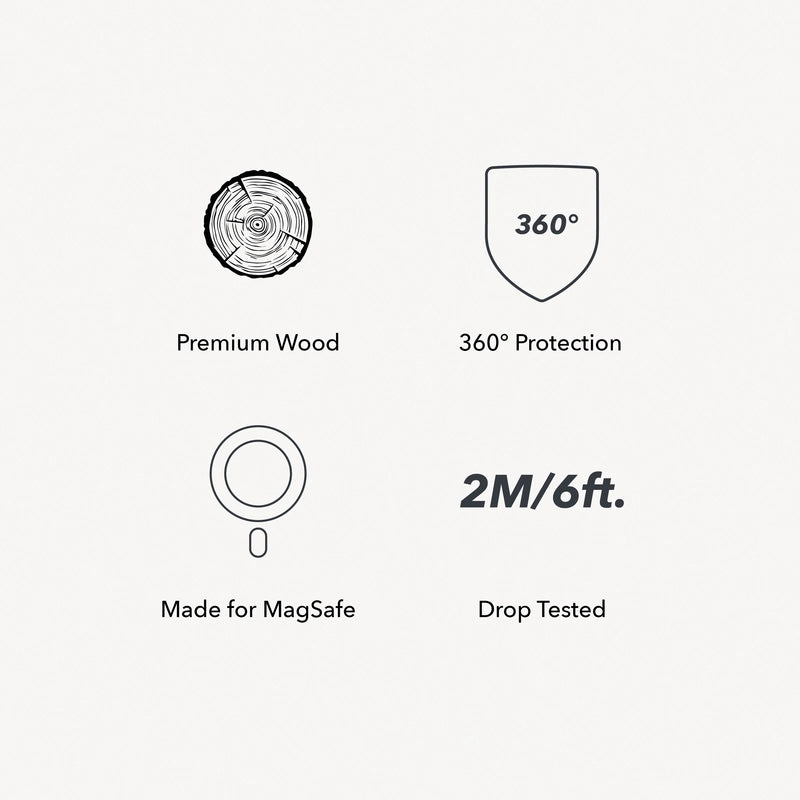 Bumper Case iPhone 13 Mini MagSafe Case Walnut
Only now at a special Xmas price 🎁
The unique iPhone 13 Mini Case made of wood and recycled silicone protects your iPhone against falls from up to 2 meters! Your iPhone wood Case is a real piece of nature and comes with very individual grain.
Impact protection makes the phone case fall resistant
Display protection thanks to slightly raised edges
Made for Apple MagSafe accessories
Integrated MagSafe technology
Recesses for SIM cards & pin pin compartment
Sustainable walnut wood & recycled silicone
Weight: 35 g
Dimensions: 1.5 mm thin
Robust American walnut wood
Recycled silicone and TPU
Soft vegan inner lining
Shipping costs and delivery time depend on the shipping method and country of the recipient. Shipping is climate neutral with DHL Green!
For more info see shipping info.
Reinforced drop down protection
The padded frame delivers feather-light all-around protection for your iPhone 14 and is tested & certified for drops up to 1.8m.
Your case is unique!
Your iPhone 14 MagSafe Case is as unique as nature itself and comes with very individual wood structure. Choose your favorite!
Maximum protection & sustainable materials
2 meter impact protection
360° protection
Soft inner fabric
Noble real wood
Made for MagSafe
Sustainable natural materials
Perfect for Apple MagSafe®
The case for your iPhone 14 with MagSafe function! Thanks to strong magnets, the case is compatible with magnetic charging & wireless charging.
Soft fabric & SIM card pockets
Vegan lining protects the back of your iPhone from scratches and smart cutouts provide access to SIM cards & pin pin.
Find your design
Your Bumper Case is not only available in a noble walnut look but also with a back made of real stone or as a limited Black Edition with elaborately colored black oak! Find your favorite!
Material & Care
Although we use real wood and stone, we made sure that the protective cases do not add any noticeable weight to all Apple devices. So the material is about only 1-1.5mm thin and your Case weighs a light 30-35g.
No! And that is exactly what makes our handmade natural product! Each wood & stone Case is truly unique and will only exist once in the world. Since we work with a natural product that always has different grains and structures, each Case is individual in its look and feel.
All Woodcessories Cases & products come from nature! We use real wood, most of which comes from Germany, Asia and the USA. All woods are certified and come from sustainable forestry. We also use slate and quartzite stones, which have formed over 300 million years by depositional rocks from granular clay and mud masses & wood. This creates very special colors and structures.
At first glance, it is easy to think that it is common plastic, but for all our Cases we use only recycled and especially low-pollutant plastic, which is produced according to environmental standards! That means no toxins and other environmentally harmful chemicals are used by us in the production and since the material is also recyclable, we conserve resources and stop unnecessary material waste! The frame of the iPhone 14 cases is made of silicone or TPU, which fits perfectly around your smartphone and protects it from drops and forces. If you want to learn more about the topic of non-toxic plastic, then take a look at our material page.
Besides our Military Drop-proof certificate, we also make sure that our products comply with important environmental guidelines. That's why all of our cases are REACH and RoHS certified. This means that we do not use harmful chemicals or other additives that could harm the environment. In addition, our materials come exclusively from sustainable sources and recycled metal to conserve resources and save emissions. You can find all info about our certificates here.
Your Woodcessories product does not require any special care. Even normal weather conditions, such as rain showers, do not affect your unique piece. However, your unique piece should be protected from strong moisture, heat, cold or sunlight. Even if the wood is treated with several layers of wax, it is a natural product that can be negatively affected by extreme weather conditions.
MagSafe
Yes! All iPhone models have an integrated wireless charging function, which makes charging the device easy and intuitive. Thanks to the millimeter-thin layer, the wood and stone cases can also be used for inductive charging (Qi technology) and are compatible with almost all wireless charging stations.
But safe! Thanks to integrated magnets, our iPhone Bumper Cases are compatible with the new Apple MagSafe technology and can be easily charged with the MagSafe Wireless Charger. You can also use our new MagPad perfectly for your new Bumper Case thanks to the magnetic function. So you get even faster charging power and can benefit from the MagSafe function!
Also the leather wallet and other MagSafe accessories from Apple, but also from third parties hold on our new MagSafe iPhone case! Please also note the next point.
The Leather Wallet and other MagSafe accessories from Apple also hold onto our new MagSafe iPhone Case!
Please note, however, that not all third-party magnetic products are actually compatible with MagSafe. Not all magnets are the same. Other retailers and brands tend to use inadequately tested or weak magnets that limit MagSafe functionality or interfere with your Apple iPhone's software. We, on the other hand, use high-quality, tested magnets. In total, 40 ultra-thin, custom-made magnetic discs are used in our case, which promise extra strong hold and at the same time do not restrict the software of your iPhone. Our magnets have a magnetic pull of 1623GS, coated and heat resistant up to 120 degrees Celsius. Quality that you can literally feel!
Safety & Impact Protection
Our MagSafe Bumper Case has passed over 26 test runs from 1.8m and withstands high forces. The grippy silicone frame is also non-slip and even protects your phone screen with its raised edges! We believe in our cases and know from many customers that it has already survived a lot of falls! However, we do not claim that our cases are indestructible and that your mobile device will survive any fall or external force without any damage. The truth is that every cell phone cannot always survive certain falls or violent impacts without any damage. Therefore, we ask for your understanding that Woodcessories is not liable for any damage or repair costs. To increase the protection factor you should use our armored glasses.