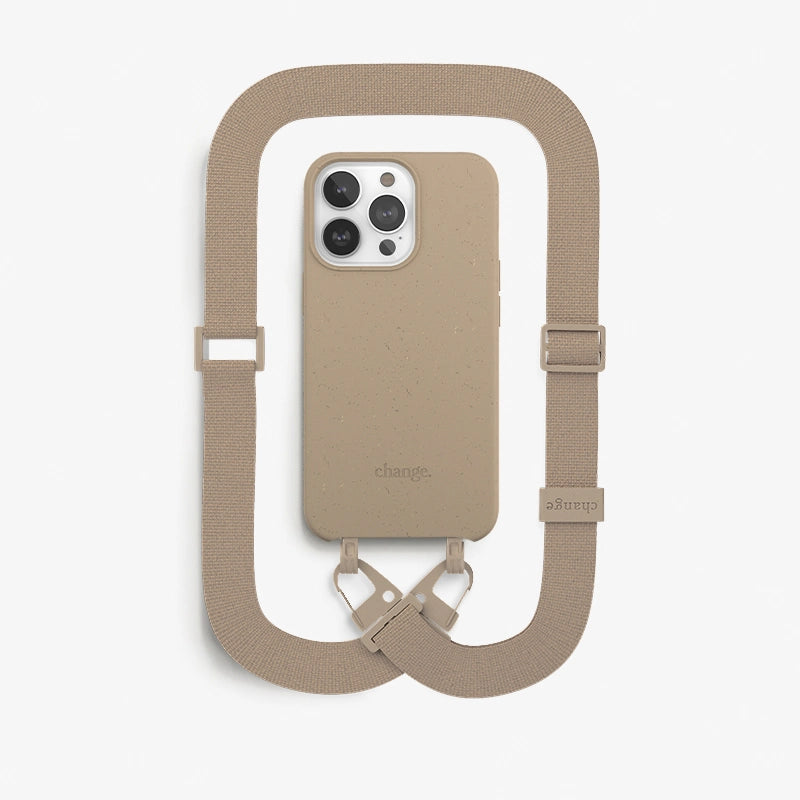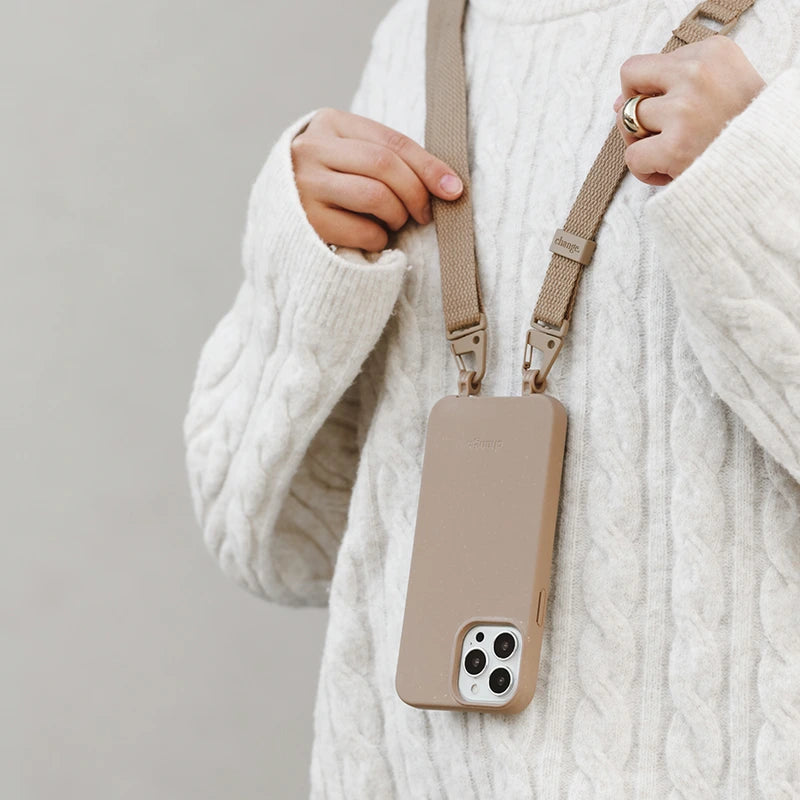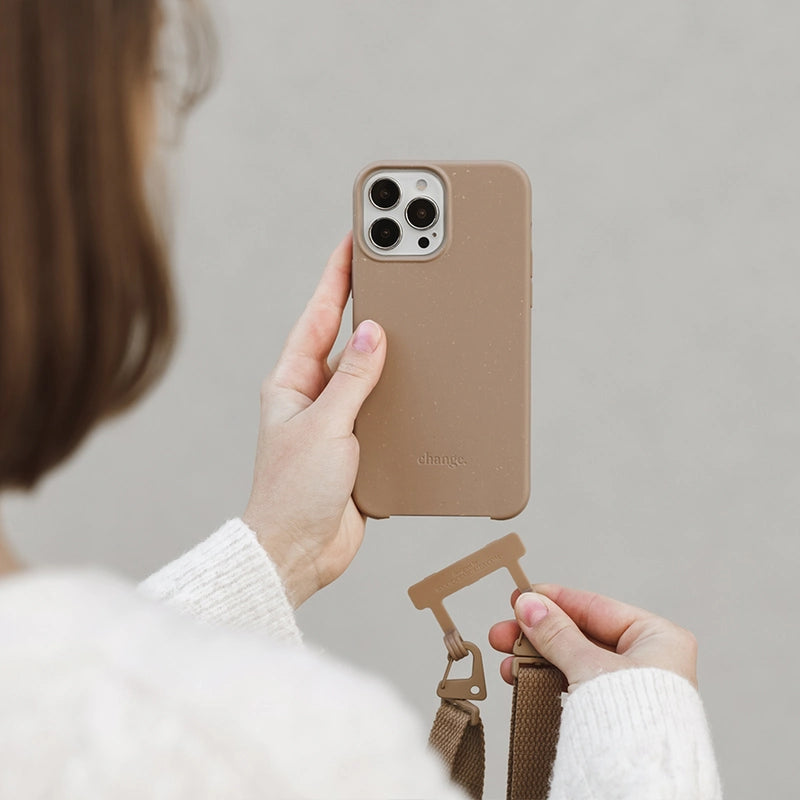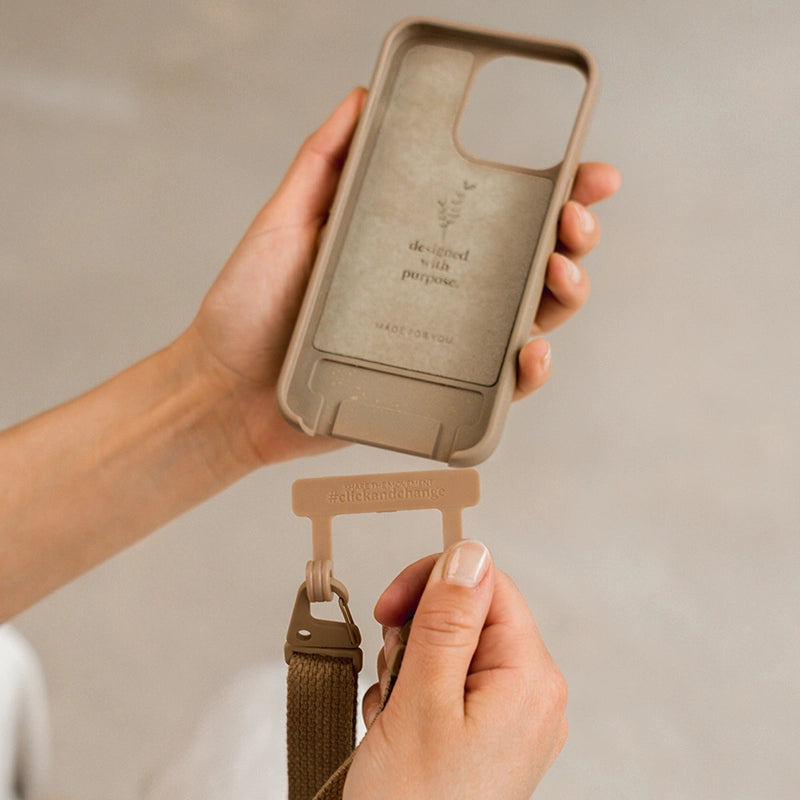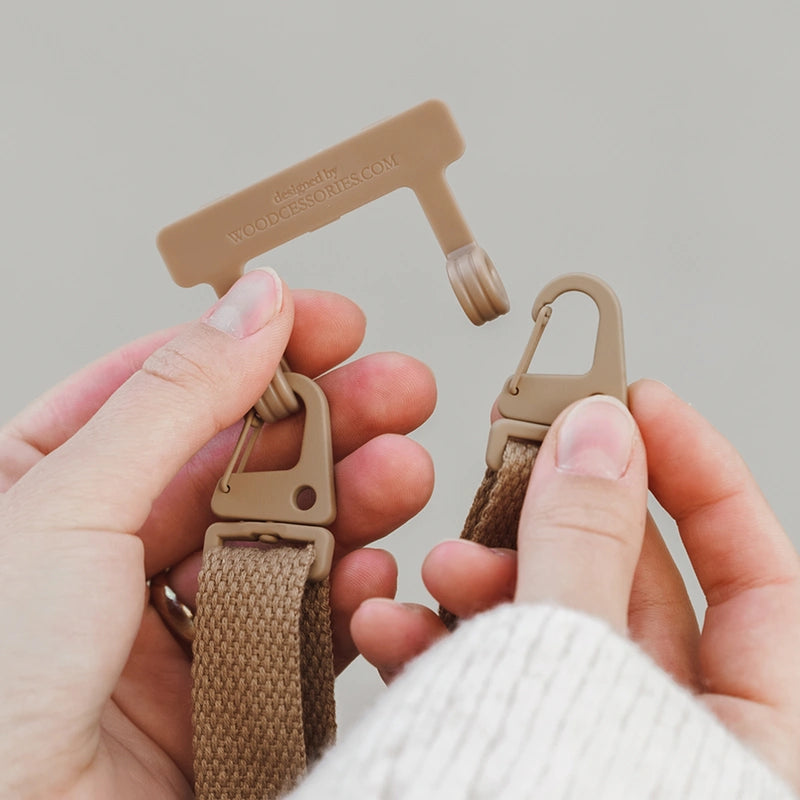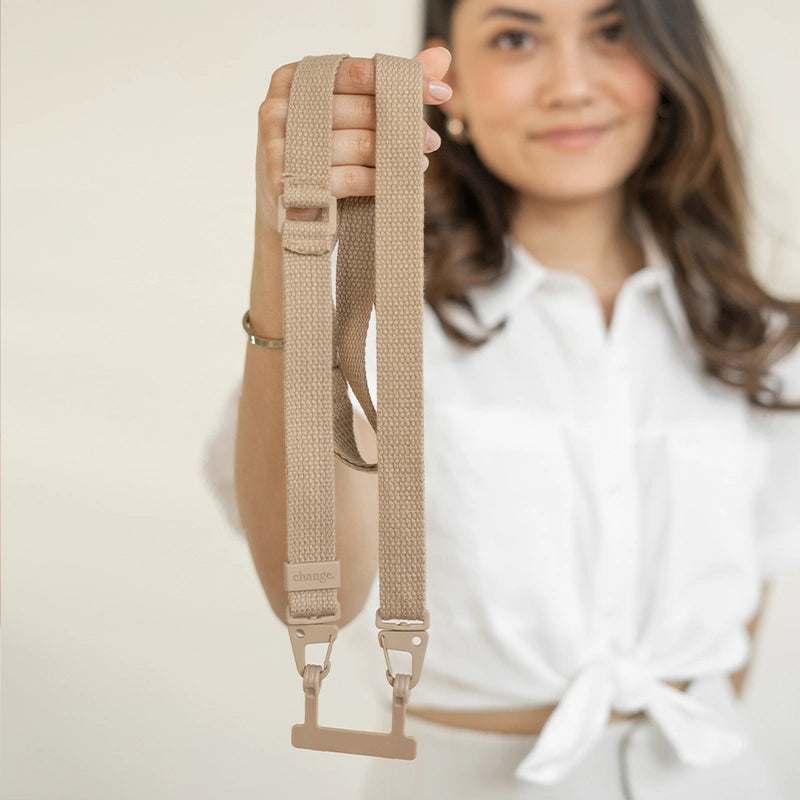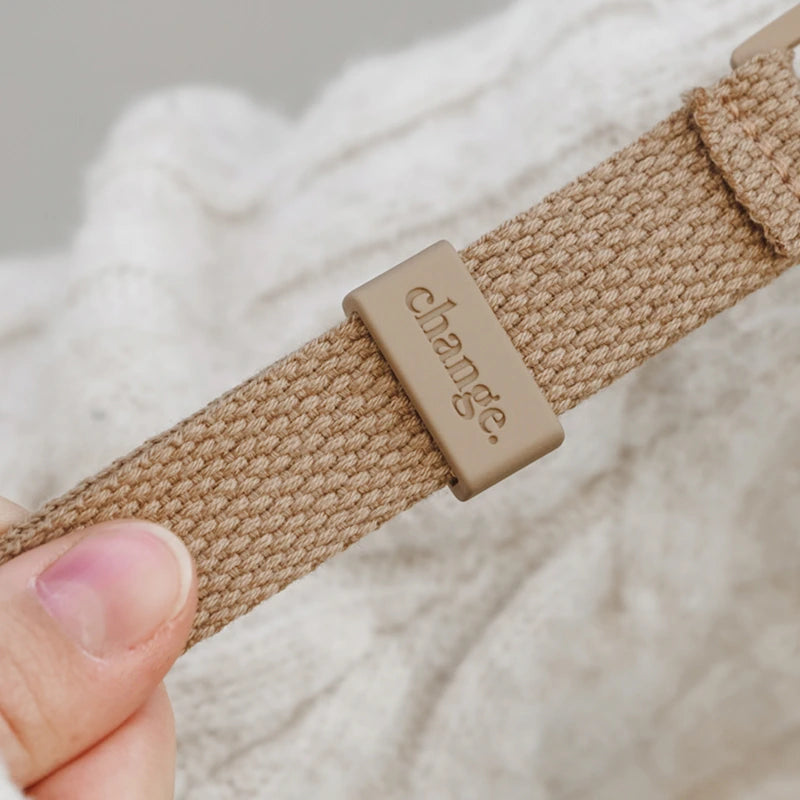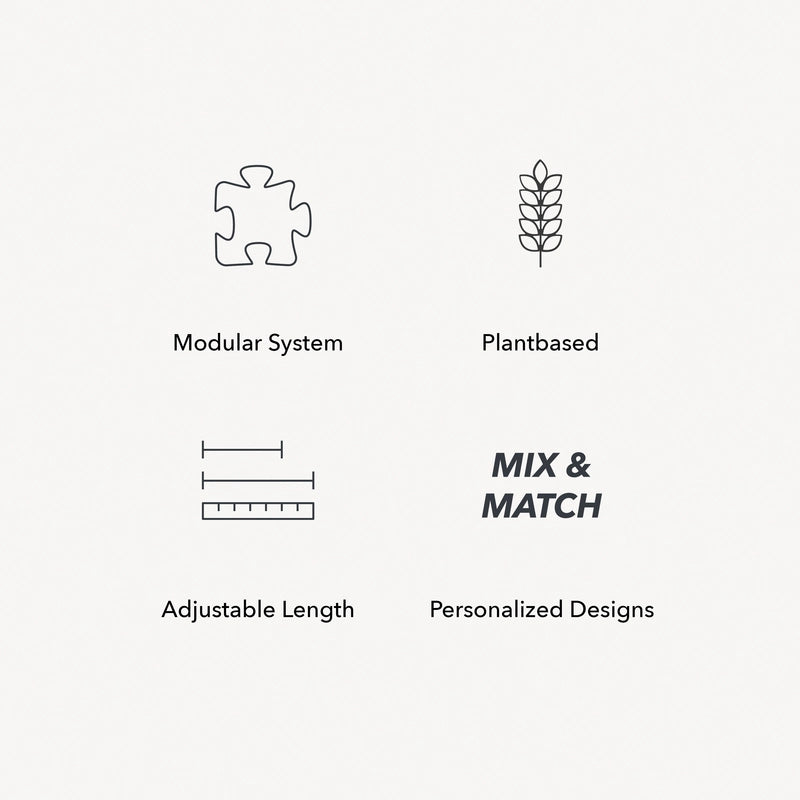 Change Case Strap iPhone 13 Pro Max phone case with band
Only now at a special Xmas price 🎁
Our sustainable phone cases with removable band for iPhone 13 Pro Max in cool batik design. Our necklace case cords can be combined to match any outfit!
Modular Case with removable cord
Sustainable organic material
100% Harmless & REACH Certified
Vegan inner fabric & OEKO-TEX® cord tape
Weight: 30 g
Dimensions: 2 mm thin
Case from organic granules from plant starch
With straw and wheat residues
OEKO-TEX® cord tape
Soft vegan inner lining
Shipping costs and delivery time depend on the shipping method and country of the recipient. Shipping is climate neutral with DHL Green!
For more info see shipping info.
2in1 Case
One Case - Two products. Change from practical iPhone crossbody case with chain to classic bumper case in seconds.
mix & match
Seven colors - infinite combinations. No matter what outfit, your iPhone necklace case is individually combinable by the interchangeable cell phone cords.
More power. More advantages!
Drop protection
Soft inner lining
Removable necklace case
From plant substances
Infinite combinations
360 degree protection
Sustainable materials
Made from natural wheat blend and toxin-free plant starch, iPhone necklace case is the perfect green alternative.
Learn more
change x filia
Together with the filia foundation, we want to empower women and girls and collect money for a good cause. The foundation lets money flow into activities by women and girls for women and girls. You too can become part of our mission!
Material & Care
Since our cell phone cases with chain are made from plant materials and straw residues, there may be natural, small deviations in the look and texture . Since we also consciously avoid synthetic materials, the necklace case can develop a patina over time. Both are a clear sign of authenticity and use of organic materials.
Yes, your new phone case with strap is completely vegan, low in pollutants, based on plant materials and is also an upcycling product! Our cell phone cases are made of a specially developed bioplastic, which is mainly based on plant starch (PLA). PLA is one of the bioplastics that are made from renewable raw materials, i.e. biobased as well as compostable. Our used bio material is even certified according to European Standard EN 13432 for compostability. In addition, we use straw and grain, which are leftovers during the harvest. Via upcycling process we add them to the innovative bioplastic for additional strength. In addition, the iPhone Case is free of BPA, lead, cadmium and phthalates and is REACH certified!
Unfortunately, a high proportion of plant material means that especially light-colored products are more susceptible to discoloration and scratches. When improving our products, we take your customer feedback to heart and have therefore decided to make the colors more resistant. Thus, our models contain 50% recycled TPU (thermoplastic polyurethane). This way we create a longer life and ultimately reduce the consumption of the iPhone Cases. These can still be recycled in our production! And we have set as a firm goal to develop the best possible and most sustainable materials and hope soon to convert our complete product family to full compostability.
Through our innovative bio material, we can recycle your used iPhone necklace case in production and almost completely recycle! With your help we can save important raw materials, save energy costs, produce more sustainably and create new products! So if you don't feel like using your necklace case anymore, please don't throw it in the trash, just send it back to us. This way we can use the material for the production of new cases and you will receive a 30% voucher (more info).
Your plant-based phone case does not require any special care. The Case can be easily wiped with a damp cloth and even normal weather conditions, such as rain showers, do not affect your iPhone Case . However, it should still be protected from strong moisture, heat, cold or sunlight.
Please note: We work with completely sustainable, low-impact materials and do not use sealants like other plastic cases. Therefore, the color of your Case may change over time and may also rub off more quickly. Depending on your usage and lifestyle, minor scratches may also appear on the surface. To keep your sustainable case clean for a long time, make sure that your Case doesnot come into contact with staining clothes or other staining materials , e.g. direct contact with make-up should also be avoided. We are already working on other natural solutions to make our cases even better and more durable!
Mix & Match
It's as easy as pie: just click the hook of the modular chain into the matching indentation at the bottom of your case and off you go on your next adventure!
Yes, when you buy one of our Change Cases, you get the color of the cord to match the color of your Change Case . Of course, we have a huge selection of other colored cords, so you can customize your phone case with strap and change the cord to your liking!
Our modular phone cases give you the opportunity to use a normal iPhone Case and in seconds transform it into a practical phone chain. With the detachable cords, you can wear endless combinations and match them to any outfit. Plus, our interchangeable cords are simply more sophisticated than other systems. While other cords keep falling out of the necklace case, our cell phone cords can be properly clicked in, so they can even be easily swung around without falling out again. Last but not least, we offer you the sustainable and resource-saving alternative to conventional plastic cases! One of our most important goals is to avoid as much plastic as possible in our products, production but also in everyday life! With our brands Woodcessories and Change we are on the right track to soon become completely plastic-free! Our outer packaging is made of at least 99% recycled paper and low-pollutant soybean ink, which makes it completely environmentally friendly and compostable. With our reforestation campaign you are also supporting an important climate missionby planting a tree for every necklace case sold.
Other
But safe! All our iPhone cases from iPhone 12 are compatible with Apple's MagSafe technology and can be easily charged with the MagSafe Wireless Charger. This gives you even faster charging power of up to 15W by simply placing the charger right at the height of your iPhone's Apple logo. You should feel a magnetic pull there and see the MagSafe logo on your display - and your iPhone will charge!
For our sustainable Change Case, protection has the highest priority! To ensure safe impact protection, a certain amount of padding and thickness must be present. Unfortunately, the thickness of the protective case cannot guarantee a flawless, magnetic hold of the MagSafe products. To use the magnetic function, we recommend our Slim Case. Go here to our Slim Case!
For our Change Case, optimal protection has the highest priority! To ensure safe impact protection, a certain amount of padding and thickness must be present. Due to the strength of the protective case, we can unfortunately not guarantee the hold of PopSockets and similar products.
We have also put a lot of thought into our packaging and therefore only use recycled paper and recycled cardboard to package our products in the most environmentally friendly way possible. Even our entire insert material is recycled. Don't worry: Our sustainable shipping boxes are still very high quality, well protected and your favorite product will reach you without any problems! The shipping is completely climate-neutral via DHL GoGreen or optionally DPD, so that we can offset the resulting emissions again and your Change product arrives as green as possible with you!