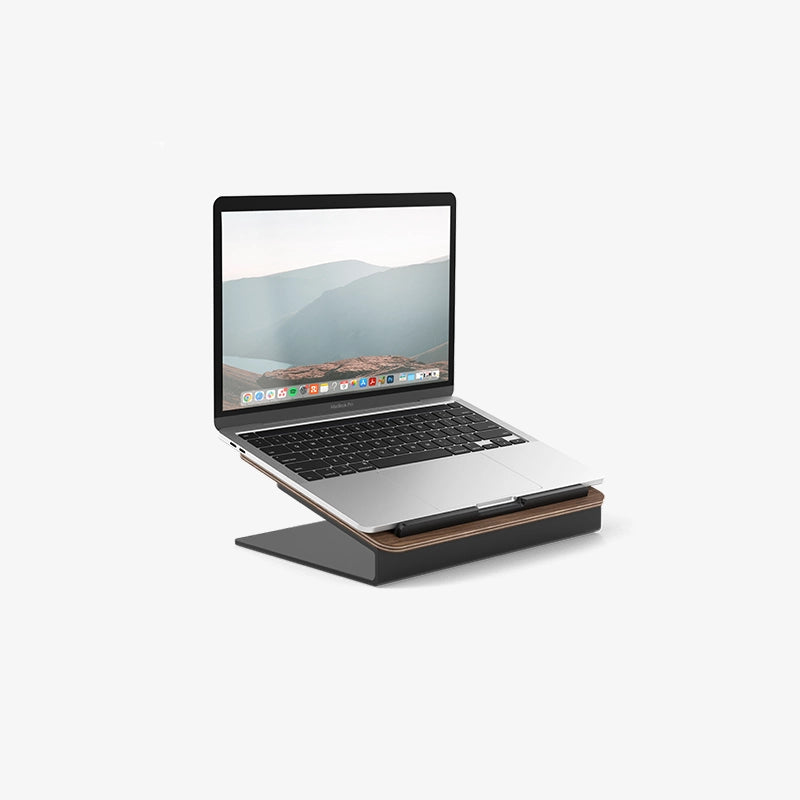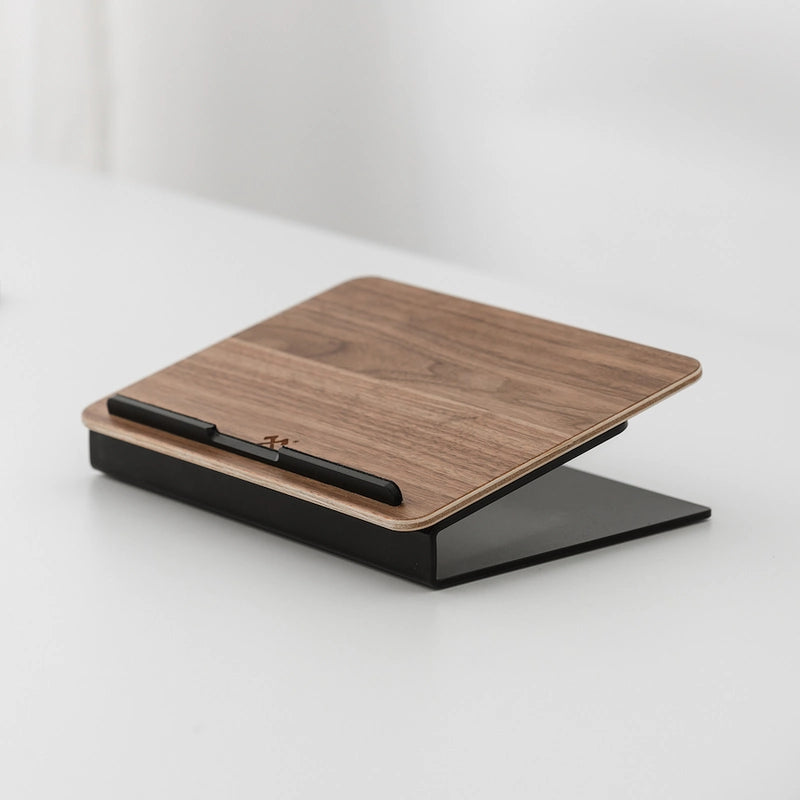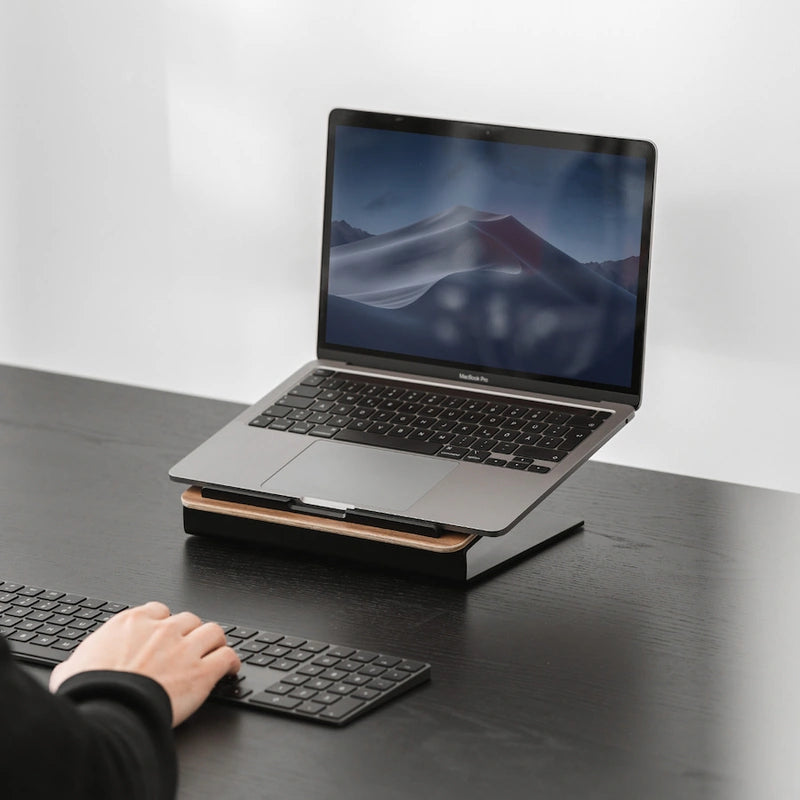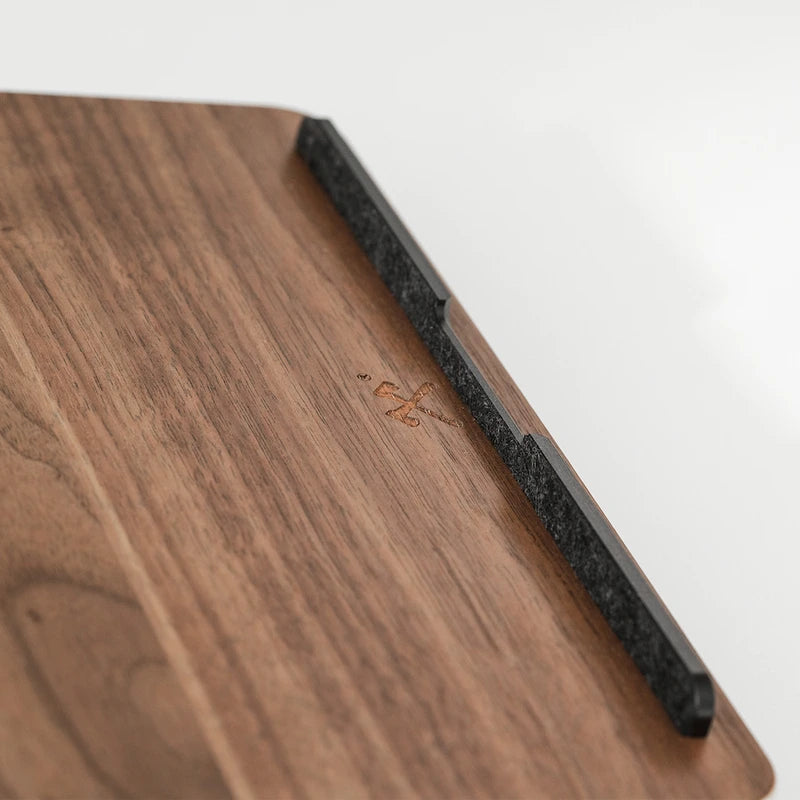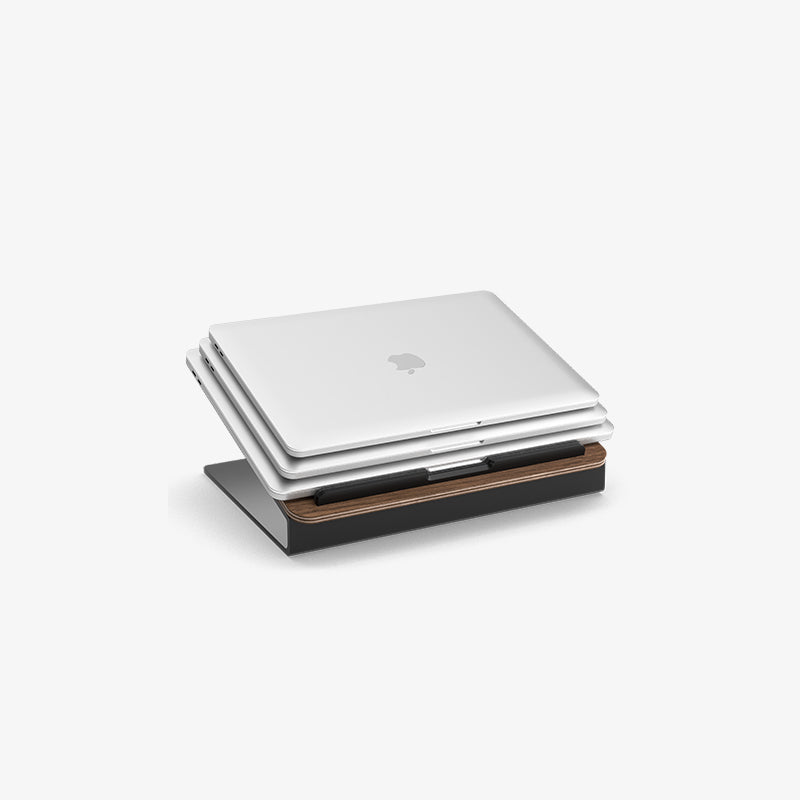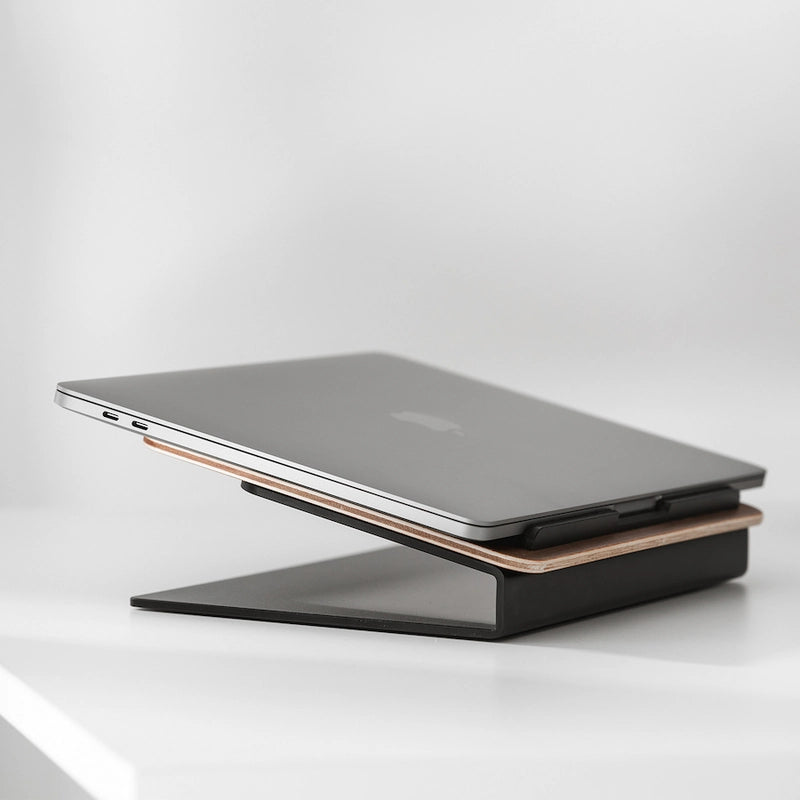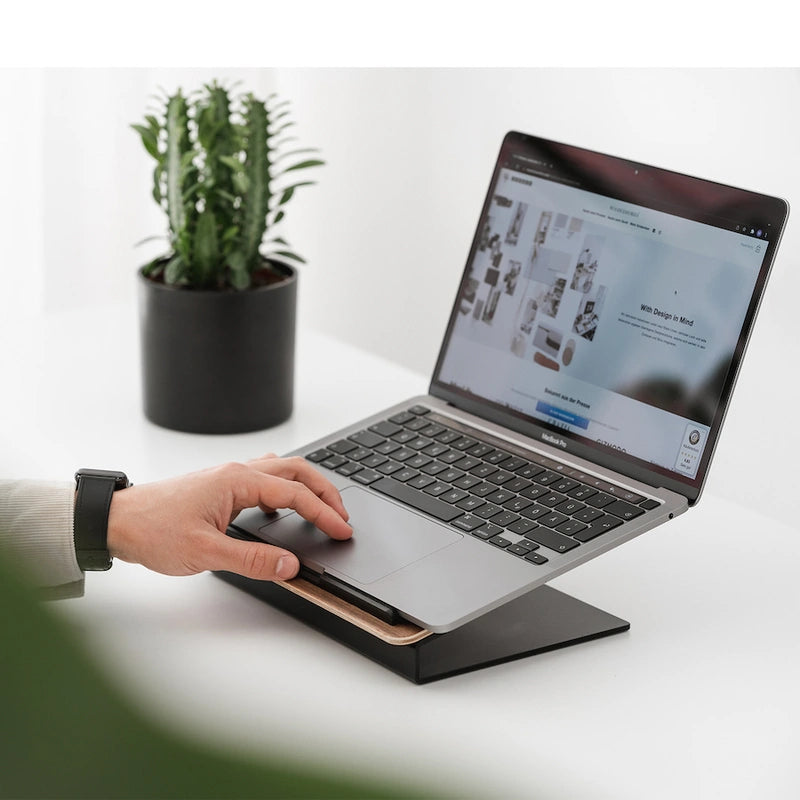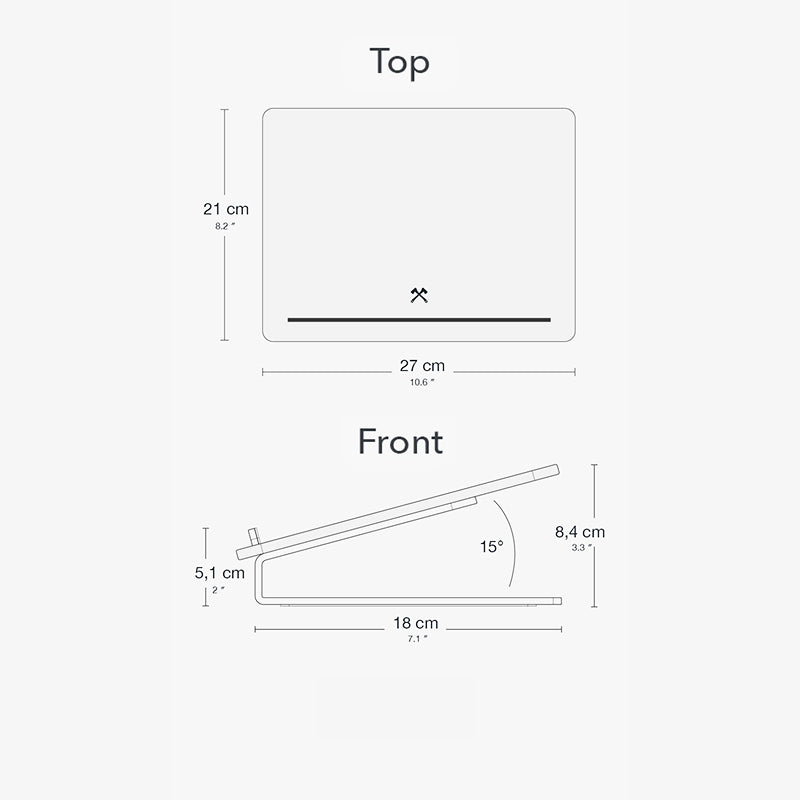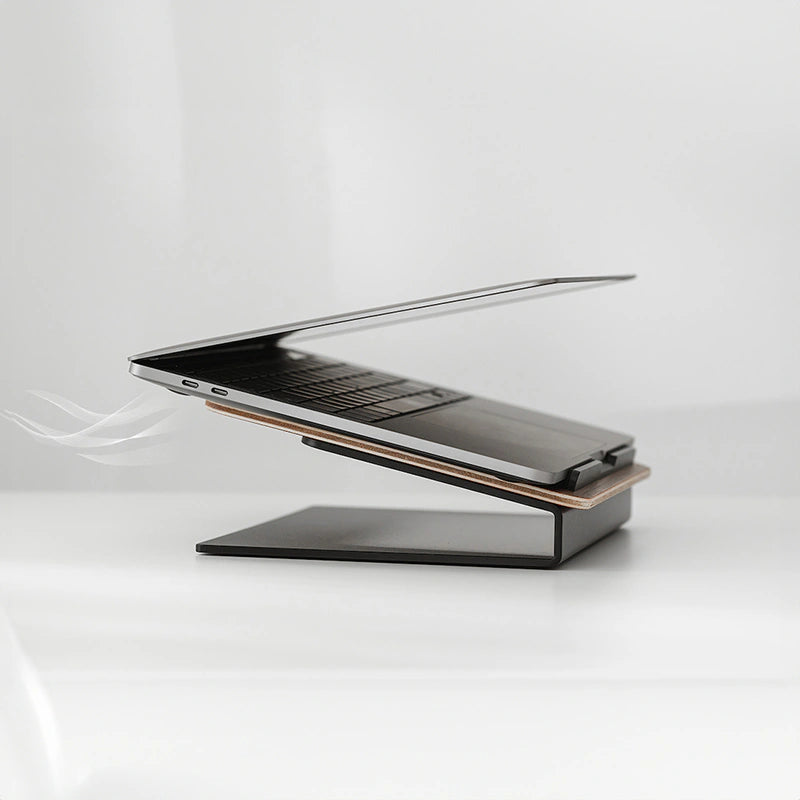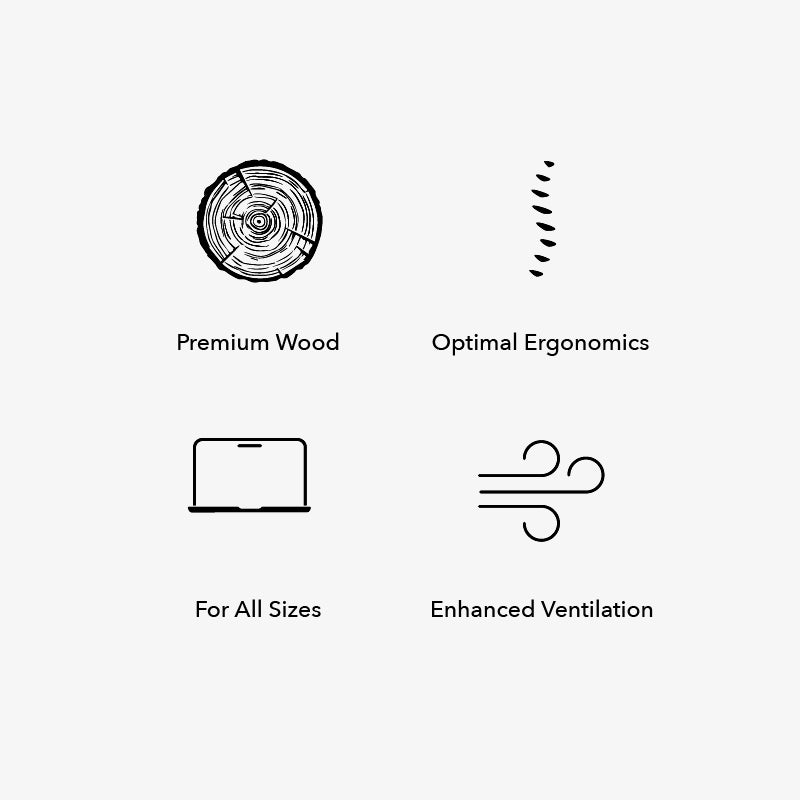 Laptop Stand Laptop elevation from walnut
Only now at a special Xmas price 🎁
Only 16 left
The laptop elevator made of wood and aluminum is compatible with all popular laptops and MacBooks and enhances any workplace! Thanks to the optimal height, working becomes more ergonomic and the non-slip cork bottom keeps your laptop safe at all times! The free design ensures optimal cooling of your laptop, so you do not have to worry about overheating!
Compatible with any popular laptop & MacBook
Pleasant working thanks to perfect ergonomics
Direct use or with external keyboard
Stopper with recess for easier operation
Non-slip base made of natural cork
Free design for optimal laptop cooling
Weight: 1.2 kg
Width: 270 mm
Length: 180 mm
Laptop edition: 270 x 210 mm
Height front: 51 mm
Height rear: 84 mm
Angle: 15° 
American premium real wood
Recycled and coated aluminum
Sustainable cork
Compatibility: all popular laptop and MacBook models 10-16 inch
Shipping costs and delivery time depend on the shipping method and country of the recipient. Shipping is climate neutral with DHL Green!
For more info see shipping info.
Exquisite quality
High-quality materials meet sophisticated aesthetics! A solid aluminum body, non-slip cork feet on the bottom and the felt stopper provide the laptop stand for optimum stability & functionality!
Smart concept
Save space by storing your keyboard, mouse & co. on the rear shelf. High-quality felt on the practical holder allows convenient opening & protects against scratches!
Design meets quality!
Noble real wood
Recycled aluminum
Ergonomic shape
Non-slip cork underside
For all laptops
Load capacity 5 KG
Optimal cooling
Keep the performance of your notebook at the highest level and do not sacrifice design! The free and open position of your laptop promises improved ventilation and cooling!
Ergonomic work
The elevated design and the adjusted angle of the laptop elevation ensure efficient working. This is how we promote a healthier sitting posture and a comfortable working environment!
The laptop stand is made of high-quality materials such as high-quality American solid wood and recycled aluminium with an anodized surface. This allows us to create a high-quality product and guarantee the long-term stability and resilience of the material.
The MacBook stand is suitable for a load of up to 25kg and therefore holds any available laptop in terms of weight. The body of sturdy aluminum was cast in one piece and thus has particularly high stability.
No, and that's what makes our natural products so special. The MacBook stands are made of real wood and thus each have a unique grain and structure. Therefore, each piece is unique!
We have designed the laptop elevation to fit the largest amount of devices. So our laptop stand can be used universally for all laptop, Macbook Air & MacBook Pro models that protrude just a little over the edge in the slightest.
Our MacBook holder is 27 cm wide and 18 cm deep with a front height of 5.1 cm and rear height of 8.4 cm. The shelf is at a 15° angle and measures 21 x 27 cm. For illustration, feel free to check out our technical drawing further up the page.
We always pay attention to maximum sustainability in our production. All woods used are strictly controlled and come from sustainable forestry. In addition, we plant a tree for every product sold with the organization Trees for the Future (TFTF). All our packaging is 100% recyclable and made from recycled waste paper!