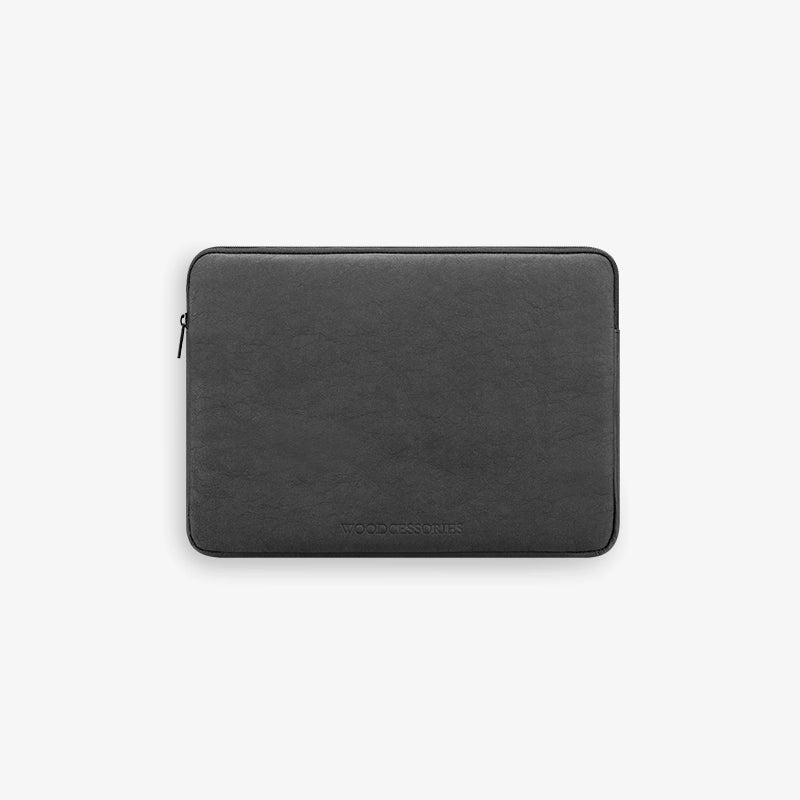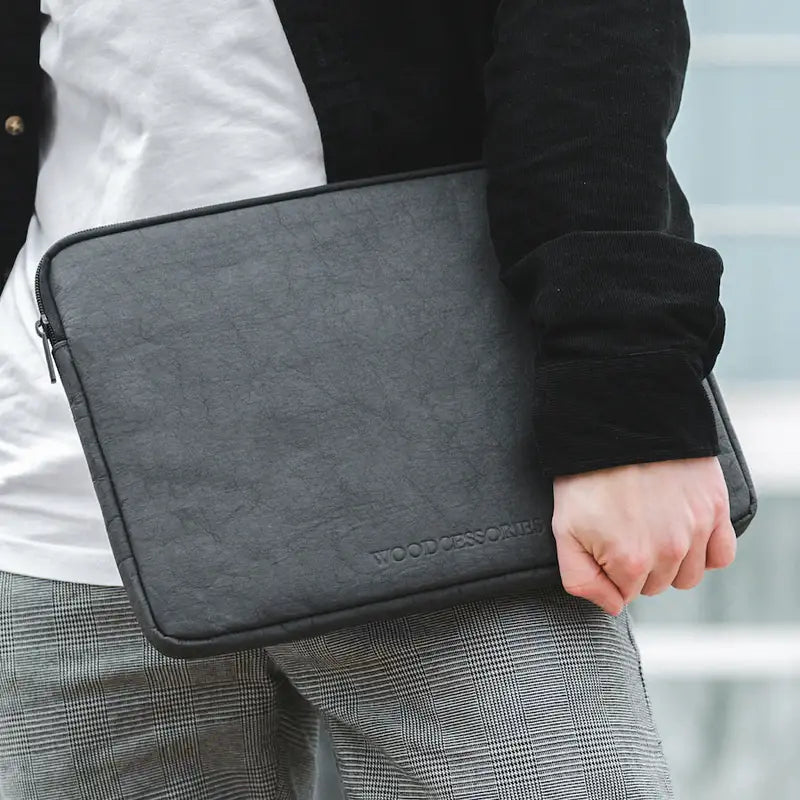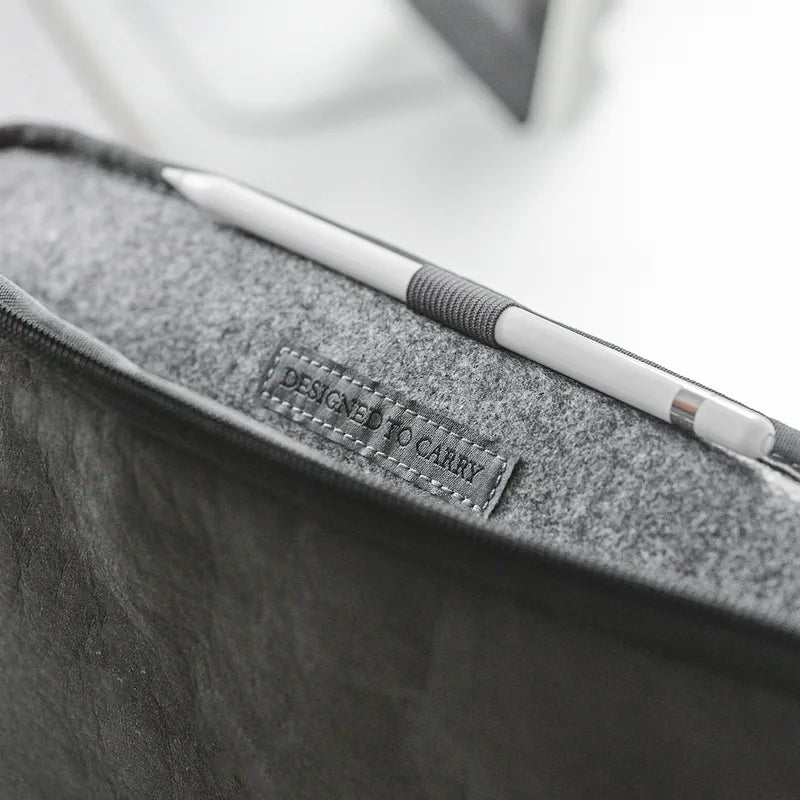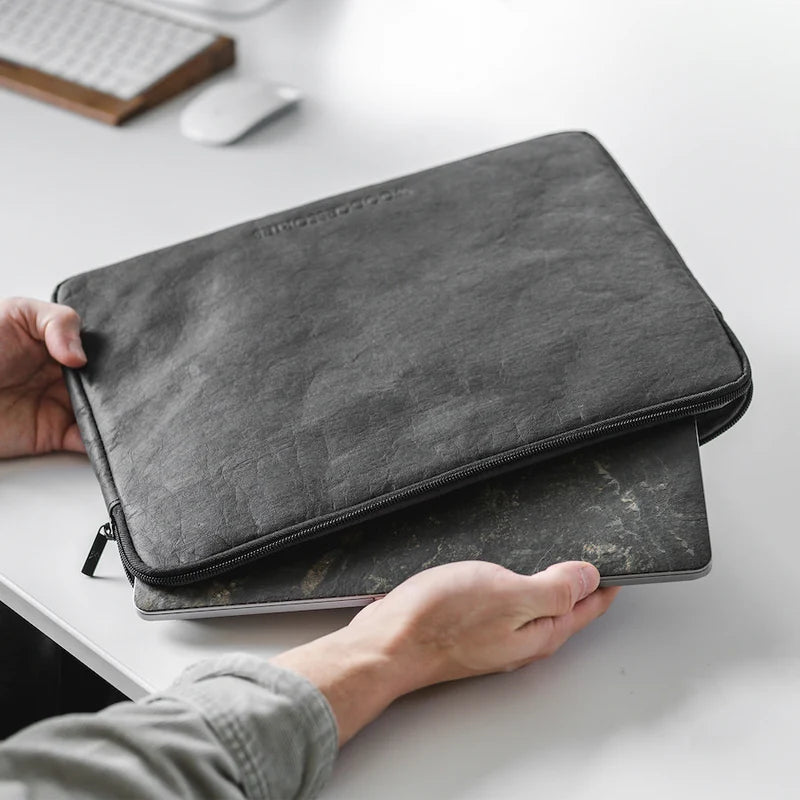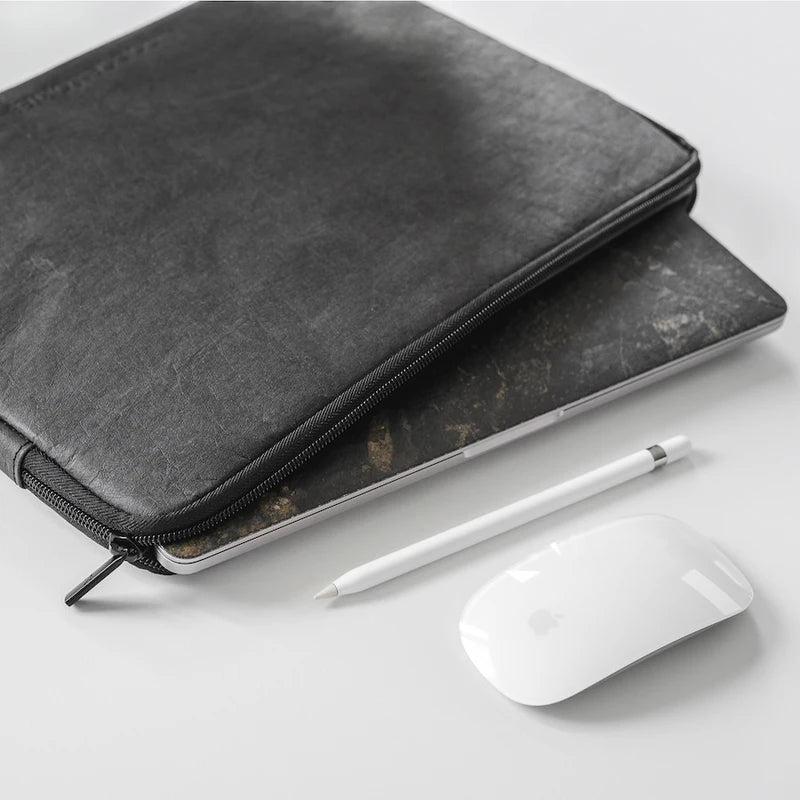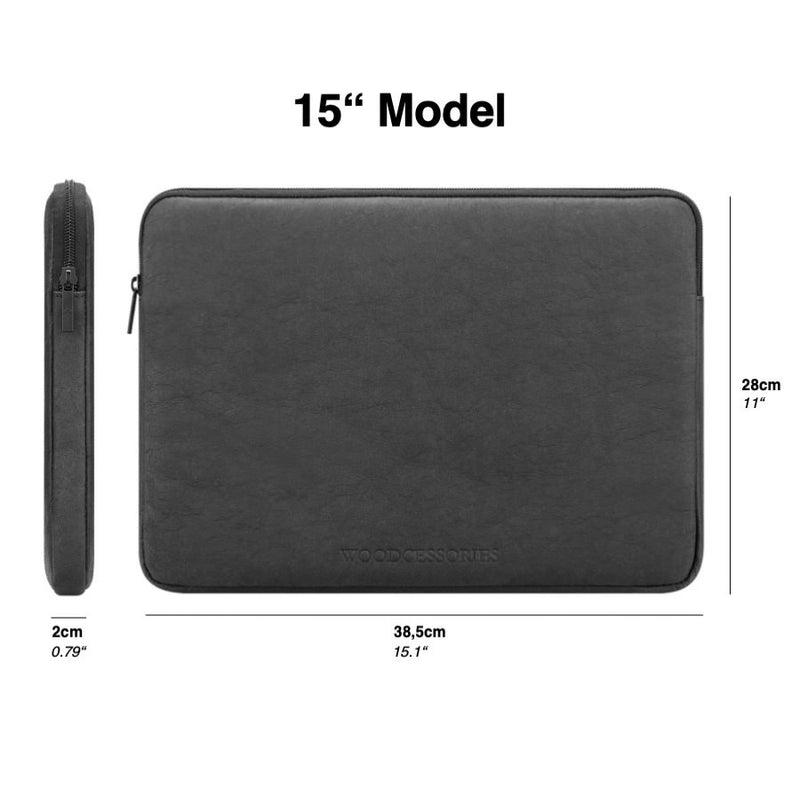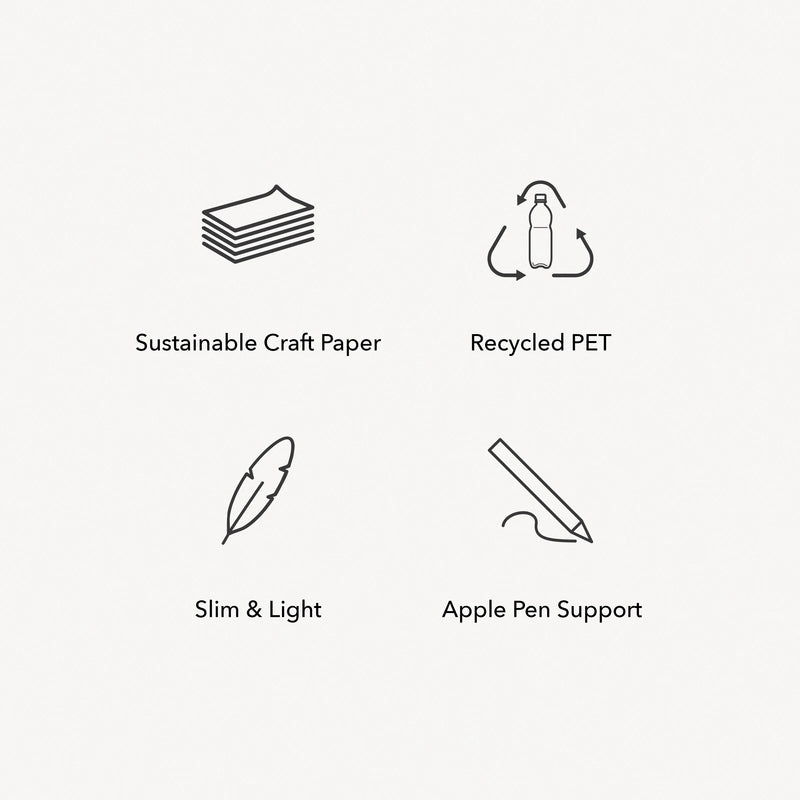 Eco Sleeve Laptop / Macbook Case Sustainable 15"
Only now at a special Xmas price 🎁
In stock
The MacBook bag made of sustainable kraft paper protects your MacBook reliably from scratches, bumps and unsightly scratches! Outside water-repellent and durable thanks to particularly robust wood pulp and inside soft protection of rPET felt! So your laptop stays like new, no matter how often it accompanies you!
100% recyclable pulp from wood
Water repellent & Durable
Soft inner fabric made of rPET felt against scratches
Reliably protects against scratches, scratches & bumps
Fits almost all notebook models (see FAQs)
13 inch:
Interior dimensions: 35 x 25 x 1.6 cm
Outer dimensions: 36 x 26.5 x 2 cm
15 inch:
Interior dimensions: 37.5 x 27.5 x 1.7 cm
Outer dimensions: 38.5 x 28 x 2 cm
Sustainable kraft paper
Inner fabric made of rPET felt
Shipping costs and delivery time depend on the shipping method and country of the recipient. Shipping is climate neutral with DHL Green!
For more info see shipping info.
The Ultimate Laptop Bag
The innovative kraft paper for a sustainable lifestyle. Increased stability through wood fibers with less weight in a slim Apple design.
Extra compartments for more space
In the blink of an eye everything is stowed away, thanks to cleverly integrated interior compartments. In addition to your notebook, you still have enough storage space for charging cables, notes & Co.
Environmentally Friendly & Practical.
Sustainable kraft paper
Smart storage space
Light & Slim
Water repellent
Recycled PET
Apple Pen Support
Upcycled rPETagainst scratches
Durable felt fabric made from recycled PET bottles gently protects your MacBook from scratches & incidentally reduces the production of plastic waste and microplastics!
Noble & Natural Materials
The kraft paper forms a patina over time. It looks like leather but is 100% vegan. High quality endings, nickel & lead free.
Premium protection
High-quality laptop sleeve made of water-repellent, durable kraft paper. Reliable protection against wind & weather!
Material & Care
Our MacBook Sleeve is made from German Texon Vogue® kraft paper, which is 100% natural wood pulp. This sustainable material is both FSC® and OEKO-TEX® certified, which means we can guarantee both environmental friendliness and freedom from harmful substances. It is also very durable, water resistant and can withstand prolonged outdoor use. The high quality leather look and feel makes it the perfect green alternative.
Yes! Our kraft paper bag can be easily washed in regular washing machines at medium temperature without shrinking or stretching. However, the material tends to wrinkle a bit, giving the bag more of a vintage look. We do not recommend industrial washing or dry cleaning. However, most stains can be wiped off quite easily thanks to the waterproof coating.
RPET stands for recycled polyethylene terephthalate, the type of plastic most reusable bottles are made of. The used PET bottles are cleaned in a special process, heated and granulated into small flakes. These can be further processed into robust fibers. This reduces the already existing mountains of waste instead of producing new plastic waste. The material is accordingly not plastic-free, but upcycled and has a better eco-balance than most synthetic fibers. In addition, it causes significantly less microplastic.
Other
Woodcessories stands for minimalist design and this laptop bag ladies / men is no exception. It nestles, thanks to its slim design, like a second skin around your MacBook and takes no unnecessary space. So don't worry, you don't have to buy a new backpack ;)
Clever interior pockets give you extra storage space for charging cables, notebooks, mouse, pen and everything else you need in everyday life. So there is enough space for your accessories.
Our MacBook Sleeve reliably protects against bumps and scratches from all sides and thanks to water-repellent surface on top of that wind and weather resistant!
Unfortunately, since the bag has a zipper, you can only charge with the bag open or you leave a small piece of the zipper open.
Our MacBook Case is suitable for all MacBook 13" & 15/16" Air/Pro, but also can be used for Macbook 12 with a little more clearance. So the Eco Sleeve makes the perfect Macbook Pro bag/Macbook Air bag.
Although our laptop bag was primarily developed as Macbook Air Case/Macbook Pro Case , numerous laptops from other manufacturers also find their home in the Eco Sleeve. As with other laptops Cases, simply match the dimensions of your laptop with the inner dimensions of the Eco Sleeve.
Please note the inner dimensions:
13" Eco Sleeve - 35 x 25 x 1,6cm
15/16" Eco Sleeve - 37,5 x 27,5 x 1,7cm
More info in the next FAQ item.
Here you can find a list of some compatible devices:
13" Inch Eco Sleeve - 2010-2019 MacBook Air 13 inch A1466/A1369, MacBook Pro 13 inch Retina, Surface Book 3/2/1 13.5 Inch, Dell Inspiron 13/14, Dell XPS 13, HP Envy13, HP Stream 14, Lenovo Yoga 920, Lenovo Yoga 730 13, Acer Swift1 13.3, Asus ZenBook 13.3
15/16" Inch Eco Sleeve - MacBook Pro 15.4 Inch 2019, MacBook Pro 16 inch 2019, MacBook Pro Retina 15.4 inch A1398 (Mid 2012-Mid 2015), Microsoft Surface Book 2/1 15 Inch 2018/2017, Surface Laptop 3 15" 2019, Lenovo IdeaPad 15.6", Lenovo Yoga 710 15.6 Inch 2 in 1, Acer Aspire E 15, Acer Chromebook 15, Acer Aspire 5 15.6 Inch, Acer Swift3 15.6 inch, Dell Inspiron 15 5000 5570, Dell XPS 15, HP Premium HD Laptop 2019 15.6", HP Pavilion 15 IPS Touchscreen Business Laptop, HP Stream 14in Laptop, HP EliteBook 840 14in HD Laptop Computer, ASUS VivoBook F510UA 15.6", ASUS VivoBook S 14 Inch
For other notebook models you should simply consider the inner dimensions:
13" Eco Sleeve - 35 x 25 x 1,6cm
15/16" Eco Sleeve - 37,5 x 27,5 x 1,7cm