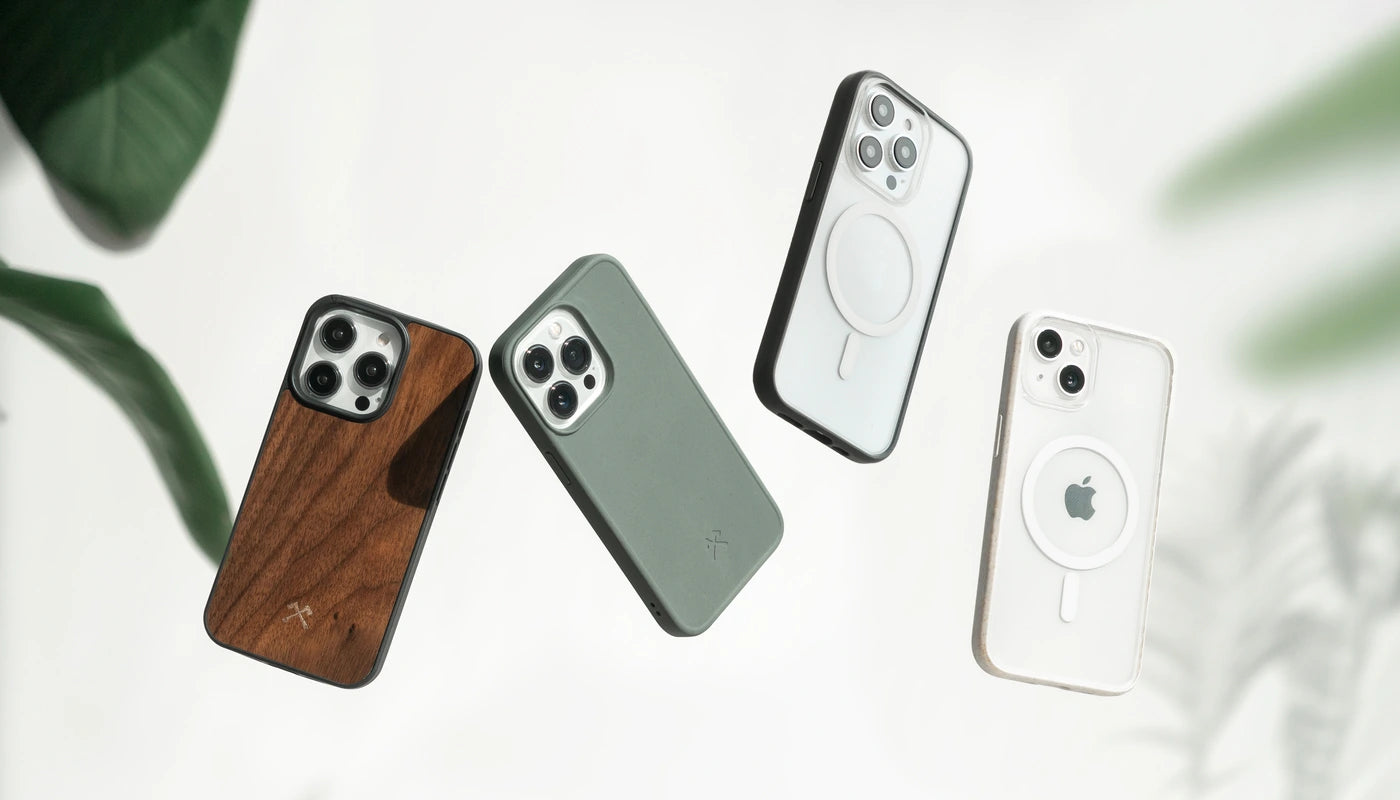 Sustainable cell phone cases
Our sustainable phone cases represent the balance of technology and environmental protection. Because did you know? Most cell phone cases are made of plastic and thus contribute to the global plastic problem. Not with us. Each of our Cases cases is designed to protect your cell phone and at the same time make a decisive contribution to environmental protection. This is exactly what Woodcessories is all about: a brand that not only focuses on the outstanding quality of its products, but also thinks outside the box. Our sustainable phone cases combine aesthetic design with environmentally conscious thinking - for a vision of a better future. Don't choose a product with us. Decide on a philosophy.
We went on a search for the best materials to make durable, environmentally friendly and stylish cell phone cases:
Wood: a natural wonder. Our biodegradable wooden phone cases are not only a design statement, but also a testament to our commitment to Mother Nature. Every piece of wood we use comes from FSC-certified forests, ensuring that for every tree felled, a new one is planted. It gives each sustainable phone case a unique grain and texture, so no two phone cases are the same.
Biodegradable materials: What happens to the organic phone case when it has reached the end of its life? At Woodcessories, we have developed sustainable cell phone cases that are biodegradable. This means that they break down into natural components at the end of their useful life and leave no lasting damage to our planet.
Innovation meets ethics: it is not enough to simply use environmentally friendly materials. We are committed to constantly researching and finding new ways to make our phone cases even more sustainable. This includes the use of eco-friendly colors, long-lasting designs and a production process that saves water and energy.

At Woodcessories, every sustainable phone case is the result of careful thought and choices. Because true beauty lies in the responsibility we bear. Become part of a vision by buying one of our sustainable phone cases. A vision in which sustainability is not just an option, but a priority. It starts with the environmentally friendly phone case for your smartphone.
More than just a store: Your partner for sustainable cell phone cases
At Woodcessories, we believe that the key to a better future lies in the choices we make today. And that choice often starts with the little things, like choosing a sustainable phone case.
With every smartphoneCase that leaves our factory, we carry the message of sustainability out into the world. It's not just the conscious design or the use of exquisite natural materials that characterize our biodegradable phone cases. It is the underlying philosophy, the vision of a world in which sustainability becomes the norm and not the exception.
At a time when the environmental impact of our consumption is becoming ever more apparent, Woodcessories offers an oasis of responsibility. That's why we do everything we can to produce our sustainable cell phone cases in a way that conserves resources in order to protect the earth for future generations. Our mission goes beyond the sale of sustainable cell phone cases and other products. With every eco-friendly phone case you buy from us, you also support our efforts to reduce our ecological footprint. How do you do that? We plant a tree for every sustainable phone case sold, helping to make our planet a little greener and more livable.
Furthermore, as part of our community, we invite you to join us on the journey to a greener lifestyle. With regular updates, educational resources and awareness-raising initiatives, we want to ensure that our customers don't just buy sustainable phone cases. Rather, we always want to inform and inspire to live sustainably.
This is the heart of Woodcessories - not just any store for sustainable phone cases, but a partner on your journey to a more conscious, greener life.
Holistically sustainable - our range goes beyond sustainable cell phone cases
Our passion for environmental protection does not end with sustainable cell phone cases. We offer a wide range of environmentally friendly accessories in our extensive range:
Biodegradable AirPodsCases: Enjoy your favorite music while doing something good for the environment with the vegan AirPods pro-Cases .
Sustainable chargers: Charge your devices in style and without guilt - our wireless chargers make it possible.
Recycled accessories: From cell phone holders to protective covers for tablets - everything you need to protect your electronics sustainably.
Every purchase from Woodcessories is a step towards a greener future. Our commitment to carbon neutrality is evident at every stage of our business. From the careful selection of our high-quality materials and eco-friendly manufacturing processes to the carbon-neutral shipping of our products, everything about our sustainable phone cases follows our promise to the planet.
But our commitment does not end with delivery. We know that the durability of a product is just as important as its origin. That's why we offer a two-year guarantee on sustainable phone cases, as we do on all our products. Should something go wrong, our customer service team is always ready to help you and make sure you're happy with your purchase.
With us, you are choosing more than just a sustainable cell phone case. You're choosing a path that benefits both you and the planet. Together, we can ensure that our choices today create a greener, more prosperous future for all. Contact us if you have any questions about our sustainable phone cases and other products.

Our sustainable iPhone Cases are available for:
iPhone 15 | iPhone 15 Pro | iPhone 15 Plus | iPhone 15 Pro Max
iPhone 14 | iPhone 14 Pro | iPhone 14 Plus | iPhone 14 Pro Max
iPhone 13 | iPhone 13 Pro | iPhone 13 Mini | iPhone 13 Pro Max
iPhone 12 | iPhone 12 Pro | iPhone 12 Mini | iPhone 12 Pro Max
iPhone 11 | iPhone 11 Pro | iPhone SE 3 | iPhone SE (2020)
iPhone Xr | iPhone X/X(s)